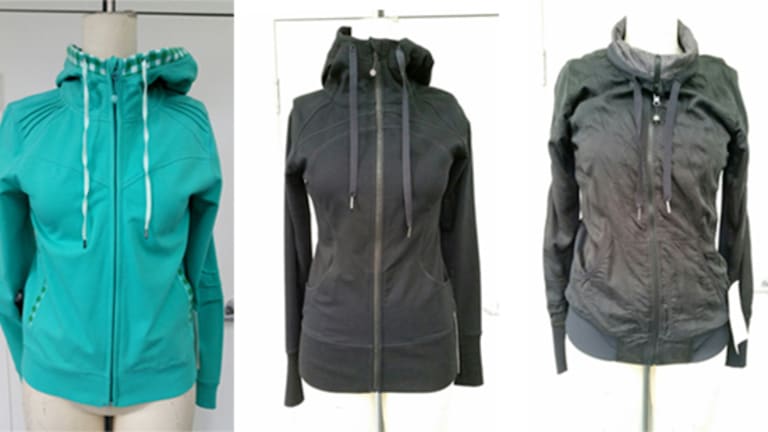 10 Ways Your Clothes Can Seriously Hurt You
Lululemon, J. Crew, Under Armour, L.L. Bean and even Chanel have had to recall items that posed a risk to wearers.
Lululemon, J. Crew, Under Armour, L.L. Bean and even Chanel have had to recall items that posed a risk to wearers.
Updated with a statement from Lululemon.
NEW YORK (TheStreet) -- Lululemon Athletica (LULU) - Get Report gave consumers a scare this week after it recalled more than 300,000 of its women's tops for potentially injuring wearers' eyes and cutting their faces with their elastic draw cords.
But the popular yoga brand is not the only company that has had to issue recalls of its clothing in recent years, with several popular brands, such as J.Crew, L.L. Bean and even Chanel, having to do the same. 
Each year the U.S. Consumer Product Safety Commission (CSPC) sifts through thousands of reports from both consumers and companies and decides which will result in recalls, according to Alex Filip, the agency's deputy director of communications. Consumers protection group Kids in Danger found that the CPSC reported 296 recalls in 2014.
"Unlike the FDA working with things like lipsticks and drugs, our agency does not do premarket testing," Filip said. "The way our law was written is that we only act on known hazards."
Once a report is filed, both the company involved and the CPSC launch investigations into the claims. For its part, Filip said the CPSC looks "for a pattern of defect or if people get hurt by a product just doing what people do."
The CPSC doesn't issue recalls itself, but acts as a third party to help get recalled products off the market and insure consumers are given an adequate remedy. These remedies include three options: refunds, repairs or replacements. Filip added the majority of recalls facilitated by the CPSC do not involve injury or death.
Of the recalls issued in 2014, 75 were related to children's products, with 33% of those products being children's clothing, according to Kids in Danger. The majority of the children's clothing recalls resulted from either a drawstring defect or violations of flammability standards.
Here's a list of ten recalls in recent years you should know about:

1. Lululemon Women's Top, June 2015
Lululemon announced a recall of 22 styles of its women's jackets after reports that the elastic draw cords could snap back on wearers' faces causing either facial or eye injuries. The recall included about 133,000 products in the United States and 185,000 in Canada.
There were seven reported incidents and all resulted in injuries to wearers' face or eyes.
Instead of offering a full refund, the company said customers could "should stop wearing the tops with the elastic draw cord and either remove the draw cord or contact Lululemon to request a new, non-elastic draw cord with written instructions on how to replace the draw cord."
"As always, our priority is doing the right thing for our guests," said a Lululemon spokesperson. "We voluntarily contacted the Consumer Product Safety Commission (CPSC), an independent agency of the United States government and Health Canada, both working to ensure our products perform for our guests, in order to take proactive steps to prevent any potential harm to our guests."
Lululemon previously made headlines in 2013 for its recall of approximately 17% of its trademark black Luon yoga pants after the pants were revealed to be see-through.

2. J.Crew baby coveralls, April 2015 and May 2014
J.Crew first recalled a select style of its baby coveralls in May 2014, but the company expanded its recall in April of this year. Both recalls were due to potential choking hazards from detachable snaps on the coveralls.
Approximately 29,000 baby coveralls were included in the two recalls, and the $30 coveralls could be returned to J. Crew either online or in-stores for full refunds. At the time of the second recall, the company had received ten reports of the snaps detaching, but no injuries had been reported.

3. Nordstrom's Textured Open Tunic Vest, December 2014
Nordstrom (JWN) - Get Reportrecalled its Leith brand textured open tunic vest for violation of the Federal Flammability Standard, posing a potential burn hazard to consumers. The recall included about 2,030 sweaters, according to the company release.
The sweater, which retailed for $70, was available nationwide and online at Nordstrom.com. Consumers were told to "immediately stop wearing" the sweaters, and were offered a full refund from Nordstrom. No injuries were reported with the recall.

4. Koala children's sandals, October 2014
Toys R Us recalled Koala Baby girl's plastic sandals with butterfly wings after discovering the wings could be pulled off and potentially pose a choking hazard to young children. The recall included approximately 19,000 pairs of shoes in white or a combination of pink, gold and blue.
The company received a report that a consumer found a piece of the shoe's butterfly wing in his or her child's mouth, but no injuries were reported. The $13 shoes could be returned to Toys R Us or Babies R Us for a full refund.

5. Girls' Sugarfly Peacoats with a waist drawstring, April 2014
Runway Global recalled more than 1,500 Sugarfly peacoats after discovering the coats' drawstring posed a potential entanglement hazard. The recall cited the coat's sewn waistband as a potential risk, saying it could easily be snagged or caught in small spaces or vehicles. The recall included about 1,700 coats, that could be returned to either Nordstrom Rack or Zulily for a full refund.
In February 2014, Runway Global recalled about 820 of Sugarfly's hooded jackets for girls because drawstrings on the jackets could potentially cause strangulation hazards.
Back in 2011, the CPSC approved a federal safety rule which designated outerwear with neck or hood drawstrings along with certain waist or bottom drawstrings as substantial product hazards. At the time, the CPSC said it had "received 26 reports of children who have died when the drawstring on their garment became entangled on playground slides, school bus doors, and other objects. Waist and bottom drawstrings that have been caught in doors or other car parts have resulted in dragging incidents."

6. Under Armour Infant Sports Jersey, January 2014
Under Armour (UA) - Get Reportrecalled 62 of its Tottenham Hotspur infant home kits after shoulder snaps on the jersey were found to potentially cause lacerations and choking hazards.
No injuries were reported with the recall, and consumers were offered a full refund for the $50 kit.

7. L.L. Bean Pajamas, November 2013
L.L.Bean recalled about 800 sets of its girl's pajamas for a violation of the Federal Flammability Standard, posing a risk of burn injuries to children. The pajamas, which retailed for $30, could be exchanged for a replacement, refunded or returned for a store gift certificate.
There are strict guidelines for making children's pajamas. These regulations include dimensions for how tight the pajamas must be and tests to see how flammable the products' fabrics are. Testing must be done before the product hits the markets, after one wash and after fifty washes.
And L.L. Bean is certainly not the only retailer that has had to recall children's pajamas for not meeting the federal flammability standard. In 2013, nine recalls were issued for not meeting the standards, according to Kids In Danger. Kids in Danger reported three products violated the standard in 2014, but the report said compliance with standards was inconsistent at best.

8. Stuart Weitzman Girls' Cha Cha Boots, March 2013
Synclaire Brands recalled about 5,000 pairs of Stuart Weitzman Cha Cha and Cha Cha 2 girls' boots due to a potential fall hazard.
The company received three reports of the zipper pulls getting caught on each other. In one incident a child tried to untangle the zippers, lost her balance and hit her head on the sidewalk causing a cut that required stitches.
Customers were offered a full refund for the $65 boots.

9. Columbia Men's and Women's Heated Jackets, January 2013
Columbia Sportswear Company (COLM) - Get Reportrecalled its men's and women's heated jackets after receiving reports complaining of the coat overheating and causing burns.
No complaints came from the United States, but there were reports from both Europe and Canada. Columbia offered a full refund so long as consumers had proof of purchase for the jacket, whose varying styles retailed between $250 and $1,200. The company offered partial refunds to consumers that had no proof of purchase.

10. Chanel silk dresses, blouses, skirts and scarves, August 2011
Luxury brand Chanel recalled silk scarves, dresses, skirts and blouses after its products failed to meet the federal flammability standard. The recall included approximately 120 scarves and 34 garments.
The company offered full refunds for the products, which retailed for between $430 and $3,650.