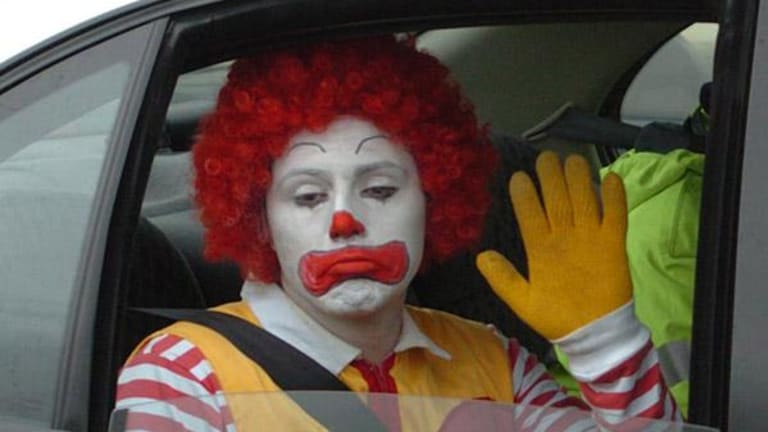 4 Big Restaurant Chains That Have Been Taking it on the Chin
Badly missed sales plans in the U.S. were the norm for restaurants like McDonald's and Starbucks in the second quarter, signaling the economy may be in worse shape than expected.
Updated to include new data on U.S. gross domestic product (GDP).
With the U.S. job market cooling in the second quarter, wild presidential-election story lines and terrorism footage dominating the media, less-confident consumers wasted no time pulling back on discretionary purchases such as eating out.
As a result, some of the biggest names in the restaurant industry have reported pretty lackluster second-quarter results in the U.S. But the deluge of dreary U.S. restaurant results shouldn't come as big shocker to investors.
Total restaurant industry traffic was flat in the first quarter, according to the latest data from research firm NPD. Even the historically hot fast-casual sector -- led by names such as Chipotle (CMG) - Get Report and Panera Bread (PNRA) -- was sluggish as traffic levels were unchanged from the prior year. Stock prices for the entire group have been under pressure for all of 2016.
Panera Bread is a holding in Jim Cramer's Action Alerts PLUS Charitable Trust Portfolio. Want to be alerted before Cramer buys or sells PNRA? Learn more now.
"There is a confluence of changing demographics, economic pressures and evolving consumer attitudes and behaviors creating shifts in what, where, when and how we eat," said Bonnie Riggs, NPD restaurant industry analyst.
Meanwhile, gross domestic product -- a broad measure of goods and services produced in the U.S. -- expanded at a much slower pace than expected in the second quarter. U.S. GDP grew 1.2%, while economists anticipated an increase of 2.6%. And first-quarter growth for the U.S. was marked down to 0.8% from the previously reported gain of 1.1%. 
TheStreet takes a brief look at where the sales misses have come from in the restaurant sector. The negative results from the group suggest a U.S. economy that may be in worse shape than investors think. And if growth doesn't kick into high gear shortly, a spate of nasty economic surprises -- made worse by a contentious election cycle -- could be in the offing before the end of the year.
The Golden Arches really let down investors. Thanks, weak U.S. economy.
1. McDonald's (MCD) - Get Report
For some, getting cheap fast food from the king of cheap may have been too expensive during the quarter.
The company's same-store sales in its largest market, the U.S., rose 1.8% from the prior year, missing Wall Street forecasts for a 3.2% increase. McDonald's had been enjoying success with its all-day breakfast menu, and it isn't exactly selling high-priced steak. So, its sales slowdown came as a true shock to Wall Street.
Same-store sales growth cooled drastically from a 5.4% increase in the first-quarter. "There is a broader level of uncertainty in the minds of consumers with regards to their financial security," said McDonald's CEO Steve Easterbrook on an analyst call.
McDonald's promised it will add additional items to its all-day breakfast menu and enhance its core items -- while also focusing on value -- this fall in a bid to jump-start sales.
Starbucks CEO Howard Schultz sounded rather gloomy on the second-quarter earnings call.
2. Starbucks (SBUX) - Get Report
The money machine that is Starbucks slowed down in the U.S., too. 
Starbucks U.S. same-store sales for the fiscal third quarter ended June 26 rose 4%, snapping a 25-quarter stretch of 5% growth or greater. Results also marked a steep slowdown from 7% same-store sales growth delivered in the preceding quarter. A year ago, sales rose 8%.
Starbucks is a holding in Jim Cramer's Action Alerts PLUS Charitable Trust Portfolio. Want to be alerted before Cramer buys or sells SBUX? Learn more now.
Starbucks CEO Howard Schultz called the slowdown in the U.S. an "anomaly" and did his best to remind investors that the coffee king has seen pockets of sales softness tied to prevalent economic conditions in the past, only to bounce back.
"I think we have a situation where you have a very uncertain election [in the U.S.], you have domestic civil unrest with regard to race, and I think the issues around terror have created a level of anxiety -- so we are no longer looking at just an economic downturn, there are a number of things that we are facing as citizens and, I think, the direction of the country," Schultz told analysts on a July 21 call.
He added, "We will do everything we can to not only meet the guidance -- as we've done in the past, try and overachieve it. But no one should misinterpret or in any way look at the challenges that we and many, many other companies are facing as something that has been done before. This is quite unusual, it's unsettling, it's unnerving, and as a result of that, it requires an approach that is quite different than anything we've done before."
Pretty scary when people are giving up their $5 frap, no?
3. Dunkin' Brands Group (DNKN) - Get Report
Americans didn't run as much on Dunkin' as they did earlier in the year.
Dunkin', which reported a solid first-quarter, thanks to favorable weather in the Northeast and a barrage of new foods and drinks, missed analysts' sales expectations across the board for the second quarter. At Dunkin' U.S., same-store sales rose 0.5%, falling shy of estimates for a 0.9% increase. Same-store sales for the division rose 2% in the first quarter.
At Baskin-Robbins U.S., the 31-flavor ice cream chain that has benefited with America's continued infatuation for the sweet treat, sales increased 0.6%. Wall Street estimated a 3.4% increase.
"There seemed to be some kind of mild malaise in the second quarter, and I think the U.S. consumer is concerned about what is going on in the world -- that seems to be the general conclusion," Dunkin' Brands Chairman and CEO Nigel Travis told TheStreet in the interview above, adding, "the economy seems mixed."
Dunkin' reiterated that same-store sales for Dunkin' U.S. are still expected to rise as much as 2% for the full year. The company will launch better tasting eggs and bagels in an effort to attract cautious consumers.
4. Buffalo Wild Wings (BWLD)
Less confident consumers appeared to push back on Buffalo Wild Wings' pricier wings. 
For the second straight quarter, same-store sales declined at the wing-and-beer chain. Same-store sales fell 2.1% at Buffalo Wild Wings company-operated restaurants, missing analyst forecasts for a 0.5% drop. The result was worse than the 1.7% decline delivered in the first quarter. At franchise-run restaurants, same-store sales declined 2.6%, falling short of estimates for a 0.8% decline. In the first quarter, same-store sales at franchise-operated restaurants declined 2.4%.
"I think it's the casual consumer who moves from brand to brand that we are seeing really look for value and convenience, and they are getting that from quick-service restaurants," explained Buffalo Wild Wings President and CEO Sally Smith in the above interview with TheStreet when asked about where the sales weakness is being seen the most. She added, "commodity costs have kept grocery prices low so you are seeing some purchasing of prepared foods at grocery stores." 
Buffalo Wild Wings has launched an 80-store test of half-off wings on Tuesday to drive traffic. Smith says the program is off to a solid start, and may be rolled out nationwide.