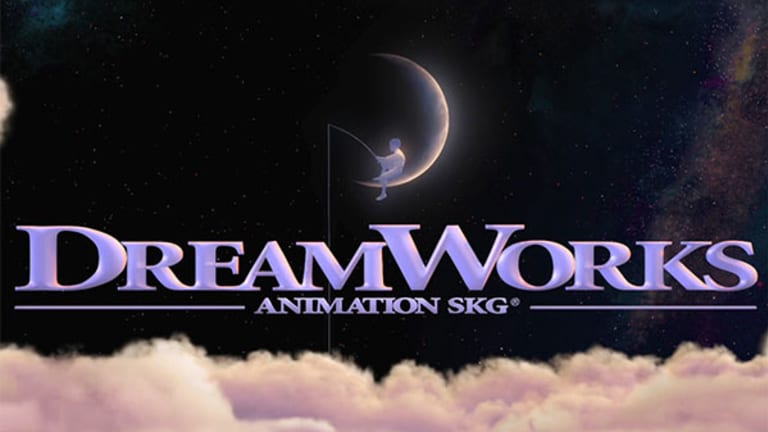 DreamWorks Reorganization Is Failing to Impress Wall Street
As the animation studio scrambles for a new strategy to make money, analysts have very different opinions on its future.
NEW YORK (The Street) -- Bleeding from high costs and disappointing revenue, DreamWorks Animation (DWA) is trying to restructure and tighten up. But the changes CEO Jeffrey Katzenberg is engineering may not be enough to fix a film studio that once looked like a sure bet.
Last week, Dreamworks said it would fire 500 workers, about 18%, of its headcount, while cutting the number of films it will produce each year. Those are desperate moves -- not simply moves to right a tilting ship, but to avoid it from sinking.
Rather than release three movies per year, one film, Home, is scheduled for 2015. Katzenberg now says DreamWorks will aim to make just two a year. By comparison, Amazon (AMZN) - Get Free Report recently said it will make or acquire 12 movies a year.
For DreamWorks, a string of poor film choices combined with the overall decline in theater attendance and competition for family viewing from a slew of new video alternatives has sent the studio into free fall. Shares of have fallen 43% over the past 12 months.
Its current troubles are a far cry from the sense of optimism that surrounded DreamWorks' formation when Katzenberg left Walt Disney (DIS) - Get Free Report in 1994 to partner with David Geffen and Steven Spielberg. Then, Katzenberg appeared to be the man with the magic touch. His Disney films, which included The Lion King, The Little Mermaid andBeauty and the Beast, were the first animated films to garner a Best Picture nomination. They made Katzenberg a superstar.
But those days seem to be over. While Katzenberg tries to save his studio, even its most successful franchises are feeling the pain from his restructuring.
How to Train Your Dragon 2 brought in $619 million at theaters worldwide last year and received an Oscar nomination for best animated feature. Yet the studio's new production schedule has pushed its sequel, How to Train Your Dragon 3, back one year to 2018.
The shake-up orchestrated by Katzenberg will also force the departure of Chief Operating Officer Mark Zoradi and Chief Marketing Officer Dawn Taubin, both expected to be gone by the end of the first quarter. Vice Chairman Lewis Coleman will retire this month.
In the studio's scramble for a new strategy, analysts are doling out some divisive opinions on its prospects.
After the restructuring plans came out, Cowen downgraded DreamWorks Animation to underperform with a price target of $14. The report said the layoffs and production cuts were "not likely to arrest the decline in DWA's fundamentals."
Two years ago, DreamWorks Animation laid-off 350 employees, yet the studio continues to struggle for a turnaround.
"We think the most recent round of layoffs risks further worsening DWA's competitive position in the very competitive animated film market," Cowen said.
Sterne Agee reiterated its underperform rating, with a $17 price target. Structural issues that led to the studio's cost woes were not addressed in the restructuring plan, leaving underlying problems to be dealt with, the firm said, adding that, "In general, films with worldwide box office of $300 million can be profitable but not if they cost $120 million to produce and $160 million to release."
Meanwhile, Goldman Sachs reiterated its sell rating and an $18 price target on DreamWorks, emphasizing that the studio's expenses remain inflated relative to its box office returns and other animation companies.
The studio said it believes the restructuring will bring it $60 million in annualized cost savings by 2017. However, the Goldman Sachs report said the plan "fails to address the high production cost for DWA's films."
Not everyone has soured on DreamWorks, though. On Monday, B. Riley analyst Eric Wold issued a research report upgrading the studio to a buy with a price target of $25. He had previously recommended "staying on the sidelines" as the impact of the restructuring sank in with investors.
DreamWorks saw its shares slide 8% on Friday as questions surfaced about liquidity and balance sheet risks, Wold said. However, the studio has been looking for a buyer, and its restructuring could fit into such a move.
"We now believe that this actually creates the perfect opportunity for the board to consider an acquisition at a valuation closer to current levels," Wold wrote.
There had been rumors of DreamWorks Animation being in talks for a sale north of $30 per share, but given the current circumstances, Wold believes the board might entertain lower offers.
An acquisition would take the studio's troubles and turnaround efforts off the public stage, he said, assuming that a buyer with heaps of money wants to put capital into reinvigorating DreamWorks Animation.
Wold compared it to the tale of movie theater chain AMC Entertainment (AMC) - Get Free Report , which was acquired in 2011 by China's Wanda Group, then went public in 2013.
Regardless, the road ahead for DreamWorks Animation looks bleak. After Home is released nationally in March, DreamWorks won't have another movie out until 2016, when Kung Fu Panda 3 is due. That's a long time. There may not be much fight left in Katzenberg's studio, or a buyer willing to try to fix it.
This article is commentary by an independent contributor. At the time of publication, the author held no positions in the stocks mentioned.