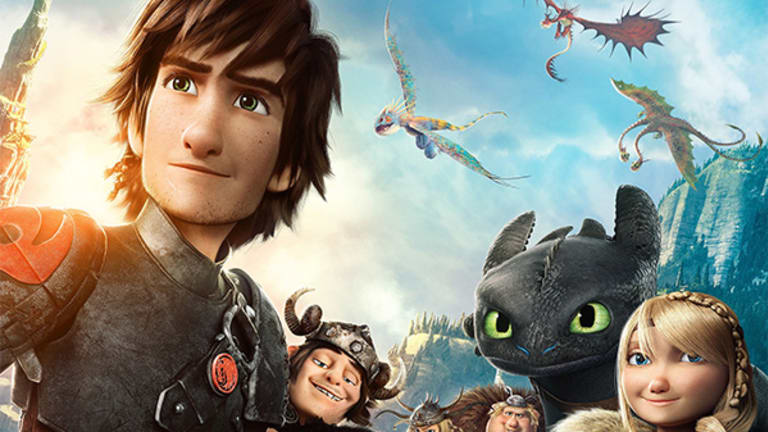 DreamWorks 'Dragon 2' Disappoints Sending Shares Even Lower
DreamWorks can't catch a break, or find a blockbuster to pull the film studio out of its creative morass.
NEW YORK (TheStreet) - DreamWorks Animation SKG (DWA)  just can't catch a break.
Its latest attempt at a blockbuster, How to Train Your Dragon 2, fell short of expectations in its opening weekend prompting analysts to lower their box office forecasts for the sequel to the film featuring Hiccup and Toothless on the island of Berk.
Cowen analysts Doug Creutz and Stephen Glagola lowered their U.S. box office estimate for the film to $180 million from its pre-release forecast of $250 million in an investor report published June 24.
The revised numbers come as the film posted a disappointing second week, $25.3 million in tickets sales, despite grossing over $172 million worldwide according to global media measurement company Rentrak (RENT) .
With a series of titles failing to meet expectations, Cowen suggests DreamWorks is becoming an unattractive stock. Indeed, shares are down over 36% since January compared to the S&P 500undefined which has added 6%. "Recent downward trends in domestic box office are due in part to increased competition," they said, however, competition at theaters isn't solely to blame; DreamWorks titles haven't performed well domestically across the board.
Three of the last four original Dreamworks pictures prompted the company to have to take writedowns, while two of the last three films were genuine flops. Mr. Peabody and Sherman, which came out earlier this year, forced Dreamworks to write off $57 million while 2013's Turbo suffered a $13.5 million writedown and the dubious distinction of being one of the lowest grossing films in the history of the company.
Rise of the Guardians in 2012 cost Dreamworks $83 million off its books as well as the layoff of 350 employees.
"If this is representative of future performance, then shares appear significantly overvalued at current levels, wrote the Cowen analysts.
In an effort to reverse its lagging fortunes, DreamWorks plans to diversify its holdings, expanding into book publishing, experience-based products, amusement parks and something called DreamHouse -- an experience that will grant children the opportunity to interact with their favorite DreamWorks animated characters, according to Chief Executive Jeffrey Katzenberg in an interview with the New York Times.
Diversification and expansion could save DreamWorks but only if there is a consumer market for what DreamWorks will be selling. At present, investors are signaling that Katzenberg and company may not have the right formula.
DreamWorks was dropping 3.8% to $22.57, extending its 2014 decline to 36%.