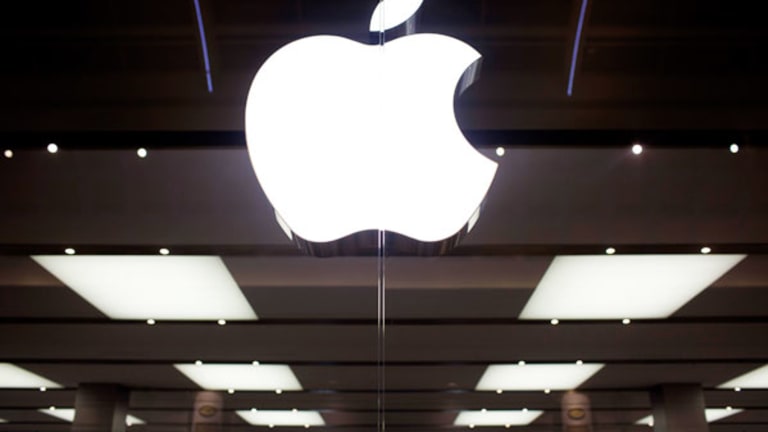 Dramatic 48-Hour Shift in Apple Sentiment
The market may run hot and cold on Apple, but with the iPhone 5S, Tim Cook's on fire!
NEW YORK (TheStreet) -- Six months ago, as we forecast a second-half 2013 Apple (AAPL) - Get Apple Inc. Report run, it was mentioned that leg two of the rally would depend on the headlines. If headlines in the aftermath of the Sept. 10 event suggest Apple innovation is back, then the stock would be in position to run from $500 to $600. I must say that since the stock dipped below $450 on Tuesday, this 48-hour shift in sentiment has been shock and awe.
Based on the extremely favorable iPhone 5S reviews from a variety of outlets from
Wall Street Journal
and
USA Today
, to
CNET
,
TechCrunch
and, of course,
and
, to name a few, it is now expected that there will be lines and shortages for the 5S over the coming weeks and months.
The M7 coprocessor is a hit. The fingerprint Touch ID is so solid and proprietary that not even
Samsung
is likely to get away with a copycat version.
The first leg of Apple's run from $400 to $500 was a run defined by big-money intelligence in the midst of a doubting consensus. This second leg will be different. The masses will be on board. As of Wednesday, they already are.
Look no further than the cover of
BusinessWeek
to see what I mean. Tim Cook is being hailed as the backbone of Cupertino. As the smartest guy in the room, he has withstood the absurd and unprecedented barrage from analysts and critics to turn Apple into a clone of its lesser competitors.
You don't hear analysts clamoring for Porsche to make a mass-market vehicle or for
Tiffany
to sell cubic zirconia. Apple generates more profit per quarter than
Amazon
(AMZN) - Get Amazon.com, Inc. Report
has made in its entire existence and yet Jeff Bezos is the anointed one?
Bezos is nothing more than a Wall Street magician who understands how to play forward-looking investors like puppets. The management team of CEO Cook, Senior VP, Design Jonathan Ive and Senior VP, Software Engineering Craig Federighi is the real deal.
The substance of Apple as measured in pricing power and profit remains unmatched. Cook's decision to release a high-margin iPhone 5C that is easier to manufacture than the 5S means that Apple now has a backup product to help fill a global supply chain that will be begging for iPhones between now and the end of the Chinese New Year.
5C will do nothing but add to the profit machine. The year-over-year advantage in earnings should be significant.
The most admirable thing about Tim Cook is that he chooses to do the right thing rather than react to short-term market expectations. Washington D.C. provides us with a strong example of what happens when decision makers react to short-term market obsessions.
During the financial crisis, markets begged for bailouts; this caused politicians to hastily pass stimulus that ended up placating investors for an hour at most. The Sept. 8, 2008, stimulus package that the market wanted so badly actually caused the
Dow
to drop from 11,500 to 9,200 in one month's time.
A similar effect would likely have happened to Apple if Tim Cook had listened to the voices of Wall Street and offered up a low-margin iPhone 5C designed to capture market share in China and India. Such a move would have meant that Apple ceased to be Apple, thereby eliminating profits moving forward.
You can only imagine the AAPL carnage that would have ensued. Clearly Apple is in good hands. Steve made a great choice to hand over the reins to Tim.
At the time of publication, the author was long AAPL.
Follow Jason Schwartz @economictiming
This article is commentary by an independent contributor, separate from TheStreet's regular news coverage.
This commentary comes from an independent investor or market observer as part of TheStreet guest contributor program. The views expressed are those of the author and do not necessarily represent the views of TheStreet or its management.
Jason Schwarz is an option strategist for Lone Peak Asset Management in Westlake Village, Calif. He is also the founder of the popular investment newsletter available at www.economictiming.com. Over the past few years, Schwarz has gained acclaim for his market calls on the price of oil, Bank of America, Apple, E*Trade, and his precision investing in S&P 500 option LEAPS. His book, The Alpha Hunter, is set to be released by McGraw Hill in December 2009.