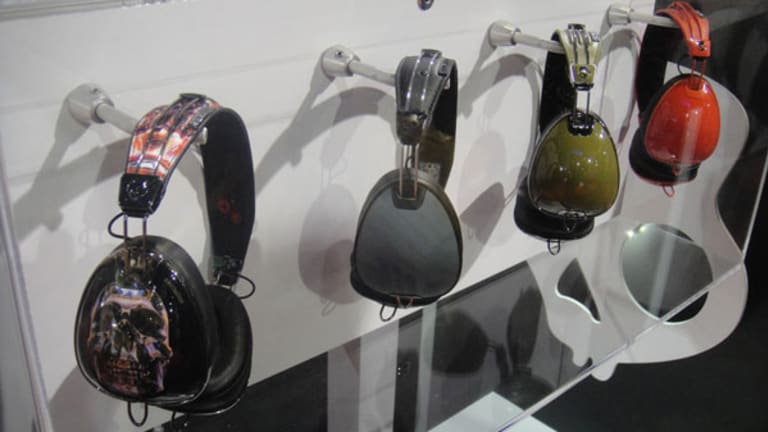 Publish date:
Dr. Dre Is Taking SKUL to School
Whatever Skullcandy's attributes, it can't compete with the Beats' mystique -- even with Wale on its side.
Whatever Skullcandy's attributes, it can't compete with the Beats' mystique -- even with Wale on its side.
NEW YORK (
) -- A herd of investors and analysts seems to have woken up as one to the fact that the consumer headphone market
Skullcandy
(SKUL)
once dominated has become crowded with exciting competition.
I'm a believer in Skullcandy, but the ground has been shifting underneath it for quite some time. Competition is not just more plentiful but fiercer, redefining the headphone market.
As Gregg Greenberg notes in
5 Dumbest Things on Wall Street This Week: March 15
, analysts leaped shamelessly to downgrade the stock this week, even as the company was listing all the right measures it was taking to correct its problems. I would add that changes in the sector should have been a red flag, long before now.
Dr. Dre's
Beats Electronics
entered the market in 2008 -- a full five years after Skullcandy -- but
quickly became the dominant player
. Its branded products are easily identified from a casual distance and a quick scan of any busy New York City sidewalk reveals a couple of sets of Beats headphones, that modest, identifiable little "b" right at eye level.
Beats are typically higher priced, in the $199-and-above area, compared to Skull's average $99 product. But Beats' compelling higher-end lines have siphoned off some of Skullcandy's lower-end consumer base, putting the prime mover on the defensive.
According to founder and interim CEO Rick Alden, Skullcandy's response was to push the lower end even harder, putting too much emphasis on off-price channels. Further missteps in revamping its packaging added to the problem, Alden said. The bankruptcy of a major retail customer in the UK,
HMV
, merely brought Skullcandy's precarious position to the forefront.
The company is working to overcome those mistakes, re-making its packaging, pushing into sports branding and
global markets and marketing to video gamers
, for instance. But those changes come at a price; earnings projections for the first quarter and full year of 2013 have suffered. The outcome from the changes will likely be a better company and a stronger stock, but that doesn't necessarily help traders right now and it likewise leaves questions hanging for investors in the long term.
To make matters worse for Skull, the phenomenal success of Beats has opened the door for others, including former Beats partner
Monster
and electronics accessories company
Zagg
. Monster is attempting to outdo Beats, ramping up the style-and-fashion angle with input from Italian
pret-a-porter
designer
Diesel
.
Zagg, for its part, specializes in protective covers and cases for electronic devices but is worming its way into audio via the tiny cracks left open by both Beats and Skull. Two new products touted on Zagg's most recent earnings call are great examples of this thinking: a small desktop speaker for music players and decibel-limiting headphones branded for young children. In addition, it offers headphones that directly compete with the main lines offered by Skullcandy and Beats.
All of this is superficial -- predictable, manageable competition. Skullcandy has these challenges well in hand. True, the company was headed in the wrong direction and needs to make the corrections outlined by Alden. But the changes are being made; the business is regaining focus.
A deeper problem -- Alden refers to it lightly as "storytelling" -- may be beyond its control. Beats is a
great
story. Skull is more like a list of solid one-liners. Turning a once-successful stand-up routine into a scintillating Broadway show -- not easy.
Mind you, the most popular Skullcandy headphones are probably
better
for most kinds of music than the most popular Beats products. Dre's products are geared to the type of music he produces, which tend to be bass-heavy and beat-heavy. For listening to just about any hip-hop and even a lot of contemporary rock and some popular country artists, you couldn't do better than Beats.
On the other hand, if you're like me, your idea of party music is the Ensemble Intercontemporain performing Edgard Varese. OK, maybe that's just me. Let's just say classical music fans are not going to be happy with Dre's mix. For James Taylor, jazz, old-timey country blues, indy rock, world music or dozens of other styles, the sound might actually be better on the Skullcandy products.
And did I mention Skullcandy is also less expensive? Yet, Beats continues to gain popularity and steal market share. The reason is this: Beats creates a user experience, even if that experience is purely psychological.
Long before he was a star businessman in the field of audio equipment, Dre was a star producer and recording artist -- famous for the way he hears things and famous for being famous. Beats marketing is hitched to that star. Doesn't everybody want the same high-quality audio experience? Doesn't everybody want to be part of Dre's music tribe?
Like
Apple
(AAPL) - Get Apple Inc. (AAPL) Report
, Beats sells users a new way of looking at themselves, a new way of belonging to a cool class. Each sale is one part fashion statement, one part technological quality and one part counterculture.
The last is the most difficult aspect of marketing to predict or control. Only a few people, like Steve Jobs and Dr. Dre, seem able to get it right consistently, to match innovation and marketing with the public's mercurial fascination.
That often means giving customers something they want before they know they want it. Where Beats seems capable of that, Skullcandy and its other competitors do not.
Further, where Beats has one of the most influential artists in the world backing every strand of wire that comes out of its doors, Skullcandy and other competitors have only a handful of lesser-known recording artists sponsoring one product or another -- a scattershot attempt by comparison.
The rapper Wale (pronounced wah-LAY) is one of the big artists
featured on Skullcandy's Web site
, wearing a stylish set of headphones. This is the bio the site offers:
Wale rose to prominence in 2006 with his song "Dig Dug (Shake It)" became (sic) popular in his hometown. He became locally recognized and continued recording music for the regional audience. Producer Mark Ronson discovered Wale in 2006 and signed him to Allido Records in 2007. While signed to that label, Wale released several mixtapes and appeared in national media including MTV and various urban magazines.
His hometown, by the way, is Washington, D.C. -- significant if you're following rap styles. More important, he's playing arenas all over the world and his second album,
Ambition
from 2011, entered the Billboard hip-hop charts at No. 1, the Billboard Top 200 at No. 2. But those glaring omissions are the least of the problems here. Wale's career is doing just fine. It's Skullcandy we're worried about.
The company needs to create a whole package for users. Half-hearted single-product recommendations like this, by themselves, aren't enough. Even coupled with the push into sports, video games and overseas markets, it's not enough.
As much as it pains me to say it, if Skullcandy truly can't tell a better story, create a total user experience to compete with Beats, then its long term looks as grim as 2013 and the investor selling spree seems entirely justified.
-- Written by Carlton Wilkinson in Asbury Park.