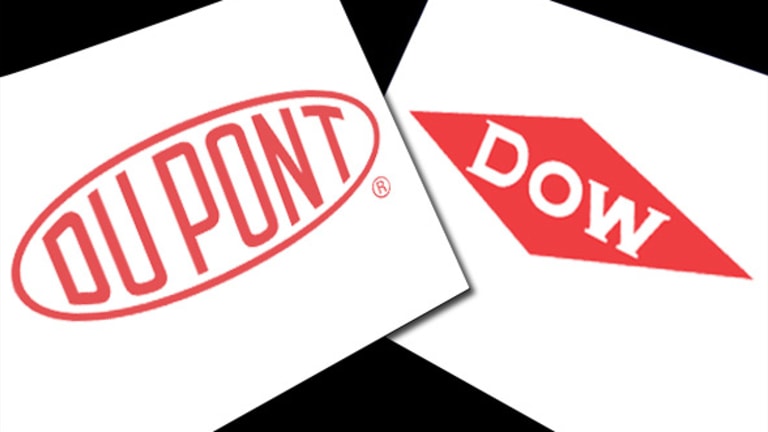 Dow, DuPont Impress But Merger's Limbo Still Holding Back Shares
The two companies reported strong earnings ahead of the planned merger, but must wait for the regulatory bodies to approve the deal.
The blockbuster merger of DuPont Co. (DD) - Get Report and Dow Chemical (DOW) - Get Report is still up in the air pending approval from regulatory bodies. 
The two Fortune 500 companies announced in December plans to combine and form an agriculture and chemical company, which would have a combined market cap of about $130 billion. 
Both companies had strong performance this earnings season. On Thursday Dow reported second quarter earnings of $0.95, beating analyst estimates of $0.85. Sales fell 7% to 12 billion, compared to this time last year, though volume grew 2%. 
"The Dow stock would go up more right now if there were no merger," said Jim Cramer, TheStreet's founder and manager of the Action Alerts PLUS portfolio, which owns DOW. "That's how powerful that quarter was."
On Tuesday, DuPont announced it had earned $1.16 a share in the second quarter, compared with $1.03 per share a year ago, also beating analyst estimates. Sales for the company fell 0.8% in the quarter, but volumes also rose around 2%.
Dow was trading up slightly to $53.75 midday Thursday. DuPont traded up less than a percent to $69.24.
Chairman and CEO Ed Breen in a statement said that DuPont has lowered input costs and $160 million in cost savings contributed to the strong quarter. DuPont is currently on track to reach $1 billion worth of savings on a run-rate basis by year's end.
Though Dow shareholders recently approved the planned merger with DuPont, it must now wait for approval from antitrust commissions, including the Department of Justice, who had requested more information about it in March, and the European Commission, which delayed its decision on the merger to August 11 from July 28.
If successful, the transaction is slated to be complete by years, making the deal one of the largest in the agricultural and chemical industry.
Once the merger is completed, DowDuPont will still have to combat low crop prices that weigh on farm income, as well as slowing global growth and a stronger U.S. dollar.