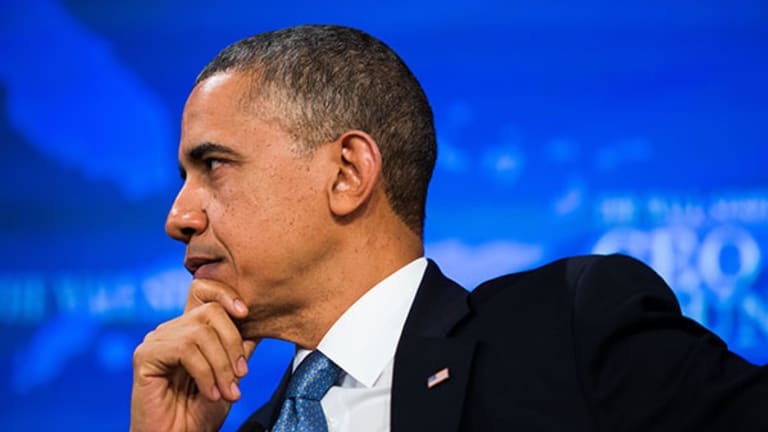 Dow Doubles to 16,000 Under Obama Socialism
If President Obama is a socialist, he isn't a very effective one.
NEW YORK (TheStreet) -- If President Obama is a socialist, he isn't a very effective one.
In crossing the symbolically important 16,000 threshold, the Dow Jones Industrial Average has also more than doubled from the closing level on Jan. 20, 2009, the day Obama was inaugurated as the 44th President of the U.S. The S&P 500 undefined, a more meaningful index because it better represents the full range of industries within the U.S. economy, was up 111% during Obama's time in office through Thursday.
While one wouldn't ordinarily associate socialism with strong stock market performance, perhaps a more important factor is redistribution of wealth. On that score, Obama isn't doing especially well either. Median incomes remain stuck where they were in 1988. Meanwhile, members of the Forbes 400 list of wealthiest Americans saw their combined fortune reach $2 trillion -- a rise of $300 billion vs. a year ago and double where it was a decade ago. Two trillion dollars, Forbes helpfully points out, is equal to the GDP of Russia.
The truth, of course, is that Obama is a pro-business centrist who occasionally gets pulled leftward by members of his party who are a bit peeved about the fact that the most serious financial crisis since the Great Depression has made the remaining financial institutions larger than ever. There are undoubtedly socialists in the Democratic party, but you won't find them in the White House.
At the same time, Obama's efforts to revive the real economy -- as opposed to just the stock market -- have been stymied by members of the Tea Party, who constantly threaten to shut down the government by failing to raise the Federal borrowing limit to pay for obligations already incurred.
One man -- even if he is the president -- has relatively little control over the direction of the stock market, but for those silly enough to regard Obama as a socialist, they can at the very least breathe a sigh of relief that he hasn't succeeded.
-- Written by Dan Freed in New York. 
Disclosure: TheStreet's editorial policy prohibits staff editors, reporters and analysts from holding positions in any individual stocks.