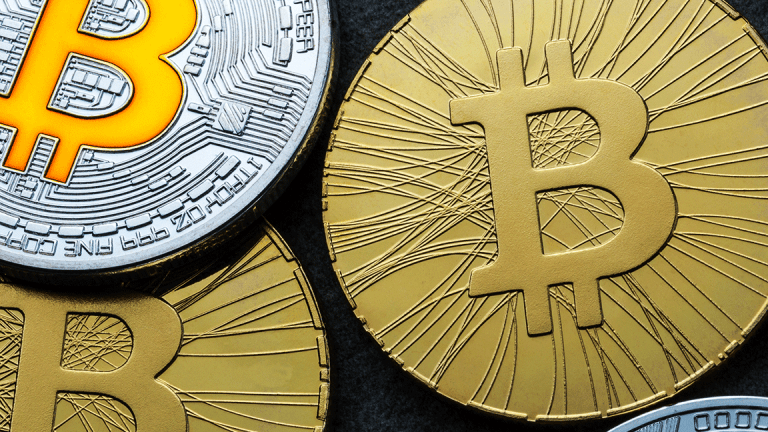 Dow Dips as Tax Bill Hits a Snag; Coinbase Exec Talks Cryptocurrency Craze-ICYMI
Here's what you need to know now for Tuesday, Dec. 19.
Despite tax reform inching toward passage, the equity markets closed down across the board Tuesday, perhaps as investors took a little money off the table before heading into the holiday season. Maybe they were heeding the old saw, sell on the news.
Or maybe they were looking ahead: While it is thought that tax reform would be a boon for much of the U.S.-based components of the major indexes, including the tech sector, there may be other signs in the sector that point to some underperformance near term. Particularly in the technicals of the PowerShares QQQ Trust Series 1 ETF (QQQ) - Get Invesco QQQ Trust Report , which tracks the performance of 107 Nasdaq-listed tech stocks including Microsoft Corp. (MSFT) - Get Microsoft Corporation Report  and Alphabet/Google (GOOGL) - Get Alphabet Inc. Report  , among other heavyweights.
While some of the tech sector may appear over-bought, TheStreet has identified a number of companies that may be bargains for you, even in this frothy market.
Take, for instance, Oracle Corp. (ORCL) - Get Oracle Corporation Report  , which saw shares plummet last week despite its fiscal second-quarter earnings beat. Though analysts saw the market action and blamed weaker-than-expected guidance regarding cloud-based sales, Oracle still represents one of the cheapest big-cap technology names, with a P/E ratio of about 16.5 times forward earnings.
The megamergers of Monday were also still on the minds of many investors. Some are wondering what the wave of deals means for legacy giants like PepsiCo. (PEP) - Get PepsiCo Inc. Report  and Coca-Cola Co. (KO) - Get Coca-Cola Company (The) Report  . The latter has remained almost exclusively a beverage company as others move into other areas like snacks.
At the same time, we contemplate whether an activist might be tempted to target Campbell Soup Co. (CPB) - Get Campbell Soup Company Report  and push it to auction itself following a year of underperformance and concerns around its $4.87 billion acquisition Monday of snackmaker Snyder's-Lance Inc. (LNCE) .
Finally, our Annie Palmer sat down with Adam White, vice president of Coinbase, to discuss Bitcoin's meteoric rise and where prices might go from here and the impact of the new futures exchanges, among other things.
This is an excerpt from "In Case You Missed It," a daily newsletter brought to you by TheStreet. Sign up here.

Photo of the day: From humble beginnings to a global presence
Dole Foods is one of those American companies that might not be as big you think it is. In the grand scheme of things, the company is likely worth a fraction of what the everyday consumer probably thinks. So as the 166-year-old fruit maker edges toward a buyout by Belgium-based Greenyard NV, a potting-soil to fresh and frozen vegetables group, we wonder just how much Dole is worth. Reports say privately held Dole could now be valued at over $2.5 billion. The company was founded in 1851 as Castle & Cooke by two Boston businessmen Samuel Castle and Amos Cooke. The company really took off about 48 years later when James Drummond Dole came to Hawaii, fresh out of Harvard's School of Horticulture & Agriculture, and began to get the business exposure in mainland U.S. (such as the ad above). From its humble beginnings in Hawaii, Dole Foods has grown into a global company with about $4.5 billion in annual revenue.
Read more from "In Case You Missed It." Sign up here.
More of What's Trending on TheStreet: