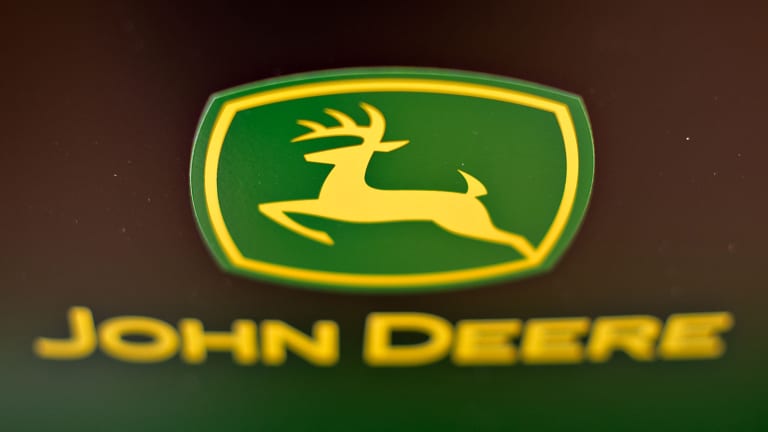 Publish date:
Dow Chemical and Deere Are Two Ex-Dividend Stocks to Buy Now
Dividends are a big reason for buying Dow Chemical or Deere stock right now.
Dividends are a big reason for buying Dow Chemical or Deere stock right now.
NEW YORK (TheStreet) -- Dow Chemical (DOW) - Get Report and Deere & Co. (DE) - Get Report are scheduled to go ex-dividend Friday. For both companies, to qualify for a dividend check investors must own shares prior to June 30.
With both companies trading a relatively cheap valuations -- an average price to earnings of 14, compared to the S&P 500's (SPX) , P/E of 21, there's an opportunity for investors to lessen the risk often associated with the strategy known as "buying dividends."
Under this strategy an investor buys stocks for the sole purpose of collecting the announced quarterly dividend and then sells the stock within days after the dividend cash payment has been paid the company. It's important to note, however, that the dividend payment may take weeks to reach your brokerage account, depending on the company's pay schedule.
Still, whether in bear or bull markets, dividend capture can be a lucrative strategy. To be successful requires pinpoint timing.
When selecting the companies to buy, the first important information to know is the ex-dividend date, which is the last day an investor must own a position in said company to qualify for a dividend payment. To that end, lets take a look at the merits both companies, starting with Dow Chemical.
With its shares up more than 16% on the year, Dow Chemical has been a pleasant surprise. Dow, which prides itself on being shareholder-friendly, has become the gift that keeps on giving. The Michigan-based industrial conglomerate, which pays a 42-cent quarterly dividend yielding 3.20% annually, has raised its total payout by 180% just in the past four years.
Better still, Dow recently raised its stock buyback program, which now put its total authorization at $9.5 billion worth of shares, up from $4.5 billion. By the middle of 2016, Dow said it expects to raise a total of $7 billion to $8.5 billion through sales of non-performing assets. Combined with its focus on high-growth businesses and cost reductions, DOW stock -- as with its dividend -- can pay for many years. In other words, buying Dow shares are worth holding even capturing the dividend.
Like Dow Chemical, Deere pays a solid quarterly dividend of 60 cents that yields 2.62% annually. By "solid," that's taking into account that the average dividend payer in the S&P 500 yields just 2%. What's more, DE stock currently traded at cheap valuation of 12 times earnings, almost half that of the S&P 500. This implies Deere is projected to deliver only modest earnings growth in the quarters ahead.
Nonetheless, since 2011, Deere -- the world's largest maker of farm equipment -- has boosted its dividend more than 71%, to 60 cents from 41 cents per share. Expand that horizon by one year to 2010, when the quarterly dividend was at 28 cents, and this amounts to 114% dividend increase in five years.
Could Deere's generosity be the reason why Warren Buffett, the Oracle of Omaha, bought 17.1 million shares of DE stock in the third quarter of 2014? It has to have crossed his mind. So with DE stock up just 3% in the past 12  months, riding Buffett's coattails would seem like a smart move, even if it's just to collect the next quarterly dividend.
This article is commentary by an independent contributor. At the time of publication, the author held no shares in any of the stocks mentioned.