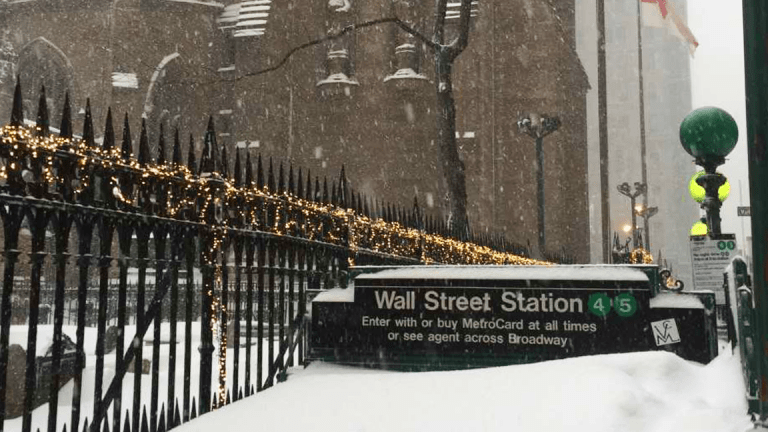 3 Things to Know About the Stock Market Before Tomorrow Happens
The bomb cyclone dominated talk on Wall Street Thursday even as the Dow eclipsed 25,000. Tech stocks continue to be smoking-hot.
What bomb cyclone? The stock market never missed a beat on Thursday.
Be In the Know
The snow certainly didn't stop TheStreet's reporters from crushing it on Thursday. Here are several top pieces.
Cathaleen Chen's sources tell her that yes, JAB Holdings did make a play for Dunkin' Brands (DNKN) - Get Report in early 2017. The two couldn't agree on a price and a deal may not happen as JAB turns its attention to more attractively valued assets. 
Personally, I think JAB Holdings should go all in on coffee and plunk down $100 billion to buy Starbucks (SBUX) - Get Report . Debt is still cheap, Starbucks' stock has lagged the broader market the past year and it pays to own leaders. 
Meantime, while everyone is gushing over a possible Spotify IPO, Eric Jhonsa keeps it real in this analysis. Takeaway: where the profits?
Here's Your Pound of Flesh, Bulls
Market haters will quickly pounce on that Apple (AAPL) - Get Report has underperformed during the Dow's recent push through 25,000 as a reason to sell stocks. Apple is flat the last five sessions, a touch strange, but somewhat understandable given lingering concerns on holiday demand for the iPhone X. This bearish argument can easily be overruled by pulling up the five-day performance of the other FAANG components.
Bring on Dow 30,000.
Sears :-(
If Sears Holdings' (SHLD) stock is still above $2 within six months of this date, I will buy something from a Sears store for the first time in 20 years. At the moment, this looks like a money-saving bet.
Fresh off what appears to be another brutal holiday season, decaying Sears said Thursday that it will close 100 more stores this year. Of the 100, 64 Kmart stores and 39 Sears will be shuttered between March and April, the struggling retailer said in a statement. Sears shares plunged as much as 5% on the news.
The next domino to fall in this sad saga is that big-name suppliers reduce first-quarter shipments to Sears and Kmart out of fear of not getting paid. In turn, that sends more shoppers off to Walmart (WMT) - Get Report . That then triggers a cash crunch for Sears before the spring. After that, things will get very interesting. 
Alphabet, Facebook and Apple are holdings in Jim Cramer's Action Alerts PLUS Charitable Trust Portfolio . Want to be alerted before Jim Cramer buys or sells these stocks? Learn more now.
More of What's Trending on TheStreet:
2018 Resolutions? Learn About Bitcoin and Max Out Your 401k