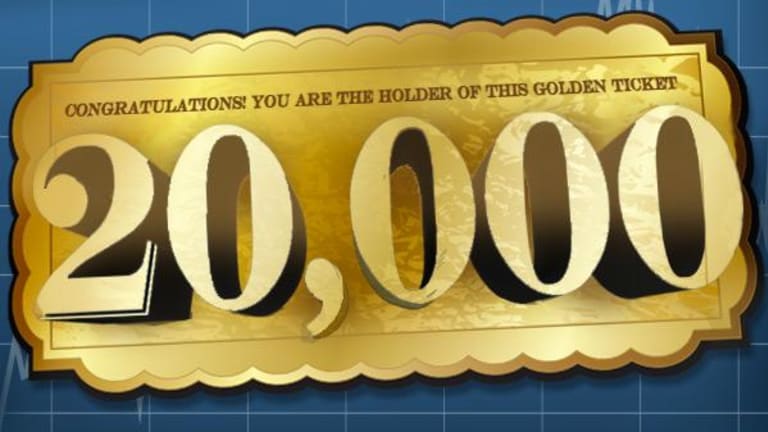 Dow 20,000! It Should Mean Nothing to Investors, but Then Again...
The Dow at last hit the big mark, which raises the question: So what?
Did you get excited when you heard that the Dow Jones Industrial Average (I:DJI)  crossed 20,000? Do you feel wealthier today than you did at the start of the week? Do you know why you felt the way you did when you heard what had happened?
Yes, you probably got excited. You may have felt slightly wealthier, and maybe you didn't know why you felt the way you did. But, honestly, it doesn't really matter if you felt or didn't feel anything after the Dow broke the 20,000 mark, because it really doesn't matter any more than when the Dow crossed the 19,478 mark. The 20,000 mark is just a larger, round number that seems like an accomplishment.
The Dow breaking the 20,000 mark really means nothing in terms of predicting what the market may do next.
But 20,000 is an easy number to compare with other round numbers like 14,000, 10,000, or even 6,500, all numbers that (sort of) do mean something. The Dow peaked on Oct. 9, 2007 at more than 14,166.97 before plummeting because of the financial crisis. It hit a postcrisis low on March 6, 2009 of 6469.95, down 54% from the peak.
When we talk about the 2007-2009 financial crisis, we typically don't remember the exact number the Dow peaked at, but we do remember it was just over 14,000. When we talk about the bottom, remembering the bleeding stopped at 6469.95 is difficult, but saying it fell to around 6,500 is easily remembered.
As for Dow 10,000, the first time that mark was broken was in 1999, and the last time was in October 2009. One could say that over the last 18 years the Dow has doubled, after not doing anything for the first 10.
From 1999 until 2009 the market took two big falls. The dot-com bubble burst, and the housing bubble exploded. History will tell you that if a bubble is not bursting, it's inflating, which is likely what's happening right now. Remember the Dow rose from 19,000 to 20,000 in only about two.
Since the start of the year a few of the Dow's heaviest weighted components have been on a tear; Boeing is up 8.2%, Apple is up 5.2% and IBM is up 7.3%. These three stocks make up 15.9% of the Dow, because it's stock price-weighted index. Thus, you can easily make the argument that they are responsible for the Dow hitting 20,000 and easily could be blamed for it falling back below that number in the future.
Apple is a holding in Jim Cramer's Action Alerts PLUS Charitable Trust Portfolio. See how Cramer rates the stock here. Want to be alerted before Cramer buys or sells AAPL? Learn more now.
Concerns about how Boeing will be affected by a trade war or about iPhone sales at Apple or about whether IBM has lost its edge as a tech leader are all possibilities and reasons why each stock could fall in the future.
So while it's exciting that the Dow crossed the 20,000 mark, remember a huge part of investing success is controlling your emotions. Don't get too excited about this milestone and don't overreact when it falls back below the mark. Stick to quality growth investments with strong fundamentals.
We will all remember in five, 10 or 20 years from now what was going on when the Dow hit 20,000 for the first time, and we will use this figure for comparison purposes, but remember it's just a big, round, whole figure that really doesn't mean much about what really matters: stock valuations, future growth prospects and overall health of our economy.
---
Want alist of seven companies worth owning no matter what kind of investor you are or what direction the market is moving? Our list gives you access to stocks that you will profit from regardless of what the markets do. Each one of these powerful, yet overlooked companies barely notices when the market tumbles. And they'll skyrocket when it rebounds. You can pick all seven up for pennies on the dollar right now. But that'll change the instant average investors catch wind of just how bad things really are. Get their names here before it's too late.
This article is commentary by an independent contributor. At the time of publication, the author held shares of AAPL.