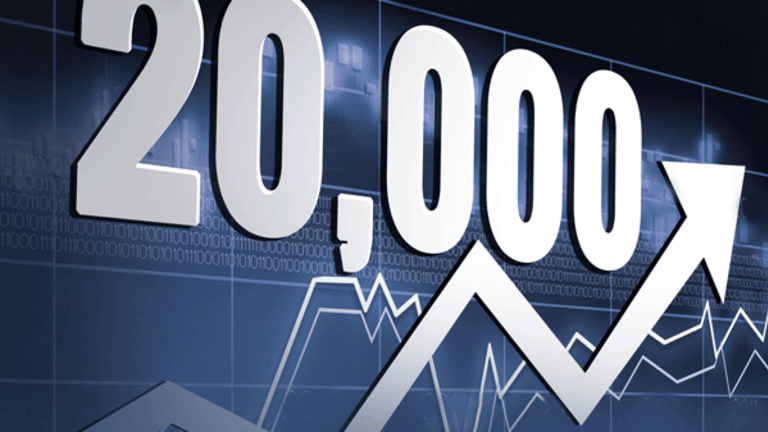 Dow 20,000: Green Light for Bulls or Sucker's Rally?
The broad equity index that's synonymous with Wall Street hit the long-awaited milestone. What the heck does it really mean?
When the Dow Jones Industrial Average closed at more than 20,000 on Wednesday, President Trump responded via his preferred medium (Twitter) and with his usual exclamatory style: "Great!" Not surprisingly, the White House also was quick to take credit.
But does this much-ballyhooed threshold actually bear any meaningful significance for investors? Below we examine the implications of Dow 20,000 and how you should trade it.
In many ways, Dow 20,000 is just a number. But markets are made up of human beings, who in turn are driven by their emotions. The Dow reached 1,000 in 1972 and it hit 10,000 in March 1999. The fact that this basket of 30 companies, a proxy for American capitalism, continues to rise over the years is testimony to the wisdom of putting your money into stocks.
Dow 20,000 carries this message: The best way to get wealthy is to keep your eye on the long game, and stocks remain the best game in town.
Now the caveats. The Dow is far less diversified than the S&P 500 or the scores of exchange-traded funds out there. As an indicator, Dow 20,000 is more psychological than empirical.
In addition, the Dow has been "climbing a wall of worry" since the Nov. 8 election. The overwhelming consensus before the presidential vote was that Donald Trump's election would crush stocks, but it didn't happen. In fact, the prospect of a fiercely free-market Republican in the White House, working in concert with a GOP-led Congress, got traders' juices flowing.
Problem is, it's unrealistic that Trump can simultaneously boost federal spending, cut corporate taxes, deregulate business and not meddle with Social Security and Medicare. Fiscal hawks in Congress simply won't let him open the spigots, which means the much-anticipated fiscal stimulus could be a mirage. Indeed, the budgetary legerdemain necessary for Trump to fulfill all his campaign promises could trigger debt and deficit crises, which would cause the markets to tank.
Other concerns should give you pause as well. Since 1961, recoveries on average have lasted about eight years, which is roughly the length of the Obama recovery. The stock market also is overbought, according to almost every valuation yardstick. Many analysts are now calling for a correction, followed by a bear market.
Another factor that probably has buoyed stocks is the hope for a capital gains tax cut under Trump. Investors could be waiting to dump their stocks until the tax situation is more advantageous. That's a logical motivation, but it's hardly based on underlying fundamentals.
The upshot: Pay less attention to Dow 20,000 and more to this quarter's corporate earnings.
The biggest gainer in the Dow on Wednesday was Boeing (BA) - Get Free Report , which closed 4.2% higher after it reported fourth-quarter results that exceeded analysts' expectations.
The aircraft manufacturer reported adjusted earnings per share of $2.47, exceeding analysts' estimates of $2.32. For revenue, Boeing generated $23.3 billion vs. analysts' expectations for $23.1 billion. Trump has engaged in Twitter wars with Boeing management over job offshoring, but that's all sound and fury, signifying nothing.
Earnings are when the rubber hits the road, and although its shares enjoyed a big run-up in recent weeks, Boeing remains a safe long-term bet on growth amid multiplying global orders for civilian and military aircraft. As the world's largest maker of airplanes, Boeing also is a component of the Dow Jones Industrial Average.
Conversely, Textron (TXT) - Get Free Report plunged 5.4% on Wednesday, after its fourth-quarter operating results fell short of expectations. The company reported adjusted EPS of 80 cents, missing consensus estimates of 87 cents by 8%.
Textron is a defense contractor with several varied divisions, among them Bell Helicopter. As such, the company competes with Boeing and Lockheed Martin for military rotorcraft orders. However, Textron is in many ways an unwieldy conglomerate that lacks Boeing's focus and Lockheed Martin's sheer size.
Buy Boeing and shun Textron. Those are two smart decisions that have a lot to do with the latest earnings numbers ... and less to do with Dow 20,000. Regard the rest of the market with similar analysis and skepticism.
---
Is Dow 20,000 a meaningful signpost or merely the warning flag for a huge correction? If you're worried about a bear market in 2017, you're not alone. But there's a way for you to make profits and also protect your portfolio. We've found a genius trader whose proprietary trading system racks up huge profits in up or down markets. Get all of the details here.
This article is commentary by an independent contributor. At the time of publication, the author held shares of BA.