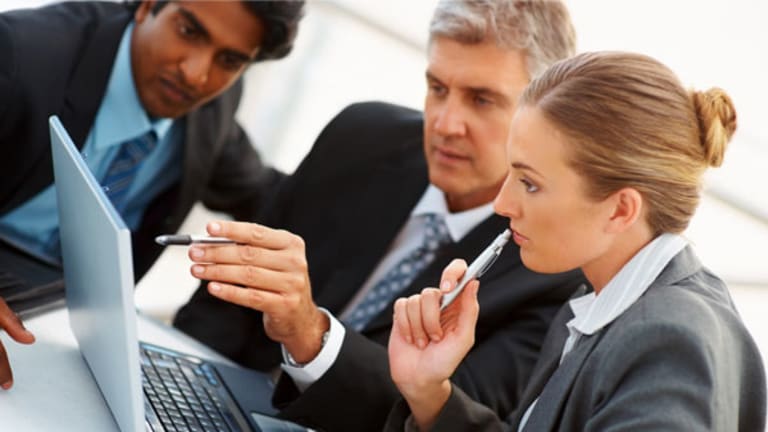 Doug Kass: 15 Surprises for 2014 (Part 3)
What surprises might occur in 2014 -- and how can we profit?
This column, which is the third in a series of three, first appeared on Real Money Pro on Jan. 6.
Surprise No. 11: Hillary Clinton bows out as a presidential candidate.
Revelations made by a New York Times investigative reporter precedes an announcement that Bill and Hillary Clinton plan to divorce. Shortly thereafter Hillary Clinton officially bows out of the 2016 presidential contest. Elizabeth Warren emerges as a Democratic presidential frontrunner (a 2013 surprise).
Strategy: None.

Surprise No. 12: Social unrest and riots appear in the U.S.
Riots break out in select major cities as inequality and the screwflation of the middle class gain center stage.
Middle-class income, purchasing power and discretionary incomes continue to stagnate. Zero interest rates, quantitative easing, trickle-down economics and a higher stock market fail to solve the structural decline in labor's share of the economy.
Local municipalities raise costs and reduce their levels of services. With property values topping out, pension/health care costs rising and economic growth slowing, the decline in government services accelerates -- and so does taxation. As an example, the U.S. Postal Service reduces home delivery (in favor of more post office boxes and less frequent daily service). Local "junk fees" on parking tickets, permits, recreational entrance, etc. are instituted. As well, fees for trash pickup are raised dramatically and, in certain cases, trash pickup is eliminated.
Pressured politicians introduce a national wealth tax (also a 2013 surprise) that is authorized by Congress late in the year.
Strategy: None.
Surprise No. 13: Africa becomes a new hotbed of turmoil and South Africa precipitates an emerging debt crisis.
Politics and economics form a potentially toxic cocktail.
Africa triggers an emerging-market crisis and becomes a flashpoint of geopolitical risk and political turmoil as the region's untapped oil wealth is recognized.
Not long ago, South Africa was meant to be the "S" in the BRICS, alongside fast-growing Brazil, Russia, India and China. The rand, however, is in steep decline, and the nation has growing budget and trade deficits and slowing growth, so it can hardly claim membership in that club right now.
At some point in 2014, the ratings agencies will downgrade South Africa, foreign money will flee, and the country will be in a full-blown financial crisis that will trigger a wider selloff in the emerging markets and could highlight problems at emerging-market central banks (which are already suffering from slowing economic growth, an acceleration in inflation, etc.).
Potentially changing regimes due to national elections in Brazil, India, Indonesia and Turkey cause those countries to join South Africa in the emerging markets' bumpy ride, which is further impacted by U.S. dollar strength caused by the Fed's tapering.
If the crisis intensifies and expands beyond South Africa, a contagion into the developed banks could raise additional concerns and pull down money center bank shares.
Strategy: Short iShares MSCI South Africa ETF (EZA), iShares MSCI Emerging Markets ETF (EEM) and Financial Select Sector SPDR (XLF).
Surprise No. 14: The next big thing? A marijuana IPO rises by more than 400% on its first day of trading.
Marijuana is legalized in many more states and the largest (to date) marijuana grower/retailer goes public in a Goldman Sachs-led IPO that soars by 400% in the first day of trading.
Numerous copycat marijuana related IPOs follow.
Strategy: None.
Surprise No. 15: An escalation of friction between China and Japan hints at war-like behavior between the two countries.

Global trade and stocks suffer.
Strategy: Short iShares China Large-Cap ETF (FXI) and SPDR S&P 500 ETF Trust (SPY).
Read on for more also-ran surprises.
Five Also-Ran Surprises
Also-Ran Surprise No. 1: Changes seen at CNBC, NBC, CNN and Fox Business.
Michelle Caruso-Cabrera joins Fox Business as the morning anchor.
Erin Burnett (congratulations on your new baby boy!) leaves CNN and rejoins CNBC.
Carl Quintanilla leaves CNBC and permanently joins NBC's "The Today Show."
Strategy: None.
Also-Ran Surprise No. 2: Crude oil trades at $75 a barrel.
A quiescent period of Middle East peace, more U.S. energy discoveries (and an increased pace of energy independence) and slowing global economic growth adversely impact energy prices.
Strategy: Short crude oil and energy stocks.
Also-Ran Surprise No. 3: Despite lower stock prices the VIX trades under 10.
Strategy: Short VIX
Also-Ran Surprise No. 4: Gold trades under $1,000 an ounce.
Strategy: Short SPDR Gold Trust (GLD) and gold miner shares
Also-Ran Surprise No. 5: Carl Icahn's fund loses 15% to 20%.
He is only human.
Strategy: None.
This column originally appeared on Real Money Pro at 9:18 a.m. EST on Jan. 6.
At the time of publication, Doug Kass was long AAMC, C, TLT, BAB, BTT, ETX, BKN, NQS, NPM, NAD, NMO, NMA, VPV, VCV, NQU, NPI, NRK and MONI.L; short SBUX, BRK.B, QQQ and SPY, although holdings can change at any time.
Doug Kass is the president of Seabreeze Partners Management Inc.