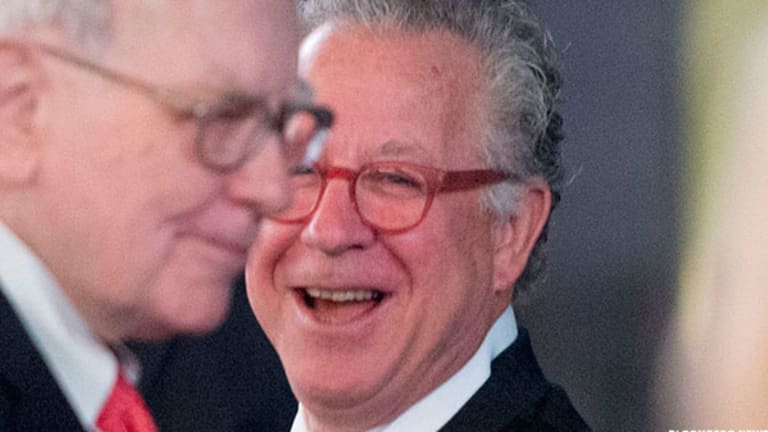 [video] Doug Kass: 15 Surprises for 2014 (Part 1)
What surprises might occur in 2014 -- and how can we profit?
This column, which is the first in a series of three, first appeared on Real Money Pro on Jan. 6.
"Never make predictions, especially about the future."

-- Casey Stengel
It's that time of the year again!
By means of background and for those new to Real Money Pro, 11 years ago, I set out and prepared a list of possible surprises for the coming year, taking a page out of the estimable Byron Wien's playbook, who originally delivered his list while chief investment strategist at Morgan Stanley, then Pequot Capital Management and now at Blackstone.
It takes me about three weeks of thinking and writing to compile and construct my annual surprise list column. I typically start with about 40 surprises, which are accumulated during the months leading up to my column. In the days leading up to this publication, I cull the list to come up with my final 15 surprises. (This year I include five also-ran surprises).
I often speak to the wise men and women in the investment and media businesses who give me some ideas. (This year I wanted to specifically thank Steve Einhorn and Lee Cooperman at Omega Advisors and The Lindsey Group's Peter Boockvar for their input.)
I have always associated the moment of writing the final draft (in the weekend before publication) of my annual surprise list with a moment of lift, of joy and hopefully with the thought of unexpected investment rewards in the New Year (e.g., Altisource Asset Management (AAMC), my stock of the decade for 2013, spiked up by 1,200% during the year). This year is no different.
Above all, the publication of my annual surprise list is recognition that economic and stock market histories have proven that (more often than not) consensus expectations are off base.
Abba Eban, the Israeli foreign minister in the late-1960s and early-1970s once said that the consensus is what many people say in chorus but do not believe as individuals. GMO's James Moniter, in an excellent essay published several years ago, made note of the consistent weakness embodied in consensus forecasts. As he put it:
[E]conomists can't forecast for toffee.... They have missed every recession in the last four decades. And it isn't just growth that economists can't forecast; it's also inflation, bond yields, unemployment, stock market price targets and pretty much everything else.... If we add greater uncertainty, as reflected by the distribution of the new normal, to the mix, then the difficulty of investing based upon economic forecasts is likely to be squared!
My Surprises for 2013 Generally Proved to Be Wrong-Footed
"How'm I doin'?"
-- Ed Koch, former New York City mayor
While over recent years many of my surprise lists have been eerily prescient (e.g. my 2011 surprise that the S&P 500 would end exactly flat was exactly correct), my 15 Surprises for 2013 failed to achieve the successes of the past few years.
In fact, my surprises were way off the mark last year. I needed a lifeline, a call to a friend or a do over.
As we entered 2013, most strategists expressed a cautious but constructive economic view of a self-sustaining domestic recovery, held to an upbeat (though not wide-eyed) corporate profits picture and generally shared the view that the S&P 500 would rise by between 8% and 10%. (A year ago the median S&P forecast for year-end 2013 was only 1550, according to Bloomberg; the closing price in 2013 was 1848.)
Those strategists proved to be correct on profit growth (but only because of several non-operating factors), were too optimistic regarding domestic and global economic growth and, most importantly (as I did), grossly underestimated the animal spirits that resulted in a well above historic increase in P/E ratios that buoyed stock prices to their largest annual gain since the mid-1990s.
Many readers of this annual column assume that my surprise list will have a bearish bent. But I have not always expressed a negative outlook in my surprise list. For example, two years ago, my 2012 surprise list had an out-of-consensus positive tone to it, but 2013's list was noticeably downbeat relative to the general expectations. I specifically called for a stock market top in early 2013, which couldn't have been further from last year's reality, as January proved to be the market's nadir. The S&P closed at its high on the last day of the year and exhibited its largest yearly advance since 1997. (I steadily increased my fair market value calculation throughout the year, and, at last count, I concluded that the S&P 500's fair market value was approximately 1645.)
Before reviewing what went right and what went wrong in my surprise list for 2013 and previewing my surprise list for 2014, I wanted to give some historical perspective on the lessons of the past, on the role of the consensus and what I am trying to bring to the table in the construction of my annual surprise list.
Lessons Learned Over the Years
"I'm astounded by people who want to 'know' the universe when it's hard enough to find your way around Chinatown."
-- Woody Allen
There are five core lessons I have learned over the course of my investing career that form the foundation of my annual surprise lists:
how wrong conventional wisdom can consistently be;
that uncertainty will persist;
to expect the unexpected;
that the occurrence of black swan events are growing in frequency; and
with rapidly changing conditions, investors can't change the direction of the wind, but we can adjust our sails (and our portfolios) in an attempt to reach our destination of good investment returns.
Consensus Is Often Wrong
"Let's face it: Bottom-up consensus earnings forecasts have a miserable track record. The traditional bias is well-known. And even when analysts, as a group, rein in their enthusiasm, they are typically the last ones to anticipate swings in margins."
-- UBS (top 10 surprises for 2012)
Let's get back to what I mean to accomplish in creating my annual surprise list.
It is important to note that my surprises are not intended to be predictions but rather events that have a reasonable chance of occurring despite being at odds with the consensus. I call these "possible improbable" events. In sports, betting my surprises would be called an "overlay," a term commonly used when the odds on a proposition are in favor of the bettor rather than the house.
The real purpose of this endeavor is a practical one -- that is, to consider positioning a portion of my portfolio in accordance with outlier events, with the potential for large payoffs on small wagers/investments.
Since the mid-1990s, Wall Street research has deteriorated in quantity and quality (due to competition for human capital at hedge funds, brokerage industry consolidation and former New York Attorney General Eliot Spitzer-initiated reforms) and remains, more than ever, maintenance-oriented, conventional and groupthink (or groupstink, as I prefer to call it). Mainstream and consensus expectations are just that, and in most cases, they are deeply embedded into today's stock prices.
It has been said that if life were predictable, it would cease to be life, so if I succeed in making you think (and possibly position) for outlier events, then my endeavor has been worthwhile.
Nothing is more obstinate than a fashionable consensus, and my annual exercise recognizes that over the course of time, conventional wisdom is often wrong.
As a society (and as investors), we are consistently bamboozled by appearance and consensus.
Too often, we are played as suckers, as we just accept the trend, momentum and/or the superficial as certain truth without a shred of criticism. Just look at those who bought into the success of Enron, Saddam Hussein's weapons of mass destruction, the heroic home-run production of steroid-laced Major League Baseball players Barry Bonds and Mark McGwire, the financial supermarket concept at what was once the largest money center bank Citigroup (C), the uninterrupted profit growth at Fannie Mae and Freddie Mac, housing's new paradigm (in the mid-2000s) of noncyclical growth and ever-rising home prices, the uncompromising principles of former New York Governor Eliot Spitzer, the morality of other politicians (e.g., John Edwards, John Ensign and Larry Craig), the consistency of Bernie Madoff's investment returns (and those of other hucksters) and the clean-cut image of Tiger Woods.
How Did Consensus Do in 2013?
"In ambiguous situations, it's a good bet that the crowd will generally stick together -- and be wrong."
-- Doug Sherman and William Hendricks
As we entered 2013, consensus estimates for economic and profit growth as well as stock market prices were modest. Projections for bond yields were for only a slight rise. As well, most sell-side projections for earnings, the economy, bond yields and stock prices were grouped in an extraordinarily tight range.
Both U.S. and global economic growth disappointed the consensus (despite a strong third-quarter 2013 U.S. GDP print).
S&P earnings were a slight beat but only because of more aggressive than anticipated share repurchase programs, lower depreciation and interest expenses and a decline in effective tax rates.
Bond yields rose more swiftly than expected.
Stock prices ended the year materially above beginning-of-the-year forecasts.
Last year, I chose to use Goldman Sachs' forecasts as a proxy for the consensus.
Below were Goldman Sachs' year-ago forecasts for 2013 (with the actuals in parentheses):
2013 U.S. real GDP +2.0% estimate (+1.8% actual), global GDP up 3.4% estimate (+2.8% actual);
2013 S&P 500 operating profits of $108 a share estimate ($108 a share actual);
year-end 2012 S&P 500 price target at 1575 estimate (1848 actual);
2013 headline inflation of +2.2% estimate (+1.5% actual); and
2013 closing yield on the U.S. 10-year Treasury note at 2.20% estimate (3.00% actual).
How Did My Surprise List for 2013 Do?
My 15 surprises for 2013 had the poorest success rate since 2005's list (20%).
By comparison, my 2012 surprise list achieved about a 50% hit ratio, similar to my experience in 2011. Forty percent of my 2010 surprises were achieved, while I had a 50% success rate in 2009, 60% in 2008, 50% in 2007, one-third in 2006, 20% in 2005, 45% in 2004 and one-third came to pass in the first year of my surprises in 2003.
Below is a report card of my 15 surprises for 2013 (I hit on only about 20% of the surprises):
Surprise No. 1: The U.S. economy disappoints relative to consensus expectations. Right. (Though third-quarter GDP beat consensus by a hefty amount, the full year was close to my view and lower than consensus.)
Surprise No. 2: The 2013-2014 earnings cliff sinks the markets in 2013's first half. Wrong.
Surprise No. 3: A dysfunctional Washington D.C., has profound political implications and an influential third party (the People's Party) is formed. Wrong.
Surprise No. 4: A tax on securities transactions is instituted in exchange for an increase in Medicare eligibility -- its implementation has broadly negative ramifications for financial stocks and hedge funds. Wrong.
Surprise No. 5: Under political, economic and stock market pressure, Obama begins to move back toward the center, but it is too late. Wrong.
Surprise No. 6: Despite a growing concern that interest rates will rise, the yield on the 10-year U.S. note remains range-bound. Wrong.
Surprise No. 7: There will be four market influencing black swan events in 2013. Wrong. (Though numerous cyberattacks did occur throughout the year and Sourcefire was acquired by Cisco (CSCO).)
Surprise No. 8: Apple's (AAPL) share price and earnings continue to disappoint in the first half of 2013, but the shares rebound sharply in the second half. Right.
Surprise No. 9: The big market winner will be Altisource Asset Management. Right. (Indeed, I hit it out of the park on this one, as Altisource Asset Management, my "stock of the decade" climbed by 1,120%, to $940 a share.)
Surprise No. 10: Takeover activity slows to a standstill. Wrong. (Though M&A activity was muted relative to optimistic expectations.)
Surprise No. 11: A comprehensive New York Times expose reveals that all Chinese economic data have been fabricated. Wrong.
Surprise No. 12: There is no reallocation out of bonds and into stocks in 2013. Wrong.
Surprise No. 13: Signs of life are found on Mars. Right.
Surprise No. 14: Procter & Gamble (PG) splits apart into three separate companies and Avon Products (AVP) is courted. Wrong.
Surprise No. 15: There are numerous surprises in entertainment and in sports. (Cassadee Pope, New York Yankees, Oklahoma Thunder, Seattle Seahawks, Alabama, Tiger Words, Kentucky Derby, World Series of Poker. Wrong. (Though I did forecast the exact Alabama-Notre Dame point differential in the Bowl Championship Series Game.)
What Is the Consensus for 2014?
"The only thing people are worried about is that no one is worried about anything.... That isn't a real worry."
-- Adam Parker, chief U.S. strategist at Morgan Stanley
Virtually all strategists are now self-confident bulls, as gloom-and-doom forecasts have all but disappeared. After more than a year with no reactions of 10% or more, any future setbacks are being viewed by the consensus as "bumps in the road" and as opportunities to buy because (after the correction(s)) we will be "up up and away."
After missing the 25% rise in P/E ratios in 2013, the consensus also assumes that valuations will expand again in 2014. (Note: The average P/E ratio has increased by about 2% per year over the last 25 years.)
The domestic economy has forward momentum and global purchasing manager indices were relatively strong in December, so the extrapolation of heady growth is now in full force by the consensus.
In terms of the markets, the consensus remains of the view that liquidity (albeit, at a slowing rate as of this month) will overcome complacency again as it did last year, but my surprises incorporate the notion that the extremes that exist today (in price and bullish sentiment) put the markets in a different and less secure starting point in 2014.
As we enter 2014, investors and strategists are again grouped in a narrow consensus and expect a sweet spot of global economic corporate profit growth that will translate to higher stock prices.
The consensus is for U.S. economic growth of +2.5% to +3.25% real GDP, bond yields to be 25 basis points-75 basis points higher and year-end 2014 closing stock market price targets to be up by about +8% to +10% (on average).
Indeed, most strategists suggest (in sharp contrast to their views 12 months ago) that the big surprise for 2014 will be that there is upside to economic growth and stock market prices. (To illustrate, Harvard University's Martin Feldstein asks, "Do we have to worry about overheating [of the economy in 2014]?" in the Wall Street Journal.
This year a consensus even exists as to what risks are in store for 2014. Most repeated surprises would be the failure of Abenomics; a slowdown in China's economic growth trajectory; and a U.S. economy that is either too cold (a recession), which would result in a disappointing profit picture, or too hot (3.5% or more real GDP growth), which would result in a rise in interest rates (and inflation) that would choke off growth and restrain valuations.
Again, let's use Goldman Sachs' principal views of expected economic growth, corporate profits, inflation, interest rates and stock market performance as a proxy for the consensus:
U.S. real GDP, which was +1.8% actual in 2013, +3.1% estimate for 2014;
global real GDP, which was +2.8% actual in 2013, +3.6% estimate for 2014;
S&P 500 EPS, which was $108 actual in 2013, $116 top-down estimate and $119 bottom-up estimate for 2014;
year-end S&P 500 price target, which was 1848 actual in 2013, 1900 estimate for 2014;
inflation/headline CPI, which was +1.5% actual in 2013, +1.5% estimate for 2014; and
U.S 10-year Treasury yield, which was 2.75% actual in 2013, 3.25% estimate for 2014.
The Rationale Behind My Downbeat Surprises for 2014
There are numerous reasons for my downbeat theme this year. Below are a few (in no order of importance):
Corporate profit margins (70% above historical averages) are stretched to 70-year highs, so earnings are exposed.
Second-half 2013 strength in domestic economic growth has been boosted by nonrecurring inventory accumulation. Some more recent signs (e.g., automobile sales, retail spending and housing data) suggest a deceleration in growth may lie ahead.
The baton exchange from Helicopter Ben to Whirlybird Janet could be unkind to the markets. On average, a change in the Fed chair has resulted in about a 7% drop in the major stock indices.
Quantitative easing may not be a continued tailwind for stocks. As Peter Boockvar wrote, "QE doesn't create a safer world, it is just a temporary high and the danger always comes on the flip side as previously seen.... QE puts beer goggles on investors by creating a line of sight where everything looks good, but the Fed's current plan is to end it by year-end."
Sentiment measures are elevated to historically bullish levels. This is seen not only in the disparity between bulls and bears (in the popular surveys) but also manifested in the third-highest margin debt to GDP in history.
Valuations (P/E ratios) rose by nearly 25% in 2013 vs. only 2% annually since the late-1980s.
The Shiller P/E ratio is at or near historic highs (excluding the bubble of the late-1990s).
According to JPMorgan, the S&P 500 is now more expensive on a forward P/E basis than it was at its previous peak in October 2007.
Interest rates might pose more of a threat than is generally viewed. The rose-colored glasses being worn by investors might be cleared in the year ahead, as the withdrawal from QE and low rates might be harsher.
A year ago, market enthusiasm was muted. Today there are no cautionary forecasts for the S&P for the next 12 months.
My 15 Surprises for 2014
This year I have reduced the length of the commentary in my surprise list, which got too verbose.
As I did last year, following each surprise, I have included a specific strategy that might be employed in order for an investor to profit from the occurrence of these "possible improbables."
Below are my 15 surprises for 2014 (and five also-rans that didn't make the list).
Surprise No. 1: Slowing global economic growth and fears of stagflation emerge.
At the core of this year's surprise list is that the U.S. economy disappoints (with domestic real GDP growing at +1.75% or less, half the expected rate offered by the consensus) relative to consensus expectations. Many (e.g., Harvard's Martin Feldstein) are worried about the economy overheating, but global growth also fails to meet forecasts (and is only +2.5% against consensus forecasts of +3.6%+).
The case for slowing growth is not necessarily quartered and dependent on rising interest rates. Rather, central to my surprise is a "spent-up not pent-up" consumer whose fragility may be exposed and an uptick in economic inequality as trickle-down policy grows increasingly ineffective.
The recent rise in unemployment claims, higher gas prices, slowing population growth, the higher costs of health care, slowing retail sales and a pause in domestic automobile and housing activity likely presage that slowing growth is in store for 2014.
U.S. real GDP growth is under 2%, and worldwide growth is under 3%, making the difference between anemic growth and recession increasingly one of semantics. (Note: The U.S. stock market has a forward P/E ratio of nearly 17 with a 2% real GDP growth rate, while China has a forward P/E ratio of about 7.5x with a 7% real GDP growth rate.)
The Fed's tapering will be put on hold in response to slowing growth, and some within the Fed, including Whirlybird Janet Yellen, argue for increased levels of quantitative easing. Half the Fed members are reluctant to add "more cowbell," however, so there is no additional QE and the new Fed Chair's more aggressive monetary policy views are repudiated.
Pressure is placed on both parties in Washington, D.C., to introduce more radical and aggressive fiscal policies in order to stimulate domestic economic growth by year-end.
Major droughts in the U.S., Brazil and Russia have a knock-off impact on much higher commodity and food prices, experiencing a greater-than-5% rise in 2014 (negatively impacting the consumer's purchasing power).
The drought brings on stagflation concerns. Other supply disruptions fuel some cost-push commodity price inflation even though economic growth is weak relative to expectations.
The risk of an exogenous shock expands, and further downgrades of global growth could put the U.S. and Europe in a deflationary headlock, finding both regions in a light liquidity trap.
Even though interest rates grind a bit higher in early 2014, the rise is mild, and the yield on the 10-year U.S. note spends most of the year between 2.5% and 3.0%.
Surprisingly (with a stable rate picture), the housing market is further disrupted. Mortgage rate and home price sensitivity are underestimated, as double-digit home price increases in 2013 dwarf modest rises in incomes. As a result, affordability suffers, and real buyers are priced out of the market. Traffic and orders drop off as the year proceeds. The accumulation of homes to rent by new-era buyers (hedge funds, private equity, etc.) precipitates further weakness in the U.S. housing market -- indigestion in the rental markets develops, as there is an inability to absorb the units. By the second half of 2014, year-over-year home prices turn mildly negative.
A new homebuyer tax credit is considered in late 2014 in order to stimulate residential real estate markets.
Refinancings evaporate, serving to put pressure on household cash flow and personal consumption expenditures. The unemployment rate remains sticky (hanging around 7%), and consumer confidence falls.
The expected recovery in capital spending fails to materialize in 2014.
Companies slow down their share repurchase programs (which buoyed EPS last year), balking at higher stock prices and recognizing that the economics of debt offerings to fund repurchases are less compelling from an ROI standpoint than they were in 2013.
Strategy: Buy index puts, sell index calls, or purchase inverse ETFs.
Surprise No. 2: Corporate profits disappoint.

Slower global economic growth impedes corporate profit growth. (See previous section, "The Rationale for My Downbeat 2014 Expectations," for more reasons.)
As we approach earnings season, I estimate that 2013 S&P earnings approximated $108.50 a share.
For 2014, the consensus estimates that the S&P 500 will achieve profits of about $116 to $120 a share. (Recently, those projections have been skewing higher and seem to be moving to closer to $120 a share.) My base case estimate is for $112 a share, a gain of under 5% (year over year), which is, again, below consensus.
Slowing sales, a contraction in margins, the reduced influence/benefit from aggressive monetary policy and political uncertainties are some of the reasons why my baseline earnings expectation is for below-consensus 2014 S&P 500 profits.
Strategy: Buy index puts, sell index calls, or purchase inverse ETFs.
Surprise No. 3: Stock prices and P/E multiples decline.
While the S&P 500 closed 2013 at its yearly high, equities will close 2014 at their yearly low.
Stocks trade in a relatively narrow range over the next six months but fall in the second half, ending the year at their low, with a decline of between 5% and 15%.
Valuations decline in 2014. Last year's animal spirits subside as P/E multiples, which increased by nearly 25% in 2013, fall by about 15% in 2014.
Strategy: Buy index puts, sell index calls, or purchase inverse ETFs.

Surprise No. 4: Bonds outperform stocks.
Bonds outperform stocks in 2014.
Against the backdrop of a decline of between 5% and 15% in the U.S. stock market, the return on long-dated, taxable U.S. bonds is close to +10%.
Interest rates decline from 2013's year-end levels. The yield on the 10-year U.S. note ends the year between 2.5% and 3.0%.
Closed-end municipal bond funds are among the best asset classes during the year, achieving a total return of about 15% in 2014.
Strategy: Buy iShares 20+ Year Treasury Bond ETF (TLT), PowerShares Build America Bond Portfolio (BAB), BlackRock Municipal Target Term Trust (BTT), Eaton Vance Municipal Income Term Trust (ETX), BlackRock Investment Quality Municipal Trust (BKN), Nuveen Select Quality Municipal Fund (NQS), Nuveen Premium Income Municipal Fund II (NPM), Nuveen Dividend Advantage Municipal Fund (NAD), Nuveen Municipal Market Opportunity Fund (NMO), Nuveen Municipal Advantage Fund (NMA), Invesco Pennsylvania Value Municipal Income Trust (VPV), Invesco California Value Municipal Income Trust (VCV), Nuveen Quality Income Municipal Fund (NQU), Nuveen Premium Income Municipal Fund (NPI) and Nuveen New York AMT-Free Municipal Income Fund (NRK).

Surprise No. 5: A number of major surprises affect individual stocks and sectors.

Citigroup outperforms Bank of America (BAC).
Starbucks (SBUX) shares fall by 25% as consumers (finally) balk at the company's expensive product offerings.
3-D printing stocks halve in price.
Apple's shares drop back under $500 a share, never breaching $600 to the upside and spending most of the year under $525 a share as profit estimates are again shaved. (Icahn dumps the shares; see more on Icahn in also-ran surprises.)
Amazon (AMZN) reports a huge earnings beat in the first half of 2014 -- the shares trade over $550 a share and are a standout in the moribund high-beta, speculative sector.
Goldman Sachs (GS) goes private (a previous-year surprise).
My "stock of the decade," Altisource Asset Management, doubles in price to $2,000 a share after rising by 1,200% in 2013.
My 2014 "stock of the year," Monitise (MONI.L/MONIF), triples in price (after doubling last year).
The latest hedge fund hotel, General Motors (GM), drops by 20% in 2014 as automobile sales stall.
Consumer staples and master limited partnerships are among the top performing sectors.
Retailers, transportation and housing shares are among the bottom performing sectors.
Strategy: Buy C/short BAC pair trade, short SBUX, short 3D Systems (DDD), short AAPL calls, buy AMZN common and calls, buy GS, buy AAMC, buy MONIF, short GM, buy Consumer Staples Select Sector SPDR (XLP), short Consumer Discretionary Select Sector SPDR (XLY) and Market Vectors Retail ETF (RTH), and short PowerShares QQQ (QQQ).
At the time of publication, Doug Kass was long AAMC, C, TLT, BAB, BTT, ETX, BKN, NQS, NPM, NAD, NMO, NMA, VPV, VCV, NQU, NPI, NRK and MONI.L; short SBUX, BRK.B, QQQ and SPY, although holdings can change at any time.
Doug Kass is the president of Seabreeze Partners Management Inc.