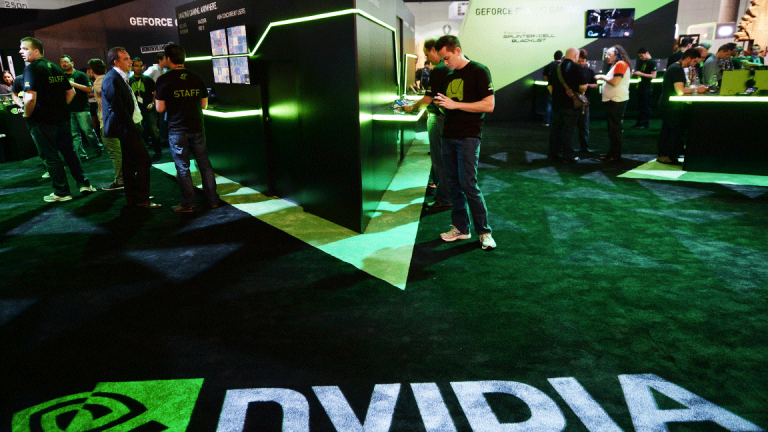 Doubting Nvidia's Future Is Dumb
The stock may be a little lower in recent sessions, but this company is likely to be on fire over the long-term.
Doubting Nvidia (NVDA) - Get NVIDIA Corporation Report is a dumb move.
Shares of California-based Nvidia have slumped slightly in recent trading, down about 7% for the week. The stock has traded in the red in 11 of the last 16 sessions.
The pullback, mostly on trade war fears, has stunned investors who have ridden the stock's 368% surge the last two years.
"Obviously the stock has had an incredible run over the past two years or so, which has been predominantly fueled by these buzzwords -- whether it's artificial intelligence, self-driving cars," said Morningstar Equity research Analyst Abhinav Davuluri. "The market kind of thinks that Nvidia's products are the only ones that can enable these next-generation growth drivers."
But any weakness isn't specific to Nvidia, its performance as a company or even its management. It certainly doesn't say anything about its future potential. 
"The stock has only been down over the past couple of days because of the broader tech selloff over the potential of a trade war between the U.S. and China," Davuluri said. "I wouldn't say it's specific or systemic to the company itself."
No matter, Nvidia's businesses are strong and growing. What was once a graphics processing unit company with strictly PC leverage has evolved completely to become a firm with a diverse hand in gaming, datacenters, visualization and autonomous driving, all anchored in well-established artificial intelligence computing.
"AI is a multi-decade investment theme and Nvidia's technologies sit in the pole position," said Susquehanna Financial Group Analyst Christopher Rolland. "As users train and tweak their AI algorithms, the GPU has proven to be the most effective hardware, sometimes by an order of magnitude."
And the proof is in the profit: Companies like Alphabet Inc. (GOOGL) - Get Alphabet Inc. Report , Amazon.com Inc. (AMZN) - Get Amazon.com Inc. Report , Facebook Inc. (FB) - Get Meta Platforms Inc. Report and Microsoft Corp. (MSFT) - Get Microsoft Corporation Report have taken to buying Nvidia chips for what Davuluri called "more advanced AI opportunities."
Beyond just the immense opportunities in AI, Nvidia has flexed its muscles in gaming, which remains a "solid growth driver," Evercore ISI analysts say. Nvidia's gaming revenue grew 35.8% in the fiscal year ended January 31, 2018.
About 60% of Nvidia's revenue is owed to PC gaming and cryptocurrency mining graphics processing units (GPUs), Davuluri said. But don't think Nvidia is any one-trick pony when it comes to the chips.
The mix of product and profit will increase, Davuluri said. "[Gaming and AI] will come closer to intersecting as a portion of sales," the analyst predicted. "There's definitely a mix shift within the organic growth itself."
As for datacenter revenue, try this on for size: sales rocketed 132.8% year-over-year in 2017 for the unit.
"As it stands today, even after several very impressive growth years, fiscal 2018's $1.9 billion of datacenter revenue is just scratching the surface of management's recently updated $50 billion [total addressable market] estimate by calendar 2023," Cowen analysts wrote in May.
Translation? The best could be yet to come.
And the future looks especially bright, as Nvidia can translate all its strength from business unit to business unit.
"The scalability of being able to design a chip and then use it in a bunch of different end markets is kind of a virtuous cycle where ... you're able to spread cost out among so many different products and then take those profits and fuel that back into your R&D, your design and your development for the next generation," Davuluri said.
CEO Jensen Huang's foresight led the company to corner the market on high-end heterogeneous computing. Intel (INTC) - Get Intel Corporation Report won't be able to compete, Rosenblatt Securities analyst Hans Mosesmann said.
"For longer-term investors that is very important because this is a trend," Mosesmann said. "It is something that will be with us for the next 10, 15, maybe 20 years."
"Buying Nvidia now is like buying Intel is the mid-eighties," Mosesmann said.
Now hit the buy button.
Nvidia, Alphabet, Amazon, Facebook and Microsoft are holdings in Jim Cramer's Action Alerts PLUS member club. Want to be alerted before Jim Cramer buys or sells the stocks? Learn more now.