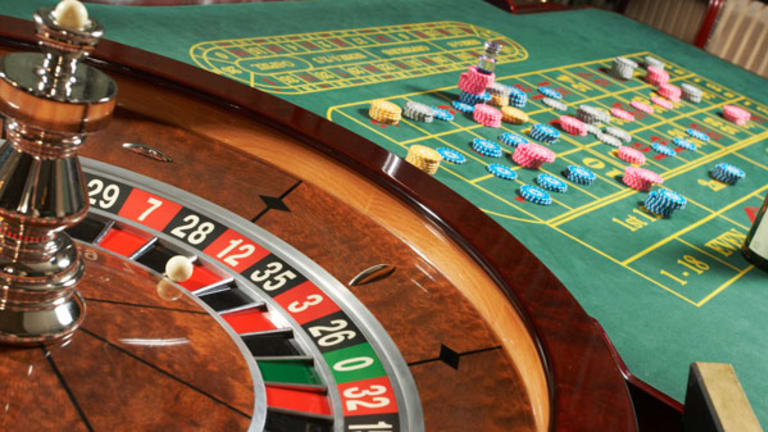 Doubling Down on New Jersey Online Gambling
The legalization of online gambling in New Jersey is having a positive ripple effect across all gaming stocks.
NEW YORK (TheStreet) -- It's a good bet that Atlantic City and casino stocks such as Boyd Gaming (BYD) - Get Boyd Gaming Corporation Report, Caesars Entertainment (CZR) - Get Caesars Entertainment Corporation Report, Las Vegas Sands (LVS) - Get Las Vegas Sands Corp. (LVS) Report, MGM Resorts International (MGM) - Get MGM Resorts International (MGM) Report and Wynne Resorts (WYNN) - Get Wynn Resorts, Limited (WYNN) Report will not only survive, but flourish now that online gambling is legal in New Jersey.
Investors are doubling down on the news.
Up more than 12% for the week, Caesars owns the Bally's Atlantic City, Caesars Atlantic City, Harrah's Resort Atlantic City, House of Blues at Showboat and Showboat Casino in Atlantic City, plus the Harrah's Philadelphia in Pennsylvania. For Caesar's, the world's most diversified casino entertainment company, about 20% of revenue comes from Atlantic City. Gary Thompson, a spokesman for the company, says, "We think [online gambling in New Jersey] is going to be beneficial not only to our company and other operators but it will also help expand and possibly reinvigorate the market by introducing games to potential new customers."
Boyd Gaming is up nearly 6% for the week. With more than twenty gaming properties, Boyd receives 27% of its almost $3 billion in revenues from a half-stake in the Atlantic City Borgata Casino, the most profitable of its kind in the city. Nearly 30% of revenue comes from properties in the Midwest and the South. A variety of properties in the Las Vegas area account for another 26%. Peninsula Gaming provides the remaining 18% of Boyd's revenues.
Rather than being threatened by online gambling, it is the major centers, New Jersey and Nevada -- the ones you might think would have the most to lose -- that are the biggest proponents of the new legislation.
Las Vegas Sands, Wynn Resorts, and MGM Resorts International have also seen their stock prices surge. Online gambling presents a new paradigm for revenue streams. Boyd was the first U.S. casino to offer gambling from televisions in its hotel rooms. Other potential new sources of gaming revenues could now come from tablets, smartphones, and laptop computers.
The "Amtrak corridor" from Washington D.C. to Boston is the most urbanized region of the country. About 50 million people live there; almost one-fifth of the population of the country on just 2% of the land. For the bulk of that group, between New York City and the nation's capital, Atlantic City is a two hour drive or less.
Most of the visitors to Atlantic City day-trip to gamble. They are obviously attracted in particular by the casinos and other features of Atlantic City, given that there are plenty of other gambling options in the region. Of the six forms of legalized gambling (charitable, pari-mutuel, lotteries, commercial, Indian, racetrack), Pennsylvania, Delaware, Maryland and New York all have at least five. What does Atlantic City have to offer that the others do not? Options. Hit a casino, stroll on the boardwalk, or eat at a restaurant.
Online gambling cannot replicate those attractions, but it certainly can add to the whole experience.
There is a basic economic principle that economic activity begets more economic activity both directly and indirectly related. Ergo, more gambling in one form will lead to more gambling of other varieties. For example, imagine a small-town accountant wins the poker tournament at the local charitable event in Pennsylvania. There is a reasonable chance that the accountant might press their luck next at the casinos in Atlantic City. Once in Atlantic City, they might also decide to spin the roulette wheel or try another form of gambling.
It should be the same with online gambling.
Investors are betting that online gambling will lead more people to the casinos at Atlantic City. While there, they might choose to gamble online from their room, or while walking on the boardwalk. No matter where the bet is being placed, from the gaming table, the television in the room of the guest at the resort, or from a smartphone while strolling on the boardwalk, the revenue will accrue in bottom line of the casino operator.
At the time of publication, Yates held no positions in the stocks mentioned.
This article is commentary by an independent contributor, separate from TheStreet's regular news coverage.
Jonathan Yates is a financial writer who has had thousands of articles appear in periodicals and Web sites such as TheStreet, Newsweek, The Washington Post and many others. Much of his career was spent working on Capitol Hill for Members of Congress in both the House and Senate, on both committee and personal staff. He was also General Counsel for a publicly traded corporation. He has degrees from Harvard University, Georgetown University Law Center and The Johns Hopkins University.