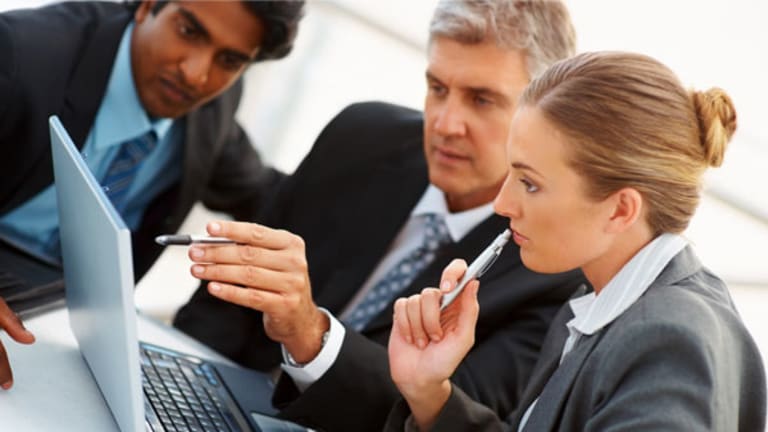 Doubling Down, Losing More -- Ask Noah
Getting all that we have lost back in a single transaction is something that dreams are made of.
The following commentary comes from an independent investor or market observer as part of TheStreet's guest contributor program, which is separate from the company's news coverage.
NEW YORK (
) -- Engaging in risky behavior, especially when one is already in a troubling situation, may be a seductive mistress.
Getting all that we have lost back in a single transaction is something that dreams are made of.
However, often in an attempt to recoup our losses a trader runs the risk of morphing into a gambler -- pulling an uncertain lever regardless of circumstances.
Unfortunately, this sort of trading action without intervention is more likely to have a catastrophic result.
Q: I have lost a lot of money trading over the last two weeks. I keep on "doubling down" and losing more. What should I do to stop this downward spiral?
Feelings are steering the wheel: Thinking is stuck in the back seat.
An inability to create emotional detachment during the trading day may lead to investment strategies based on ego validation rather than pragmatism and good rationale.
As such, you may no longer be trading prudently because you have abandoned the basic investment tenants of risk management/control, analyzing indicators, market trends, product research, long-term personal investment strategy, capital preservation etc.
A losing streak has led you to doubt your skill set (thought), creating fear (feeling) and leading to maladaptive actions (behavior) exemplified by your desire to double down.
Face the reality that you are not observing the market correctly. Do not increase your exposure and hard-earned money under the delusional assumption that doubling down will work.
Those who have spent extended and unprofitable periods in casinos in Atlantic City or Las Vegas can attest to this!
The emergence of a "downward spiral" reminds me of an irrational gambling addict -- chasing the loss irrespective of logic.
Be cautious in the coming weeks. I can sympathize with pushing the envelope by trying to recuperate all your losses at once. But let's use a baseball analogy to illustrate your faulty logic. You cannot come back from being down five runs in the bottom of the ninth with one swing; you need to first get one runner at a time safely to home plate.
So start slow as recouping your losses is a process. Now is the time to make informed decisions based on strong analysis of a company and/or market trends -- within the context of your overall investment strategy and risk profile.
Do not ignore your instincts but weigh them against the intensity of your counter-productive emotions. Always remember that patience is indeed a virtue. And if you double down, the outcome is nearly almost always negative.
Remember this phrase: "They can't hit a moving target!"
You are less likely to be self-destructive if you stay in motion. Move away from your desk. Eat something. Take your hat and turn it backwards!
Do anything to keep you from acting on these irrational impulses. Like any pathological urge it will pass, but you need time. This downward spiral can only be stopped by identifying the thought and challenging it.
Is this one trade going to really get me even? What are the odds of it being successful?
Am I shorting or going long this stock based on thoughtful analysis or good reasons? Or am I shorting or going long this stock based on my inability to emotionally handle that I have incurred losses?
Identifying the reasoning behind your investment and trading strategies is crucial to financial success.
The Oracle of Omaha, Warren Buffet, said it best: "Success in investing doesn't correlate with I.Q. once you're above the level of 25. Once you have ordinary intelligence, what you need is the temperament to control the urges that get other people into trouble in investing."
Thank you for not being afraid to seek the advice of others. During this time of great uncertainty, we can all use a bit!
Please send any questions to "Ask Noah" at nskass@gmail.com.
Have a profitable and peaceful week,
Noah