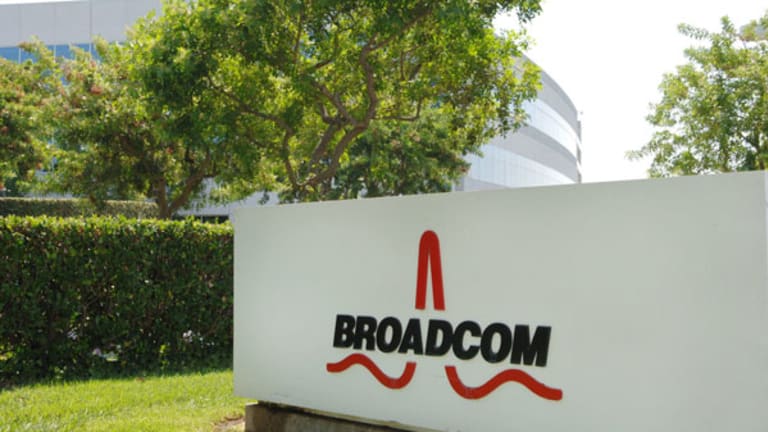 Don't Overreact to Broadcom Fears
Broadcom stock will recover to $30 by the end of the year.
Broadcom stock will recover to $30 by the end of the year.
NEW YORK (TheStreet) -- It hasn't been a great year for chip giant Broadcom (BRCM) .
Although the company enjoys a strong market position as one of the best part suppliers in a growing mobile industry, the stock has suffered, losing as much as 22% on the year to date. There are growing concerns that Broadcom, which has long been a standout is a weak chip industry, is beginning to lose market share to
Qualcomm
(QCOM) - Get Report
.
Making matters worse, the company's margins have come under pressure as the average selling price (ASP) of high-end mobile devices have begun to come down due of fear of saturation. While Broadcom is not alone in these concerns, unlike its rivals Broadcom's stock has been unable to find a floor. After a horrid second quarter, which fanned the flames of worry, investors are beginning to wonder can this company ever recover.
Even with the prolonged weakness in the sector, which produced
from the likes of
Intel
(INTC) - Get Report
and
Advanced Micro Devices
(AMD) - Get Report
, given Broadcom's "upper-tier level" position within the market, expectations for the company were still high. But with revenue growing just 6% year over year, which was below Street estimates, it was clear that management just couldn't live up to the growth demands.
Read: Dicker: Crude Oil Is Going Higher
The company's once-strong mobile/wireless business grew 7%. Ordinarily this would have been considered a solid performance. But in this case it fell short of Street expectations by almost 10%. By contrast, Qualcomm, which posted 35% year-over-year revenue growth, was able to beat Street expectations by 3%. Much of Qualcomm's performance was due to a strong showing in its chip business, which surged almost 50% year over year.
Not unlike Broadcom, which couldn't navigate the recent decline in device ASP's, Qualcomm management said that the company benefited from not only a slight recovery in device prices, but also better-than-expected unit shipments. Along those lines, while it was clear that Qualcomm was a beneficiary of
Apple's
(AAPL) - Get Report
strong iPhone shipments, I don't believe that Broadcom reaped an equal advantage. To that end, the idea that Broadcom is losing share to Qualcomm is no longer just a rumor.
For Broadcom, it wasn't all bad news, though. Despite the recent mobile chip struggles, one of the reasons that I've always liked this company is because its business is so well diversified. Investors take for granted that Broadcom also does well in the realm of networking, where one of its biggest customers includes
Cisco
(CSCO) - Get Report
. The company also generates revenue from not only satellite and voice-over-IP (VoIP) components, but also from the manufacturing of TV set-top boxes.
With such a breadth of capabilities, I don't believe Broadcom will be down for very long. At some point these other markets, especially networking, should begin to rebound, helping Broadcom generate more revenue beyond what it generates as a mobile component supplier. In the meantime, these businesses are doing the majority of the pulling. Both broadband and networking segments grew 5% and 7% year over year, respectively, which were better-than-expected.
Read: 19 Million Americans Did This Last Year
On the operating side, it is clear that the weak ASP situation is taken a toll on Broadcom's business. But I believe that the media has exaggerated what that "toll" actually is. No, I'm not downplaying the importance of Broadcom's mobile device business. I do believe that in the long term, mobile devices will still remain a strong market. But upon looking at Broadcom's financials, the impact of the mobile decline is not the "life and death" situation that it is being made out to be.
Take, for instance, the 3% year-over-year increase in operating income, which also grew 10% from the April quarter. But here's the thing; how is it possible that operating income can perform so well at the same time that the wireless business is performing so terribly due to weak APS and horrific margins? The answer is quite simple; Broadcom's non-wireless businesses, which includes infrastructure, are more profitable -- hence, why I've always appreciated a well-diversified business.
Essentially, growth or no growth in mobile chips, Broadcom is still making money today. While the mobile/wireless situation does deserve the majority of the attention, the idea that Broadcom has suddenly become a bad investment seems too premature.
I believe there is excellent value here at around the $26 per share level. I expect that the stock will recover to $30 by the end of the year on the basis on long-term, free-cash-flow growth.
At the time of publication, the author was long AAPL
.
Follow @saintssense
This article was written by an independent contributor, separate from TheStreet's regular news coverage.
Richard Saintvilus is a co-founder of
where he serves as CEO and editor-in-chief. After 20 years in the IT industry, including 5 years as a high school computer teacher, Saintvilus decided his second act would be as a stock analyst - bringing logic from an investor's point of view. His goal is to remove the complicated aspect of investing and present it to readers in a way that makes sense.
His background in engineering has provided him with strong analytical skills. That, along with 15 years of trading and investing, has given him the tools needed to assess equities and appraise value. Richard is a Warren Buffett disciple who bases investment decisions on the quality of a company's management, growth aspects, return on equity, and price-to-earnings ratio.
His work has been featured on CNBC, Yahoo! Finance, MSN Money, Forbes, Motley Fool and numerous other outlets.
Follow @saintssense