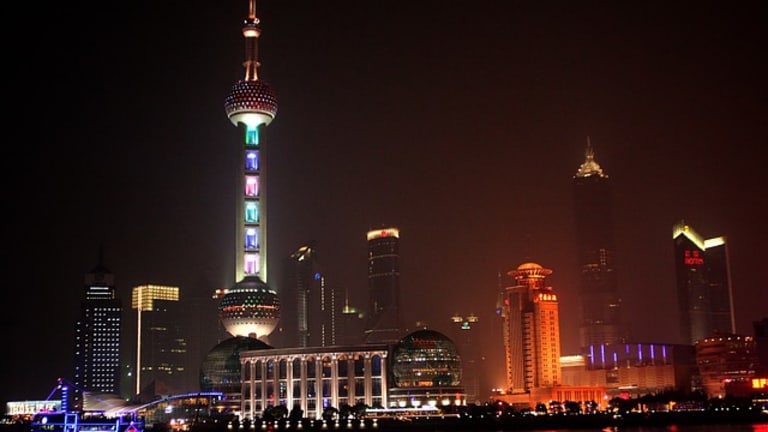 Don't Invest in China's Stock Market: Slowing Growth and Massive Debt Raise Risk
China's epic growth the past 25 years inevitably has to cool given that the country has already massively overborrowed and overbuilt, resulting in sky-high corporate and government debt burdens.
NEW YORK (TheStreet) -- The outlook for investing in China ETFs and mutual funds seems darker than the smog above Beijing.
Investors must accept that China's epic growth the past 25 years has to cool considering the country has already overbuilt, resulting in stratospheric corporate and government debt loads. Investing in China is growing ever riskier amid weakening real estate values and slowing economic growth. At the same time, escalating manufacturing costs have inspired foreign contractors to go to other countries, and a strong currency makes exports less competitive.
"The Chinese economy is ultimately headed for some kind of economic crisis, and it just might be getting into real trouble in 2015," the Jerome Levy Forecasting Center wrote in a February 13 report. "China's economy has emitted some disturbing signs of weakness, such as its January merchandise trade report, reports of less travel and spending by Chinese tourists, a broad pattern of weakening Chinese orders at international capital goods manufacturers, and falling home prices in most major cities."
Volatility Rising in the Stock Market
Volatility in China's stock market shot up in the new year as regulators cracked down on brokers for not following margin rules. Margin trading in China amounts to 2.4% of the stock market's total market capitalization and is among the highest on the planet. A modest correction could lead to a flood of margin calls that gives way to an onslaught of selling and losses for heavily leveraged investors.
An ETF with exposure to the stock market that mainlanders trade, Deutsche X-tracks Harvest CSI 300 China A-Shares ETF (ASHR) - Get Xtrackers Harvest CSI 300 China A-Shares ETF Report, slipped 6% year to date after flying 56% the prior 12 months, thanks in part to heavy margin borrowing.
iShares China Large-Cap ETF (FXI) - Get iShares China Large-Cap ETF Report -- the flagship ETF tracking China -- fell less than 1% so far in 2015 through March 6. It's up 20% in the trailing year, Morningstar data shows. It outpaced its benchmark by a wide margin. iShares MSCI Emerging Markets ETF (EEM) - Get iShares MSCI Emerging Markets ETF Report has flat-lined this year and is also flat for the trailing year.
In January, U.S. domiciled mutual funds investing in Chinese stocks had no net inflows, after having in December $200 million in net outflows, according to data from Lipper Inc. China ETFs saw $272 million in net inflows the first month of the year, a sharp rebound after experiencing $242 million in outflows in December.
Weakening Economic Growth
In March, the People's Republic lowered its economic growth projection for 2015 to 7% -- the slowest rate in 25 years -- after growing by 7.5% in 2014. Growth projections for money supply and consumer inflation were lowered to 12% and 3%, respectively. That's a slowdown from the 13% and 5.5% growth seen in 2014. Economic growth will taper even more next year to 6.8%, Bank of America Merrill Lynch's (BAC) - Get Bank of America Corp Report economists forecast. This year's budget deficit was revised higher to 2.7% of gross domestic product (up from 2.3% of GDP) as government spending must be boosted to support economic expansion.
Expansion in manufacturing lacks momentum as the manufacturing PMI index indicates. It came in at 49.9 for February 2015, just a little below the 50 threshold for expansion. Albeit It was better than the 49.8 reading in January. The PMI has failed to break 50 for two straight months, suggesting the industry faces a threat of recession.
A Great Wall of Bills
Monster investments in developing real estate and manufacturing engendered China's unprecedented growth over the past two and half decades. Unfortunately, climbing manufacturing costs, a strong yuan and over-construction, especially on the part of governments, have all given way to a massive debt burden that's weakening the foundation of a formerly supreme growth model.
The country's debt load has blasted fourfold since 2007 in the face of a real estate bubble and an unregulated shadow banking system. A report released in February by the McKinsey Global Institute found that China's debt load -- including banks, government, corporations, and households -- comes to 282% of gross domestic product. Among the world's highest, it eclipses the debt loads of developed countries such as U.S., Australia and Germany.
Corporate debt comes to 125% of GDP -- among the highest on the planet. What's worrisome is that a third of the country's debt bills came from the shadow banking system, a network comprised of all kinds of non-bank financing entities. Waning economic expansion at a time of rising debt loads makes it more difficult for new debt to produce business growth. Increasing debt loads makes servicing debt harder for borrowers and lifts the risk of a crash. If a debt-crisis arises, the Chinese government has the resources to bail out the financial system but it would be extremely hard to manage such crisis without endangering economic expansion, the McKinsey report stated.
Loosening Monetary Policy
Peasant farmers have been driven from their land into urban high rises in a move to transform China from an export-based economy into a consumer-driven one. This transformation has enormous obstacles given that the Chinese people culturally value saving.
The People's Bank of China has to ease monetary policy to prevent a hard landing. In late February the central bank lowered its benchmark interest rate the second time in three months. Such a move indicates leaders are worried the slowdown is getting worse. The interest rate reductions followed other stimulus measures including raising salaries for government workers and cutting business taxes.
This article is commentary by an independent contributor. At the time of publication, the author held no positions in the stocks mentioned.