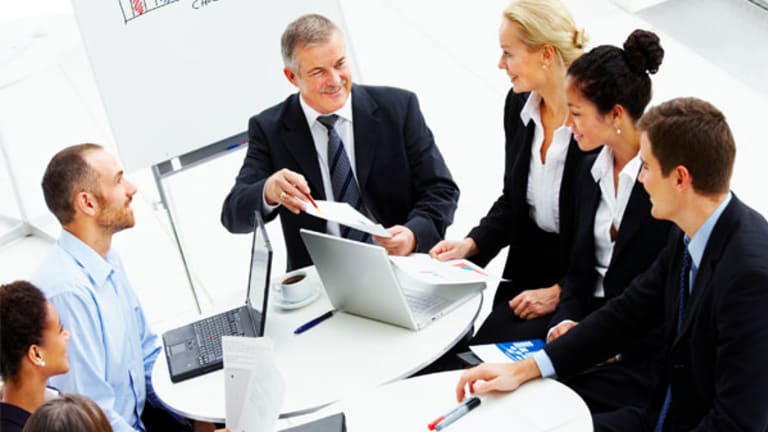 Don't Fall in Love With Cult Stocks Like Sirius XM, Apple
Cult stocks stink to high heaven because their shareholders fall in love, and that's a dangerous thing to do when you're dealing with money.
Last week I began a sporadic series of columns on "things that stink on ice"--stock market peculiarities that regulators accept as unfixable, sort of like herpes, so they don't even try to do anything about them. Last week it was reverse stock splits. In that column I mentioned Sirius XM (SIRI) - Get Sirius XM Holdings Inc. Report, and that brings me to yet another installment in my sporadic series. The difference is that regulators are off the hook this time.
Sirius is a cult stock.
Apple
(AAPL) - Get Apple Inc. Report
, too. Cult stocks stink to high heaven. What makes them stink is not so much the companies themselves as something a good deal more important: the reasoning power, if any, of the shareholders buying and, above all,
holding
such stocks. They fall in love, and that's a dangerous thing to do when you're dealing with money. Just ask any divorcee.
Investopedia defines a
cult stock
as one with a "sizable investor following, despite the fact that the underlying company has somewhat insignificant fundamentals." One widely followed financial blog,
, adheres to that definition, and recently listed a whole bunch of such stocks that have large short-seller followings. Apart from Sirius, its list included
Alcatel-Lucent
(ALU)
,
Ambac Financial Group
( ABK),
Borders
( BGP),
Brocade Communications Systems
(BRCD)
,
Citigroup
(C) - Get Citigroup Inc. Report
,
DryShips
(DRYS) - Get DryShips Inc. Report
,
Nokia
(NOK) - Get Nokia Corporation Sponsored American Depositary Shares Report
PMI Group
( PMI),
Popular
(BPOP) - Get Popular Inc. Report
,
Rite Aid
(RAD) - Get Rite Aid Corporation Report
,
Sprint Nextel
(S) - Get SentinelOne Inc. Class A Report
,
United States Natural Gas Fund
(UNG) - Get United States Natural Gas Fund LP Report
and
Vonage
(VG) - Get Vonage Holdings Corp. Report
.
I'm not sure about that definition. I think the distinguishing characteristic is shareholder behavior, not corporate attributes. After all, what is the difference between an old 1980s penny-stock bow-wow like
Sequential Information Systems,
which had 20,000 shareholders at one point, and its modern day cult counterparts? Today SIS would have a hard core of self-righteous shareholders, bound by the Internet, trying to find some extraneous factor to blame -- other than the company, the boiler room that pushed it, or their own poor judgment.
Not all cult stocks are penny stock sluggards. Apple has handily beaten the NASDAQ index for the past five years, and yet is squarely in Jonestown territory, as this essay
lamented some years ago. What sets the Apple fanatics apart is their resolute rejection of criticism. As the essay writer correctly put it: "The biggest sign that a company has a cult following is the deluge of nasty emails we get when any of us writes anything, and I mean
anything
, that might question that company's strategy."
The cult stocks that I find most fascinating are the ones that ought to be traded in the recreation room of a mental hospital, not a stock exchange. For sheer craziness, nothing holds a candle to the naked shorting fruitcakes, especially when their companies are led by fellow naked shorting fruitcakes. This is a real cult, replete with catch phrases they recite by rote. The most eminent naked shorting thought-leader is, of course, Patrick Byrne of
Overstock
(OSTK) - Get Overstock.com Inc. Report
, a
bully who gained widespread attention for a 2005 conference call in which he said his company was under attack by the "Sith Lord." This kind of fantastic publicity has made Byrne the David Koresh of his own personal shareholder cult.
Not even jail terms and indictments faze stock cultists.
Universal Express
, whose
for contempt of court, and
CMKM Diamonds
, whose indicted ex-CEO is a
. Both have retained their legions of followers.
Of all the cult stock followings out there, from
Krispy Kreme
(KKD)
to
Enron
(both naked shorting victims, according to cultists), few rival the hapless souls who bought into a teetering subprime lender,
Novastar Financial
, in 2006 and 2007. Tough financial journalists like Herb Greenberg
sounded the alarm
; critics were repaid by vicious attacks from loons, including a website set up by an
. While warnings were being ignored, Novastar-boosters were posting helpful advice on how to
Novastar is an extreme example, but for every cult favorite like Apple that beats the market, there are dogs like Universal Express, CMKM and Overstock, which is 50% under its price in the days before its CEO started foaming at the mouth in 2005, lagging well behind the NASDAQ. Overstock gave its devoted shareholders another smack in the head on Thursday, when it announced a surprise quarterly loss.
Getting back to Sirius, one fan has figured out a way of celebrating the company's debt-fueled descent into the commode -- a DVD documentary, featuring Byrne among others. A promo reads: "Like fellow investors who had put their money in the once safe holdings of banks and mortgage lenders, Sirius XM stockholders stood by helplessly as the value of their retirement funds disappeared and with it their life savings. Was it the bad economy? Mismanagement? Or something even more sinister?" (Hint: it's something even more sinister.)
"Stood by helplessly"? Whoever wrote that seems to have forgotten the magical concept known as the "sell order." The holder of every cult stock ought to write that in crayon on their bathroom mirrors: "Sell the dang thing."
More on Sirius XM What's Next for Sirius XM?
Gary Weiss has covered Wall Street wrongdoing for almost a quarter century. His coverage of stock fraud at BusinessWeek won many awards, and included a cover story, "The Mob on Wall Street," which exposed mob infiltration of brokerages. He uncovered the Salomon Brothers bond-trading scandal, and wrote extensively on the dangers posed by hedge funds, Internet fraud and out-of-control leverage. He was a contributing editor at Conde Nast Porfolio, writing about the people most intimately involved in the financial crisis, from Timothy Geithner to Bernard Madoff. His book "Born to Steal" (Warner Books: 2003), described the Mafia's takeover of brokerage houses in the 1990s. "Wall Street Versus America" (Portfolio: 2006) was an account of investor rip-offs. He blogs at garyweiss.blogspot.com.