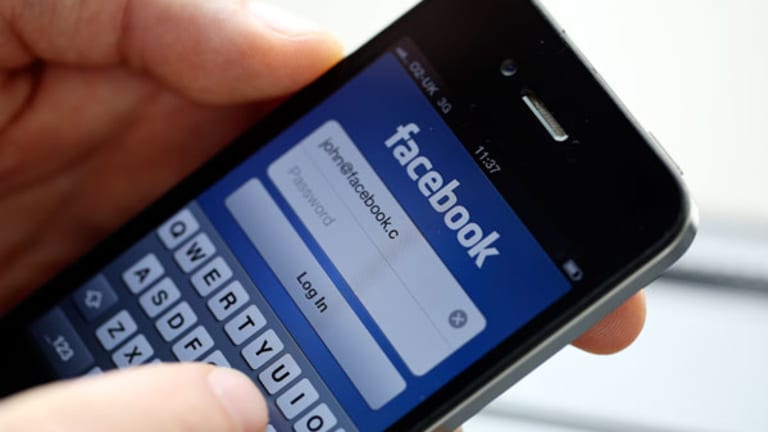 Publish date:
Don't Even Think About Selling Facebook
Although Facebook should not be considered a value stock by any means, the profitable social media company is the best choice in its industry.
Although Facebook should not be considered a value stock by any means, the profitable social media company is the best choice in its industry.
NEW YORK (TheStreet) -- Although it's the top pick in social media, Facebook (FB) - Get Report has not been exempt from the recent selloff in momentum stocks. Although its shares are up 8% year-to-date, they have tumbled over 15% since March 10, when the stock hit a new 52-week high. 
Facebook stock was trading at $58.60 late Tuesday, with a price-to-earnings ratio of 74. That's not cheap, per se, but in my view the price actually doesn't seem too expensive.
Based on forward-looking numbers for fiscal year 2014, the company trades at 40.5 times earnings. Lofty valuation, that is, until you consider that earnings per share and revenue are expected to grow nearly 65% and 51%, respectively. 
Look at other social media stocks. The valuations are much higher than Facebook. Yelp (YELP) - Get Report, Twitter (TWTR) - Get Report, and LinkedIn (LNKD) trade at 172.5, 131, and 59 times 2015 earnings, respectively. 
Facebook, on the other hand, trades at just 31.5 times 2015 earnings. Still not cheap compared to the broader S&P 500 (SPY) - Get Report index, but Facebook's earnings are expected to grow much more rapidly. 
Facebook's 2015 earnings outlook is obviously based on -- you guessed it -- estimates. Meaning that, analysts are trying to pinpoint what earnings will look like in a year and a half. 
I wouldn't put much faith in those numbers, however. Facebook has topped analysts' estimates in each of the past four quarters, on average, beating by nearly 33%. 
If the last four quarters have shown anything, it's that the Street has had expectations that are far too low. Going forward, that's likely to remain the case. 
For those of you familiar with the price-to-earnings-growth ratio, or PEG ratio, you'll notice that Facebook is also cheap. A value of 1 in the PEG ratio indicates a fairly valued stock, while a measurement below 1 indicates the stock is inexpensive. Over 1 indicates the stock is expensive. 
Based on fiscal year 2014, Facebook has a PEG measurement of just 0.63. Based on 2016 estimates, the measurement is only 0.72. 
You're probably wondering why I skipped 2015, and I'll explain below. (For the record, the PEG for 2015 is 1.12). 
Analysts expect earnings to grow 28% in 2015, before growing another 33% in 2016. Why the drop off, though, from 65% in 2014 to 28% in 2015, before moving back to 33% earnings growth in 2016? 
I still think it's plausible that analysts' estimates are too low for 2015. We'll see if Facebook can maintain its advertising revenue growth, and if it can, analysts will be forced to up their targets. 
Whew. So that's Facebook from a traditional valuation standpoint. 
Facebook has formulated a winning strategy in its advertising platform. It snapped up Instagram, capturing the younger users who want to escape the parent-riddled platform known as Facebook. 
Its $19 billion acquisition of WhatsApp is still a question mark for investors in terms of monetization, but the platform has demonstrated rapid growth in terms of users. If Facebook's management team has proven anything, it's that it can figure out how to monetize its platforms. 
This is especially important to investors, as its obvious that Twitter's management clearly cannot solve this riddle. Facebook's mobile revenue climbed to $1.3 billion in the first quarter of 2014, almost quadruple the $377 million in revenue from the same period in 2013. 
Ad revenues are not climbing because of volume, but rather because of pricing. This means that advertisers are getting more return on their investment, and are willing to pay more for the ad space. This couldn't be better news for Facebook and I don't suspect growth will slow much in the coming quarters. But the biggest risk is obvious: the platform. 
Will Facebook turn into Myspace from a decade ago? It's hard to imagine, but you never know. Will the ad space drop in value, forcing Facebook to adopt a quantity-over-quality model, annoying its users and stalling growth? Only time will tell. 
For now though, the social media juggernaut is running the table and making bank.
My final point is this: Facebook is not the cheapest stock on Wall Street. But its valuation is not horrendous, and if you want to own a slice of social media, Facebook seems like the best way to do it. 
>>Read More: Jim Cramer: Lunacy on Interest Rates
>>Read More: Facebook's Publicis Deal Cements Near-Term Strategy
>>Read More: The Stupid and Financially Reckless Argument for Eisai Buying Arena Pharma
This article represents the opinion of a contributor and not necessarily that of TheStreet or its editorial staff.
At the time of publication, Kenwell had no position in any stocks mentioned. 
-- Written by Bret Kenwell in Petoskey, Mich.
Bret Kenwell currently writes, blogs and also contributes to Robert Weinstein's Weekly Options Newsletter. Focuses on short-to-intermediate-term trading opportunities that can be exposed via options. He prefers to use debit trades on momentum setups and credit trades on support/resistance setups. He also focuses on building long-term wealth by searching for consistent, quality dividend paying companies and long-term growth companies. He considers himself the surfer, not the wave, in relation to the market and himself. He has no allegiance to either the bull side or the bear side.