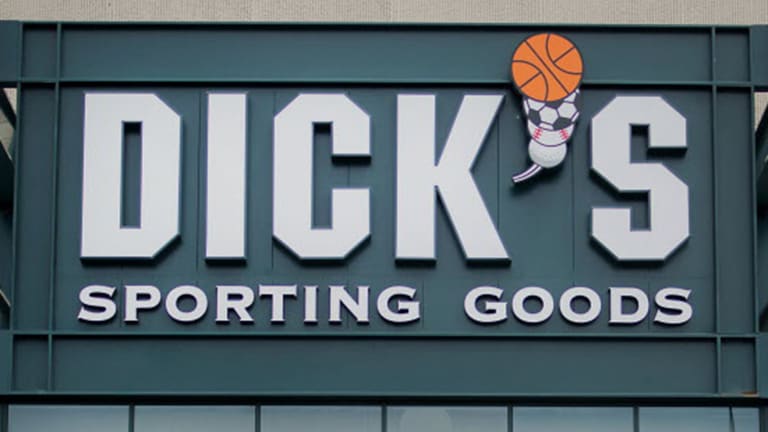 Don't Celebrate Dick's Sporting Goods' Earnings Beat -- Just Sell It
Athletic gear is hot, a trend that will continue. And Dick's just beat earnings. Unfortunately, if you look at its fundamentals, it's clear the stock has no room to rise.
NEW YORK (TheStreet) -- Sales in the athletic goods retail industry have exploded during the past decade, and according to research firmStatista, athletic gear will continue be a hot seller in the years ahead. 
Ordinarily, this would bode well for a leading athletics retailer. Dick Sporting Goods (DKS)  Obviously, as sales of sporting goods trend higher, it benefits all athletic retailers, especially pure-play chains like Dick's.
That said, Dick's, headquartered in Coraopolis, Pa., must operate flawlessly if it expects to fend off the likes of Foot Locker (FL) , which has beaten earnings estimates for 12 consecutive quarters. And as evidenced by Dick's own first-quarter earnings results, there are areas of struggle, owed to some ill-timed decisions made by management.
Sure, Dick's did what it had to do to beat Wall Street's revenue and earnings estimates this week. Still, for its stock to trend higher, the company must first reverse its trends of slowing revenue growth and declining same-store sales. And with its subsidiary Golf Galaxy stores weighing it down, these fixes won't be easy.
In the just-ended quarter, for instance, same-store sales at Golf Galaxy stores plummeted 11%, which is an accelerated decline from the fourth quarter when same-store sales at Golf Galaxy slowed by 7.1%. In other words, it's not enough that same-store sales at Dick's flagship store inched higher by 1.8%. First-quarter net same-store sales growth of 1% still marks a slowdown from last year's first quarter climb of 1.5%.
In that context, Dick's first-quarter revenue and earnings beat looks less impressive. What's more important to focus on are the underlying fundamentals, which don't indicate a strong foundation for the retailer -- at least not yet. And the company affirmed this with its outlook for the rest of the year.
The company expects 2015 earnings per share to land in the range of $3.12 to $3.20. The midpoint of that range is lower than analysts' consensus estimate of $3.19 per share. Same-store sales, meanwhile, are expected to grow in the range of 1% to 3%, down from 2.4% growth last year.
Granted, the company understands what it's up against. I also appreciate that Dick's management didn't celebrate the results as a huge win. But given the weakness in the business and the implied slowdown in both earnings and sales growth, now is a good time for shareholders to take some profits, especially since the stock is in positive territory.
At around $54 per share, Dick's is up more than 8% on the year, outpacing both the broader averages and the 4% gain made by the SPDR S&P Retail ETF (XRT) . But considering the company's expected weakness in the months and quarters ahead, there is little to propel the shares higher. At best, they are now fairly valued.
In short, investors would be better served reallocating their funds to opportunities with better growth prospects. Even if we were to grant that Dick's deserves some time to get its business in order, its annual dividend yield of 1.02% is not attractive enough to hold on to at the risk of losing the 8% gains currently on the table.
This article is commentary by an independent contributor. At the time of publication, the author held no positions in the stocks mentioned.