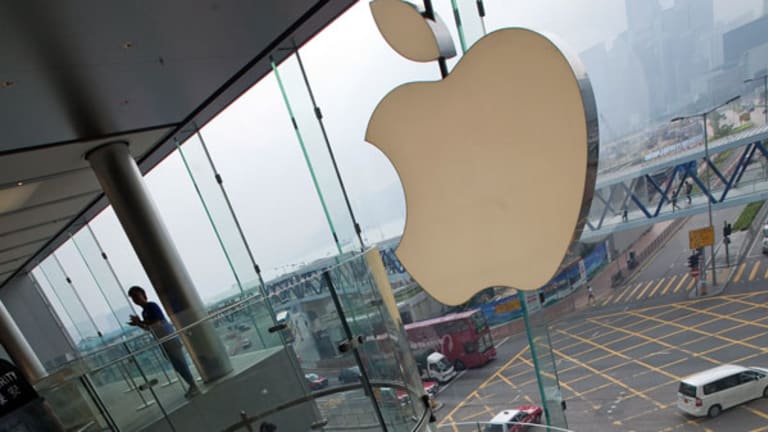 Don't Buy Apple, It's Too Cheap
Catching a falling knife isn't always the wrong thing to do.
NEW YORK (TheStreet) -- Have you received your full share of negative Apple (AAPL) - Get Apple Inc. Report news yet? I have, but I'm willing to accept more.
I am bullish on Apple, but I love the negative market sentiment. That's because I want to build an Apple position at the best possible price.
Am I greedy? You bet I am, and I always want to buy at the best possible price. Sometimes, though, you can get too greedy, and wanting to buy much below $500 feels very greedy indeed.
We know most investors are not comfortable positioning against the price trend. It's almost as if the price is too low to buy.
Forget about novice investors -- even many experienced investors want the false comfort of positive media attention directed toward stocks they're interested in.
I'm an active trader who fades extreme price movements, and in order to be successful I follow strict rules of entry and exit. I bought my first stock in the 1980s, and after all these years of investing, I don't enter into a position without knowing my estimated edge, profit target and stop-loss level. Looking at a simple price chart doesn't get me there.
I know my entry and exits points because I have spent lots of time back-testing and calculating the odds as best I can from historical results. I have spent tens of thousands of hours analyzing charts, and I still use precise entries and exits.
Do you believe the typical part-time investor looking at a chart will have an edge over professionals who know the fundamentals of any given company and know the likely price action with any given chart pattern?
Big money doesn't hold all the cards, though, and as a retail investor you have several key advantages over the big guys. Don't make the mistake of discounting your advantage along with your ability to outperform fund managers. Rules are a must, but you don't need a committee meeting to exit a position (unless maybe the committee includes your spouse).
Retail investors decide what percentage of their portfolios to allocate to any given stock. If
Seagate
(STX) - Get Seagate Technology Holdings PLC Report
is growing relative to your other holdings because it's trending faster than the rest of your portfolio, you don't have to rebalance unless you want to. It's not an excuse to be reckless, but flexibility and quickness are key advantages.
Timing is maybe the greatest edge the average investor has over large fund managers. Retail investors can pick and choose the time frame for any given position. For example, in
"BlackBerry Isn't a 10 for Investors" I suggest that
Research In Motion
(RIMM)
may be bought for a gain, and then sold or shorted for another gain when the BlackBerry 10 is released.
Most funds can't micro-time entries, exits, and reversals to the degree retail investors can. Timing not only includes buying and selling, but also sitting on your hands.
Sometimes fund managers would just as soon stand fast, but they have to allocate money as capital comes in. An investor can add money to his account and hold it as cash while waiting for the right time to enter. The choice to say "no" or do nothing can be powerful, and an investor discounts it at her peril.
I believe the time is now to start/add Apple, but not everyone agrees.
The Street's
Rocco Pendola makes a valid point on
CNBC
"Fast Money Tuesday" about earnings releases. I fully agree with Pendola that it's foolish to try to time an entry into a company reporting earnings unless you're fully comfortable with the volatility that accompanies the potential market reaction. The fact is most are ill-prepared for the kind of volatility earnings deliver.
It's the same volatility that takes my focus toward options as the vehicle to gain exposure. I have written several bullish takes on Apple lately, and they all advise selling volatility into earnings because it lowers your risk and provides an edge.
I used options to enter a bullish
Herbalife
(HLF) - Get Herbalife Nutrition Ltd. Report
position by selling put options, and I expect to short Research In Motion by selling call options.
Using options as a hedge, an investor can time a Herbalife long incorrectly (I was early) and still have the staying power to continue the position while time works to his advantage. Within a day or two, Herbalife was back to the same price I averaged in, but the options experienced time decay and loss of implied volatility. As a result, I was back in black on a trade that would would have only broken even had I bought stock instead.
Investors timing Apple on the day of its earnings release should follow the same strategy: Exploit volatility and hedge a current position, or enter a new position with the advantage of offsetting the risk of others as your own for a price. No different than the insurance model, but at a scale you're comfortable with.
OK, by now you're likely asking what the trade is, and I am not going to disappoint you. Early in the trading day, I will look to sell puts with a strike price of $500 to hold through earnings.
At the time of publication, the author held no positions in any of the stocks mentioned.
This article is commentary by an independent contributor, separate from TheStreet's regular news coverage.