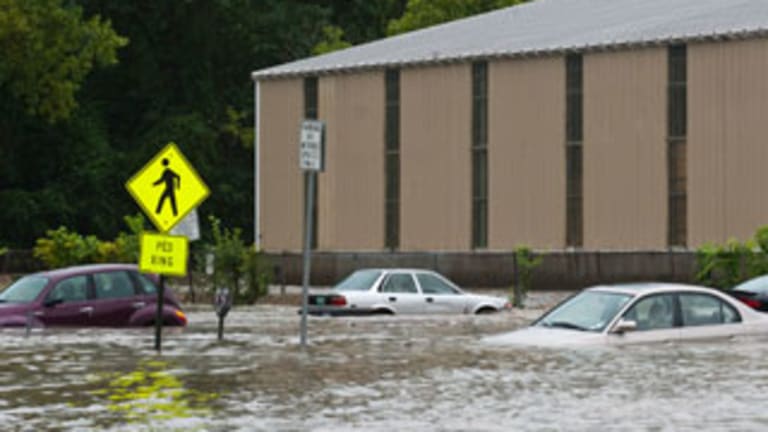 Don't Blame the Flood Insurance You Didn't Buy
Thousands of people are learning the hard way that homeowner's insurance policies don't cover flood damage.
NEW YORK (
) -- Perhaps Hurricane Irene will get you to reconsider buying flood insurance.
As we recently discussed in
TheStreet's
10 Things You Need to Know About Homeowner's Insurance
,
homeowner's insurance policies don't cover damage caused by rising water
.
Many victims of the flooding caused by Hurricane Irene reside outside special flood hazard areas -- as defined by Federal Emergency Management Agency (FEMA) -- and thus were not required by their mortgage lenders to carry flood insurance. Homeowners suffering flood damage in areas like Vermont that were hit with unprecedented flooding will be in for a rude awakening.
In places like southern Florida, where many areas are right at sea level or face special hazards from proximity to the shoreline or canals, the name of the game for homeowners is to avoid taking out flood insurance policies if possible. Those with mortgage loans fight a losing battle against loan servicers if they are in a FEMA-determined special flood hazard area. Those not facing pressure from loan servicers are obviously more concerned about the immediate cost than the potential consequences.
All flood insurance policies are subsidized by the National Flood Insurance Program, or NFIP, since flood damage tends to be highly concentrated geographically, making it a challenge for an insurer to turn a profit.
The NFIP also isn't cheap. The Government Accountability Office estimated in June that the NFIP still owed the U.S. Treasury $17.8 billion "to cover losses from the 2005 hurricanes."
For a $200,000 home (estimated replacement cost) located in a special flood hazard area and "a foot below sea level," the annual premium is "somewhere around $700," according to premium estimates provided by Wayne Cox, of Cox Insurance in Fort Pierce, Fla.
For the same home outside a special hazard area -- which might still be somewhat prone to flooding in a place like Southern Florida, or just outside a river flood plain -- the annual flood insurance premium is roughly $333.
Cox suggests consumers consider "protecting their largest investments" at relatively low cost, and adds that "the government will offer assistance to people hit with unexpected flood damage, but the assistance will be in the form of loans, which will have an interest rate."
So if it is in any way conceivable that you might be faced with a flood, it's worth considering the flood insurance, and if you are outside a special flood hazard area, the good news is that the subsidized premium compares very well to the extended warranty you bought to cover that 65-inch plasma television that you never should have purchased in the first place.
As we discussed in our recent
TheStreet's
, if you have a mortgage loan and your insurance premiums are escrowed, your bank is likely to be the loss-payee on the insurance policy. This means that a large payout by an insurer is likely to be sent to the loan servicer, who will then dole out the money as you pay for repairs.
Most annoying.
If you purchase optional flood insurance, your premium won't be part of your mortgage escrow, so you should be able to avoid having the lender listed as the loss payee, which can save you some time and hassle, should disaster strike.
If you are placing a homeowner's insurance claim, call your insurer first and ask the insurer how they will make the payout after an adjuster visits your home. If the insurer tells you that they will send the insurance payout to you loan servicer, call the servicer for instructions on how to proceed.
Most mortgage borrowers never call their loan servicers. If you are a
Bank of America
(BAC) - Get Bank of America Corp Report
mortgage or home equity customer, click
to find which service number to call. You'll have to enter your state, then select "Mortgage and home equity," and then you will be presented with the list of phone numbers.
For
JPMorgan Chase
(JPM) - Get JPMorgan Chase & Co. (JPM) Report
mortgage and home equity loan customers, the phone number for Customer Care is 800-848-9136.
For
Wells Fargo
(WFC) - Get Wells Fargo & Company Report
mortgage loan customers, the Account Management phone number is 866-234-8271.
If you have questions about a flood claim, call the NIFP at 888-379-9531. I called them this morning and the call was immediately answered by a very helpful representative. Most impressive, on "the day after."
RELATED STORIES:
10 Things You Need to Know About Homeowner's Insurance >
--
Written by Philip van Doorn in Jupiter, Fla.
To contact the writer, click here:
.
To follow the writer on Twitter, go to
http://twitter.com/PhilipvanDoorn
.
Philip W. van Doorn is a member of TheStreet's banking and finance team, commenting on industry and regulatory trends. He previously served as the senior analyst for TheStreet.com Ratings, responsible for assigning financial strength ratings to banks and savings and loan institutions. Mr. van Doorn previously served as a loan operations officer at Riverside National Bank in Fort Pierce, Fla., and as a credit analyst at the Federal Home Loan Bank of New York, where he monitored banks in New York, New Jersey and Puerto Rico. Mr. van Doorn has additional experience in the mutual fund and computer software industries. He holds a bachelor of science in business administration from Long Island University.