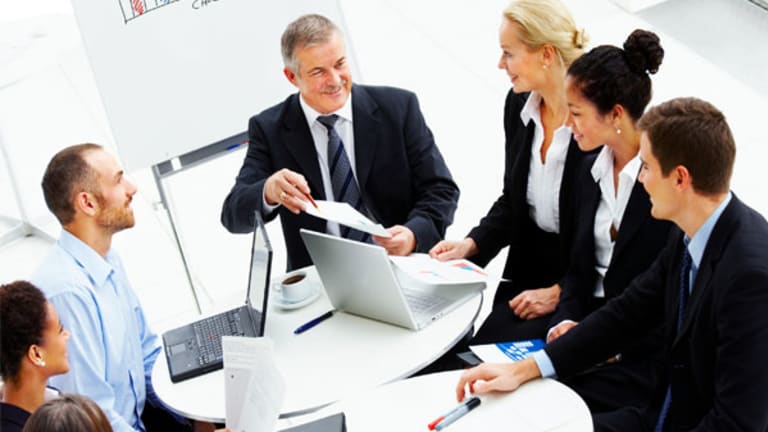 Don't Be Fooled by China's Growth Forecast
The nation is likely setting the stage for growth that should exceed its lowered expectations.
The following commentary comes from an independent investor or market observer as part of TheStreet's guest contributor program, which is separate from the company's news coverage.
Exhibit 1: China Target vs. Real GDP Growth Rates

Sources: Central People's Government of the People's Republic of China, IMF; as of 03/05/2012. IMF estimated growth rates are based on constant 1990 prices in Chinese yuan.
NEW YORK (
) --Chinese officials caused quite a stir when they lowered their 2012 economic growth target to 7.5%. Many already fretted a Chinese hard landing in 2012, and if Chinese growth were indeed to match the target, it would be the slowest expansion since 1990. However, recent history suggests Chinese growth should exceed those low expectations.
Historically, China's official growth target has been the lower bound of a range -- an easily attainable threshold they can boast of beating at year-end (under promise, over deliver, as the saw goes). As shown in Exhibit 1, real Chinese GDP growth has handily trounced the target every year since 2000 (the earliest official data available), nearly doubling it in 2007. In 2004, the last time China forecast 7.5% growth, GDP grew a robust 10.1%. That's not to say 2012 will match that pace, but growth on par with recent years seems plausible.
Even if China's growth rate slows somewhat in percentage terms, it would likely still increase in dollar terms, given the lower percentage rate that would apply to a significantly higher base. Exhibit 2 plots China's annual percentage and dollar GDP growth from 1984 through 2011 and the IMF's forecasts for each from 2012 to 2016. Over the past five years, as the growth rate ranged from 9.2% to 14.2%, China's GDP grew by roughly $2.8 trillion. IMF growth forecasts through 2016 are a bit slower than recent years', but that would still yield an additional $4.1 trillion in GDP -- the highest five-year increase China has ever seen.
Exhibit 2: Chinese Annual GDP Growth, Percentage vs. Dollars
Sources: Thomson Reuters, IMF; as of 03/05/2012. Dollar GDP growth is measured in 2011 dollars, with the current exchange rate held constant.
As we've written, 2012 is a Chinese "election" year -- citizens elect new local leaders (China having a one-party system, they choose between communists and communists), and the party elite select the new president and premier. Planned transitions have the potential to sow dissent --the party factions passed over for promotion could launch a power struggle, and civil unrest could erupt.
Careful economic management can mitigate these risks, though. If growth is robust and inflation under control, citizens are likely to be a lot more content, top to bottom. Also, despite 35-plus years of liberalization, China's is a command economy, so officials can use available throttles to manipulate the economy fairly well to suit their aims. Last year they reined in inflation (which required allowing growth to slow), likely setting the stage for a planned acceleration during the transition -- matching what China's done during prior power transitions.
In our view, their likeliest means of juicing growth is through higher loan quotas -- a key means of controlling monetary supply. Annual loan quotas aren't officially announced, but the rumored quota for 2012 is 8 trillion yuan, up from 2011's 7.5 trillion yuan. Chinese officials have also shown signs of loosening in recent months -- lowering banks' reserve requirements, relaxing risk weightings on small business loans and reportedly increasing quotas for foreign investment. All suggest officials have their sights set on higher growth in 2012, despite the subdued official target.
An accelerating China isn't just good for that nation -- China's a major cog in the global economy. If Chinese growth speeds and the U.S. economy stays strong as we expect, not only does global growth likely continue, but it should provide a nice tailwind for stocks in 2012.
(This article constitutes the views, opinions, analyses and commentary of Fisher Investments as of March 2012 and should not be regarded as personal investment advice. No assurances are made Fisher Investments will continue to hold these views, which may change at any time without notice. In addition, no assurances are made regarding the accuracy of any forecast made herein. Past performance is no guarantee of future results. A risk of loss is involved with investments in stock markets.)
This commentary comes from an independent investor or market observer as part of TheStreet guest contributor program. The views expressed are those of the author and do not necessarily represent the views of TheStreet or its management.