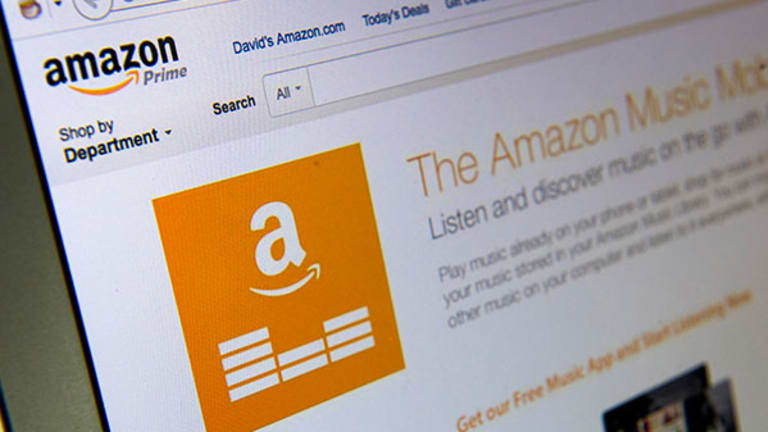 Don't Be Fooled Again by Amazon's Fourth-Quarter Earnings
A solid quarter from Amazon sparked chatter of a new earnings focus, but investors may want to take a closer look at the company's earnings patterns.
NEW YORK (TheStreet) -- Congratulations to anyone who bought shares of Amazon  (AMZN) - Get Free Report  before the close on Jan. 29 -- you gained almost 20% in a week. If the chatter about the apparent new focus on profits has you in it for the long haul, though, you might want to take a closer look at Amazon's recent history. We've seen strong fourth-quarter performances from the e-commerce company before, and none of them ushered in the era of reliable earnings they were supposed to.
As a refresher, Amazon earned 45 cents per share in the fourth quarter on revenue of $29.33 billion. The bottom line trounced estimates of 18 cents per share, more than offsetting any disappointment that revenue fell a tad short of the expected $29.68 billion.
In that light, it's no wonder Amazon shares took flight the morning after earnings were released, prompting comments such as Standard & Poor's Tuna Amobi's suggestion that Amazon's results point to "a shift in focus towards profit and moderating spending."
Piper Jaffray analyst Gene Munster opined the company is now "more focused on profits which is going to benefit the stock going forward."
Respectfully, more of these newly bullish analysts may want learn from the past, and recognize we've heard this song and dance about Amazon before.
Look to the fourth quarter of 2013. Following a report of  earnings of 51 cents per share on $25.58 billion in sales in the final quarter of 2013, Credit Suisse analyst Stephen Ju commented, "The add-on program, the rise in the free shipping threshold, and with the company now contemplating a price hike in Amazon Prime for the first time since inception, the likelihood of incremental shipping loss improvements and ensuing operating margin improvement directionally increases and lends upward bias to our FCF estimates."
Ju was wrong. Not only did free cash flow fall from $2.03 billion in 2013 to $1.95 billion in 2014, the company swung from a net profit of $273 million in 2013 to a loss of $241 million last year.
You can also look at the fourth quarter of 2012. Amazon  posted a profit of 21 cents per share on $21.27 billion in revenue. Both were shy of expectations, but that didn't deter Benchmark's Daniel Kurnos. He stated "While Q1 guidance was a bit disappointing, we think Amazon finally showed material evidence of the margin potential investors have been expecting."
Margins did improve in 2013, technically. Following the loss of $39 million in 2012, Amazon posted a profit of $273 million the next year. That's a net margin rate of 0.3% -- hardly impressive, nor long-lived. Amazon booked a loss of $241 million in 2014, leaving one to wonder what happened to all that margin potential Kurnos was talking about.
Point being, the pros have been optimistic for a while, but the rhetoric has remained focused on the future and on the potential. The company never actually gets to the promised land.
It's not a new idea for fans and followers of Amazon, of course. It's just that many of them were starting to think the days of the carrot being dangled in front of them were finally winding down. They're not.
What if this time is different? What if Amazon has spent all it needs to spend and can simply coast and cash checks from here? Not quite.
While revenue growth has been undeniably phenomenal, rising from $8.5 billion in 2005 to $89 billion last year, operating profits have grown only from $432 million in 2005 to a peak of $1.4 billion in 2010. Since then, operating income -- never even mind net income -- has been steadily deteriorating for a few years. Net losses can be explained away. Operating income, however, is a picture of the viability of a company.
The business model of operating on paper-thin margins and a reliance on heavy spending (to buy growth) hasn't proven as scalable Amazon and its investors have been expecting for a long time now. Yes, Amazon has market share, but the cost of keeping that market share has been wickedly high. It may take a look back several years to see it, but numbers don't lie.
Many say Amazon simply doesn't want to get off the spending treadmill just yet in the name of future growth. However, it may be worth entertaining the possibility that Amazon can't get off the spending treadmill, as its competition continues to catch up.
Be careful of all the profitability rhetoric that surfaced about Amazon last week. We've heard it all before, to little avail.
This article is commentary by an independent contributor. At the time of publication, the author held no positions in the stock mentioned.