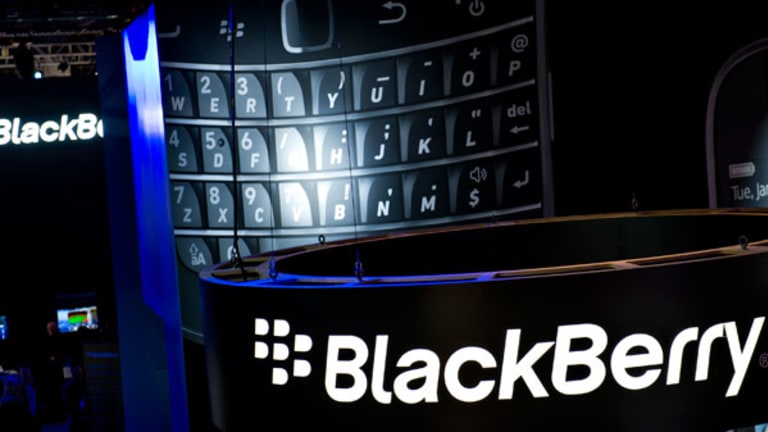 Don't Answer BlackBerry's Call; Nobody Else Is
BlackBerry clearly can't hang in the tablet market and it may not survive in the smartphone market either.
NEW YORK (TheStreet) -- I recently wrote an article about why I thought BlackBerry'sundefined management was a joke, bound to fail and making a huge mistake. While management might be making the right move, it's for the wrong reasons, or at least the ones provided.
Thorsten Heins, the CEO of BlackBerry, said, "In five years I don't think there'll be a reason to have a tablet anymore."
Wow. That's a pretty brash statement to make, especially for a company clearly failing in that segment of mobile devices. I could see if Heins said that and BlackBerry
didn't
have its Playbook tablet.
But the fact that it does and can't seem to convince consumers it's any good, speaks volumes for the real reason, which is that the company can't keep pace with
Apple
(AAPL) - Get Free Report
or
Google
(GOOG) - Get Free Report
.
Therefore, since the company has all but failed in the explosive tablet market, investors expect that it will pursue what Heins is supposedly focusing on: the smartphone market.
While globally BlackBerry is a rather iconic brand, the dominance no longer remains to be seen in the United States. Assuming the real reason the company is giving up on tablets for the time being is because it can't keep pace with competitors, it's not like smartphones offer much of a hiding place.
iOS and Android devices continue to reign control over the entire mobile market, whether it's smartphones or tablets. That's not going to change anytime soon, at least, according to a
. BlackBerry's operating system is expected to
decrease
from 34.7 million units in 2012 to 24.1 million units in 2017. A decrease of 10.6 million units, or about one-third of current levels, certainly is not good for the Canadian-based company.
Furthermore, the report from Gartner calls for Apple's iOS operating system to climb from 346.5 million devices to 570.9 million, an increase of nearly 65% from current levels. Android estimates are even more impressive, which calls for an increase from 497.1 million units in 2012 to 1.47
billion
units in 2017.
So in a world surrounded by mobile growth, BlackBerry is actually expected to decline, while the market juggernauts continue to eat everyone else's lunch.
In its most recent first-quarter earnings announcement, BlackBerry would not give specific sales numbers for its phones -- which is already a horrible way to start things off. But it did say that a
total
of 6.8 million phones were shipped in the first quarter.
Of those 6.8 million units, which were below analysts expectations of 7.5 million, only 40% of them were BlackBerry 10 devices. Meaning that only 2.7 million smartphones were the Q10 or Z10 devices.
Granted, the Q10, BlackBerry's new smartphone with a physical keyboard wasn't even for sale for a month in the U.S. at the time of the report. While that's a viable excuse, the Z10 didn't lend much of a hand in that department, since it has been available since January at the earliest and since March 22 in the United States.
Total smartphone sales were down 14% from the previous quarter, along with subscribers, which dropped to 72 million from 76 million, a decrease of 5.2% from the previous quarter. Adding salt to the wound, BlackBerry management said they would no longer be providing "nonfinancial material."
In other words, they will no longer provide subscriber growth -- or lack thereof. I think what management meant to say is that these numbers will likely remain bad and they don't want to talk about them going forward.
Just for some fun facts, Apple's iPhone 5 nearly outsold all of BlackBerry's smartphones in its weekend debut. Not in its first quarter. Not in its first month. No, its first three days of availability, Apple sold over five million units.
Taking it one step further,
Samsung's
Galaxy S4 sold 10 million units in its first 28 days of availability. So Essentially, Samsung sold 47% more S4's in a third of the time that BlackBerry sold its entire lineup of smartphones. Apple's iPhone 5 sales nearly doubled that of BlackBerry 10 devices (Z10 and Q10) in three days compared to BB10's three months.
The conference call was pitiful, and those who are saying they're holding on to BlackBerry stock have a long ways to go. I don't know how Heins is convincing anyone to stick around, but there's no way I'm touching BlackBerry.
The stock has been smashed in the days since it reported earnings, off nearly 36% from the closing price on June 27. But deservingly so. BlackBerry put up awful numbers, showed confusion over its Playbook tablet and refused to give key figures for investors and analysts. How can you trust that?
If BlackBerry is going to abandon ship on the Playbook to "focus on smartphones," then maybe management should
actually
focus on smartphones.
At the time of publication the author was long AAPL.
This article was written by an independent contributor, separate from TheStreet's regular news coverage.
Bret Kenwell currently writes, blogs and also contributes to Robert Weinstein's Weekly Options Newsletter. Focuses on short-to-intermediate-term trading opportunities that can be exposed via options. He prefers to use debit trades on momentum setups and credit trades on support/resistance setups. He also focuses on building long-term wealth by searching for consistent, quality dividend paying companies and long-term growth companies. He considers himself the surfer, not the wave, in relation to the market and himself. He has no allegiance to either the bull side or the bear side.