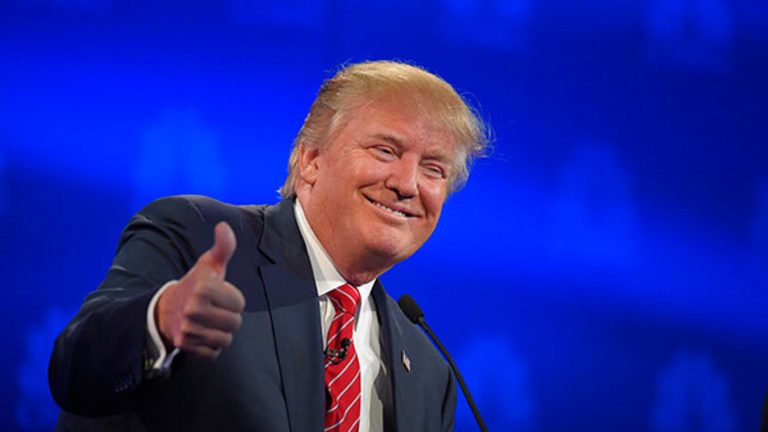 Hands up! Donald Trump Might Have a Gun on Him Right Now #GOPDebate
Donald Trump might be packing heat. He said at the Republican debate that he has a firearm permit and likes to mix it up when it comes to his guns.
Donald Trump might be packing heat. The billionaire real estate magnate said at the Republican debate on Wednesday that he has a firearm permit and likes to mix it up when it comes to his guns.
"I have a permit, which is very unusual in New York, a permit to carry, and I do carry, on occasion, sometimes a lot, but I like to be unpredictable so that people don't know exactly when I'm carrying," he said.
Look out, Ben Carson?
Trump's assertion was prompted by a question on his suggestion that the recent Oregon community college shooting could have been stopped if teachers had guns. When asked whether he would feel better if his own employees had firearms at work, he said, "Yes, I might feel more comfortable." The response came with a slight pause.
He also addressed the issue of gun-free zones, which he called "target practice for the sickos and mentally ill."
He pointed to the shooting that took place at a Chattanooga, Tennessee military recruiting center, a gun-free zone, that left six people dead, including five serviceman, dead over the summer. Weapons have been banned at recruiting centers since 1993, and only military police can carry weapons at military bases and reserves centers. "If they had guns, [the shooter] wouldn't be around very long, I can tell you, there wouldn't have been much damage," he said.
CNBC moderator Carl Quintanilla noted that the network had called a handful of Trump's resorts and found out that some of them don't allow guns -- something the candidate said he would like to reconsider. "I would change them," he said.
So if you run into Trump on the streets of New York City, be warned that he might not just be glad to see you -- that could very well be a gun in his pocket.
If you run into him at one of his many resorts, however, you're probably safe. At least, for now.
This article is commentary by an independent contributor. At the time of publication, the author held no positions in the stocks mentioned.