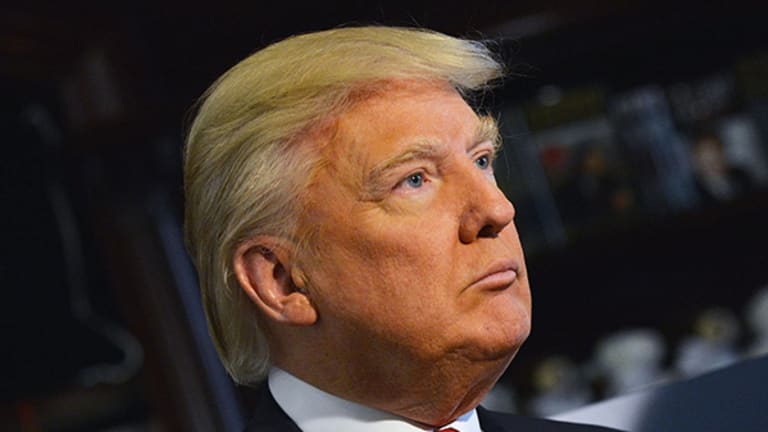 Publish date:
Donald Trump Loses More Business as Mexico's Televisa Cuts Ties
The Spanish language media giant Grupo Televisa is outraged by inflammatory comments Donald Trump made about Latin American migrants, particularly Mexicans.
The Spanish language media giant Grupo Televisa is outraged by inflammatory comments Donald Trump made about Latin American migrants, particularly Mexicans.
NEW YORK ( TheStreet) -- Donald Trump's catchphrase "You're fired," uttered with gusto to contestants on his long-running reality TV competition The Celebrity Apprentice on Comcast's (CMCSA) - Get Report NBC is fast becoming his own reality.
Grupo Televisa (TV) - Get Report, the world's largest Spanish-language media company, is the latest media corporation to sever ties to Trump in response to comments widely viewed as racist that he made about Mexican immigrants during a June 16 speech announcing his Republican campaign for U.S. president.
NBC ended its relationship to the outspoken billionaire real-estate mogul on Monday, following U.S. Spanish-language broadcast TV network Univision last week canceling its July telecast of the Trump-owned
. Televisa, which was scheduled to broadcast Miss Universe in Mexico, made it a trifecta. 
"Grupo Televisa stands incredulous over the­ statements of Donald Trump, who offended Latin American migrants and in particular, Mexicans," said Televisa in an emailed statement. "Televisa is not indifferent to these declarations and energetically rejects all forms of discrimination, racism and xenophobia. ... Grupo Televisa can no longer have any business connection to the Miss Universe pageant and with the Trump Organization."
Trump, who called Mexican immigrants "rapists" during his campaign kickoff speech and said they brought drugs and crime into the U.S., shot back at NBC after it  announced it wouldn't air the annual Miss USA and Miss Universe pageants. Trump said he told NBC "long ago" he would not be doing The Apprentice - renewed for a 15th season - because of his presidential run.
"If NBC is so weak and so foolish to not understand the serious illegal immigration problem in the United States, coupled with the horrendous and unfair trade deals we are making with Mexico, then their contract violating closure of Miss Universe/Miss USA will be determined in court," Trump said in an emailed statement.
Whether Trump's personal business as a media brand is irreparably harmed by the past few weeks remains to be seen.
According to Forbes, Trump's net worth is roughly $4.1 billion. He owns prime properties such as Trump Tower, 40 Wall Street and the Doral golf resort in Miami, as well as a winery, helicopters, planes and numerous real estate licensing deals.
"Televisa caters to the Latino community, and NBC has Telemundo, so they have an emerging market and have a stake in this. They did not want to offend their basic core market," said Gaspar Rivera-Salgado, project director of the UCLA Labor Center. "I'm not sure if Donald Trump, though, would consider this a core market for him."
While Trump's bombastic style led to outrage from Latino consumers, in many circles he's not considered a viable presidential candidate or taken seriously, claimed Rivera-Salgado.
So did Comcast, a supporter of Trump for years, and Televisa and Univision respond quickly enough, waiting to dump Trump a few weeks after his comments?
They did, said Rivera-Salgado, after carefully gauging reaction from the public.
"They got enough heat from their core constituency, and the fact that they moved swiftly and made a public stance on this is a marker," he said. "This is huge news, that there are not only political consequences but economic consequences. It sends a signal that if you take a political stance, you have to take it seriously, and there will be consequences."
Rivera-Salgado said that even other anti-immigrant presidential candidates, such as Ted Cruz, would never have made the blunt comments that Trump made.
"The comments are racist. They are not very thoughtful comments," he said. "But Donald Trump lives by the media and dies by the media."