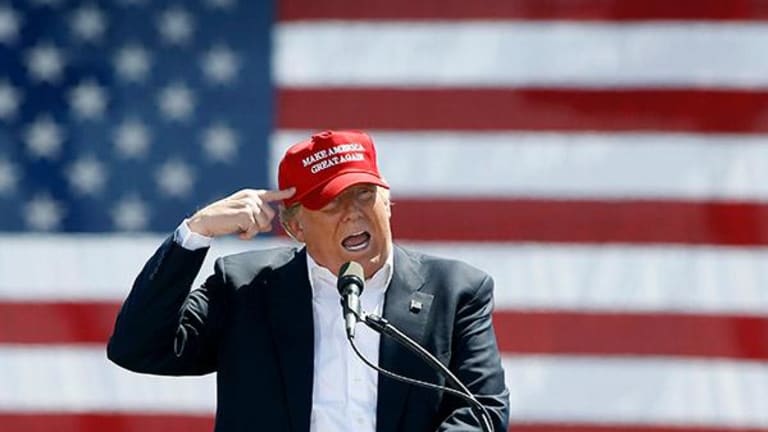 Donald Trump Doesn't Need to Buy TV Advertising
Donald Trump has received $4.6 billion in free media, compared with Hillary Clinton at $2.5 billion.
Donald Trump hasn't spend much money on TV, and why should he.
Since announcing his candidacy more than a year ago, the Republican presidential nominee has been the recipient of $4.6 billion in "free media" TV coverage, compared with $2.5 billion for Democrat Hillary Clinton, according to iQ Media Group, a media analytics firm based in Conshohocken, Pa. 
The large discrepancy in free media -- defined as a subject being an essential part of the dialogue and content of a TV segment -- is the result of a political season that has turned largely on Trump's stormy rants, personal attacks and assorted scandals. Television networks, wise to what sells, have given the Republican candidate far more attention than his Democratic counterpart, according to John Derham, iQ Media's co-founder.
"Because of the nature of who he is as a candidate, he's been a more interesting story, and he's been more accessible," Derham said. "Whether you agree with him or not, he makes it interesting, and that's a great formula to get earned media."
iQ Media uses a comparative proxy to determine what a candidate would have had to pay a given network to receive a measured amount of air time that otherwise went to him for free.
As for paid advertising -- television, online and print -- Clinton had outspent Trump by an order of 4 to 1 as of Sept. 30, roughly $325 million to $78 million, according to Kantar Media/CMAG. Looking at just TV, Clinton holds an edge of $144.5 million to $31.7 million. 
In the remaining four weeks in the campaign, Clinton is expected to spend one-third of her entire advertising budget on national TV, whereas Trump has booked a mere $35 million in TV advertising through Nov. 8, Barclays Capital media analyst Kannan Venkateshwar wrote in an investor note.
And while Trump is being outspent by Clinton on TV ads, he's not getting any help from the Republican National Committee. A Politico analysis of recent campaign finance filings shows that the RNC is spending nothing on behalf of Trump. That's a big departure from 2012 and 2008, when the RNC spent tens of millions of dollars on behalf of Mitt Romney and John McCain, respectively, on TV ads, direct mail and phone banks.
In all, about $274 million has been spent on political advertising from candidates and Super PACs, Kantar Media/CMAG said.
To be sure, political advertising affords a candidate a chance to deliver a direct and unfiltered message, whereas political coverage can be positive or negative. Trump has unquestionably dominated news coverage in recent days, but that's because of a series of statements and allegations of sexual misconduct and harassment that have overshadowed the discussion of any number of pressing national issues.
Even during the first two presidential debates, at which moderators are instructed to give each candidate equal time, Trump dominated the coverage, iQ Media said. Trump was the subject of 65% of on-air coverage during Sunday's second presidential face-off and 56% during the candidates' first battle on Sept. 26.
"He's never going to give you dry comments," Derham said. "Off-the-cuff Donald Trump is a media darling."
Trump's stunning success at attracting free media coverage is one reason he has spent less than any major party's presidential candidate in decades. His unorthodox campaign is also the main reason local TV stations are generating far less revenue than in past presidential cycles.
Magna Global this week cut its forecast for local TV revenue to grow 10% in 2016, down from 11.4%. Presidential campaign spending accounts for as much as 33% of all election-related advertising during a presidential election year, Barclays said.