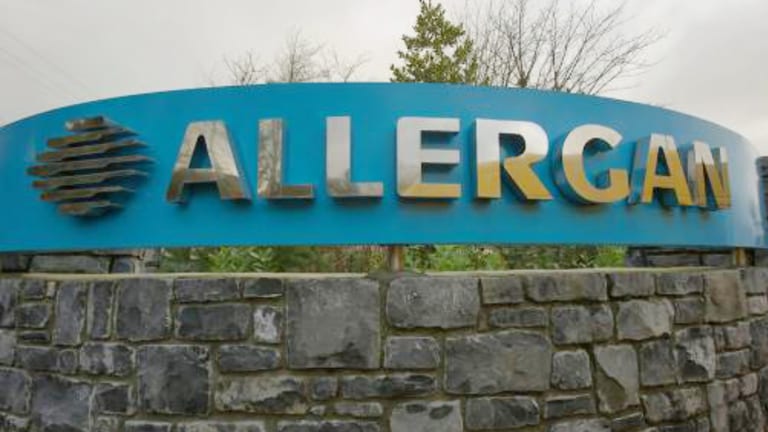 Don't Sell Your Allergan Shares Yet, the Stock Could Climb to $350
Shares of Allergan could be valued up to $350 or more in an acquisition, according to one portfolio manager who advises holding the stock for now.
Shares of Allergan (AGN) - Get Allergan plc Report could be valued at $350 to $360 a share in an acquisition, according to one portfolio manager, who advises holding onto the stock for now.
Mark Dawson, chief investment officer and portfolio manager at Rainier Investment Management, said he wouldn't take profits on Allergan just yet.
Allergan is one of the largest holdings in Rainier's Large Cap Equity Fund, which is heavily weighted in the healthcare sector. Dawson said it's not yet clear what will happen between Dublin-based Allergan and New York-based Pfizer (PFE) - Get Pfizer Inc. Report , following the news Thursday that the two were holding merger talks.
Pfizer shares closed down 1.9% Thursday, finishing the day at $34.77. Allergen jumped by 6%, closing at $304.38.
"It is early. It's still not even 100% clear to me who would buy whom," said Dawson.
"Initially it appeared that Pfizer would buy Allergan. But a key part of a combination would be the tax status of the company. With Allergan being domiciled in Ireland, it has the lower tax rate. So I think that's going to be an important part about whether this deal goes through or not."
Dawson added that the potential deal could kick off another flurry of M&A activity in healthcare.
"We do expect more consolidation," said Dawson. "If I had to think about good candidates it would be for promising, proven biotech products that can be acquired by larger companies, such as Pfizer, such as Bristol Myers Squibb  (BMY) - Get Bristol-Myers Squibb Company Report such as Merck (MRK) - Get Merck & Company Inc. Report , or even conceivably Johnson & Johnson (JNJ) - Get Johnson & Johnson Report .
Dawson cautions that investors shouldn't expect the overall healthcare sector to rise on merger speculation.
"We think it is time for some caution due to political risk," explained Dawson. 'We have heard very specific comments, not surprisingly from the Democrats, about drug companies being overly aggressive in price increases. But interestingly enough, there are even a handful of Republican candidates jumping on this as well."
Dawson said his healthcare holdings have come down in price in recent months. Seattle-based Rainier Investment Management has about $4 billion in assets under management.