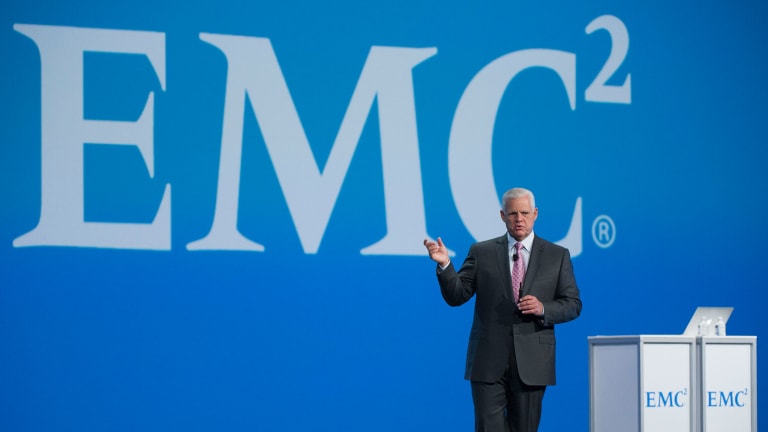 Publish date:
Don't Sell EMC Ahead of Dell Merger Just Yet
The stock looks poised to break resistance above $28 and higher.
The stock looks poised to break resistance above $28 and higher.
Trying to decide on what to do with your EMC (EMC) shares? For now, do nothing. Here's why.
EMC, which reports earnings late Monday, is in a win-win situation. Shares are up more than 7% in the past three months, trading around $27.50. Its chart shows the stock is on a path for 5% to 10% gains by year's end.
On Tuesday, EMC shareholders are expected to vote on the planned $67 billion merger with privately held Dell. The takeover was announced eight months ago and is expected to be approved. This means the deal, which is slated to close by October, will be on schedule.
The combined company will operate as Dell Technologies, generating some $74 billion in revenue. Given the rate at which EMC's core data storage business has struggled thanks to growing competition, the deal should give EMC a lease on new life. At the same time, the stock should continue its upward trend, according to this TradingView chart.
EMC shares have risen 7.2% year to date, including 11.6% gains just in the past six months, compared with a 5.86% year-to-date rise in the S&P 500 (SPX) index. The stock, which is close to a 52-week high at $28.77, has recently reclaimed both the 20-day ($27.44 -- blue line) and 50-day ($27.50 -- pink line) moving averages, suggesting renewed buying interest.
The shares, however, are still about 6% below the consensus price target of $29 and 14% below their high price target of $31.50. Its business segments, including cloud computing, Big Data, mobile and security applications, have begun to improve. And the fact that it owns the bulk of VMware (WMW) - Get Report , one of the leading players in the virtualization and cloud computing market, is an added bonus.
While the Dell merger proposal is considered a done deal, EMC's recent improvement could compel shareholders to demand a higher price.
EMC, which has divested non-core assets and slimmed down its workforce to cut costs, now looks even more attractive. In other words, EMC stock still presents solid value, fundamentally. From a technical perspective, once the stock firmly establishes support at around $27, it looks poised to break resistance above $28 (red line) and higher.
This article is commentary by an independent contributor. At the time of publication, the author held no positions in the stocks mentioned.