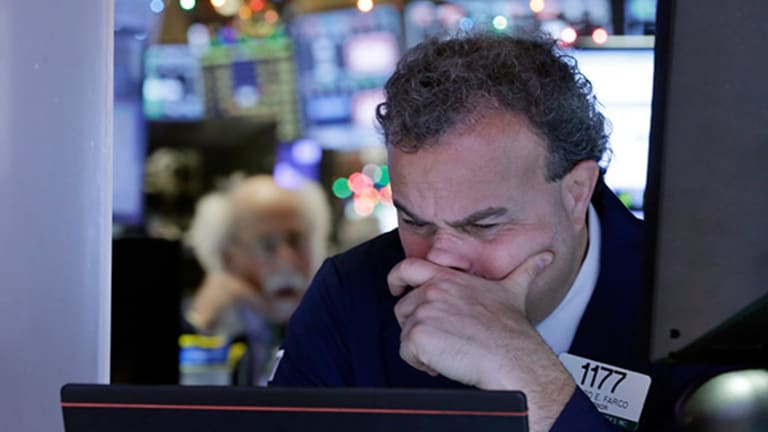 Don't Panic! It's Still Not Too Late to Do These 5 Things to Crash-Proof Your Portfolio
Frightened by the market's dizzying drops? Here are five ways to mitigate your losses now, before conditions get worse.
Editor's pick: Originally published Jan. 15.
Freaked out by the stock market's steep declines lately? Take a deep breath and remember that weakness in the overall market isn't sufficient reason to dump inherently strong stocks. Markets rise and fall, but over the long run a well-diversified portfolio provides the best gains.
That said, several stocks now are on the brink of collapse. Below, we show you how to avoid them.
As a rule, don't let the alarmist headlines spook you into selling. The last thing you want to do is prematurely dump your stocks out of panic. Long-term investors should not be spurred into impulsive actions by short-term declines.
With the S&P 500 now officially in "correction" territory and analysts expecting tepid returns in 2016 at best (or a full-blown bear market at worst), now's an opportune time to review five ways to avoid steep losses and crash-proof your portfolio. Some of these steps may seem basic, but the fact is, even seasoned investors tend to forget them.
1. Use stop losses
One of the most widely used devices for limiting the amount of loss from a dropping stock is to place a stop-loss order with your broker. Using this order, the trader will pre-set the value based on the maximum loss the investor is willing to tolerate. If the price drops below this fixed value, the stop loss automatically becomes a market order and gets triggered. As soon as the price falls below the stop level, the position is closed at the current market price, which prevents any additional losses.
The "trailing stop loss" provides an advantage over a conventional stop loss because it's more flexible. It allows the trader to continue protecting his capital if the price drops, but when the price increases, the trailing feature becomes active, enabling an eventual protection of profit while still reducing the risk to capital. Over time, the trailing stop will self-calibrate, shifting from minimizing losses to protecting profits as the price reaches new highs.
2. Diversify among stocks and sectors
Case in point: Master limited partnerships (MLPs) were all the rage when oil prices were high. One of the brightest stars of the MLP sector was Chesapeake Energy Corp. Now that the price of crude oil is about 70% lower than its highs in the summer of 2014, MLPs have lost their luster. And Chesapeake has racked up a one-year decline of 82.34%. Lesson: Even if you're in love with a certain industry or sector, don't put all of your eggs in one basket. Also be sure to diversify across sectors. For example, the technology-intensive Nasdaq has fallen 10% so far in January. If you're overly weighted toward tech stocks, you're hurting right now.
3. Spread your money among several asset classes
Don't just stick to components of the S&P 500 or the Dow Jones Industrial Average. Spread your portfolio among value, small-cap, large-cap, growth, and dividend stocks. That said, there's a class of assets poised for steep declines and no amount of diversification can stem their imminent losses. If you own them, you must sell them now. Keep reading to find out which stocks are toxic right now.
4. Spread your investments geographically
Don't simply focus on specific country or regional funds, or on emerging markets. The best course of action is to diversify throughout the world through international index funds. A good choice now: Fidelity Diversified International (FDIVX) - Get Fidelity Diversified International Report , which invests primarily in non-U.S. common stocks across different countries and regions. The fund's year-to-date return is 3.12%, which looks pretty good in light of the U.S. market's tumble so far this year.
data by
5. Don't neglect fixed income
The degree of fixed income you need depends on your age. The closer you get to retirement, the greater weighting you should place on fixed-income investments such as bonds. We recommend bond funds, for greater diversification. Highly rated, quality choices now include Vanguard Intermediate-Term Bond ETF, Fidelity Spartan U.S. Bond Index Fund, and Vanguard Total Bond Market Index.
This year, the broader markets have gotten off to a miserable start. In fact, the S&P 500 has now officially "corrected." If you want to see a list of the absolute worst stocks you can own in today's investment environment, read our shocking report. Inside, you'll discover the market's most overvalued stocks, and learn the process you can use to keep avoiding them in the future. Click here now for a copy.
John Persinos is editorial manager and investment analyst at Investing Daily. At the time of publication, the author held no positions in the stocks mentioned.