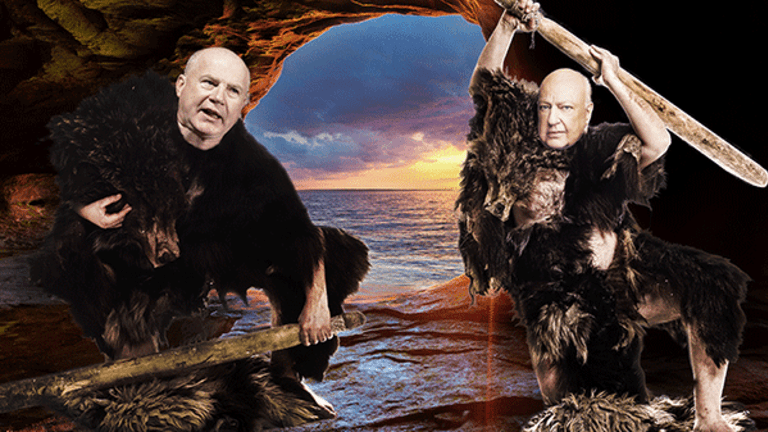 Don't Kid Yourself: Departures of Roger Ailes, Kevin Roberts Change Nothing in Sex Discrimination
In a matter of weeks, two senior executives at global businesses lost their jobs related to sex harassment claims or clueless talk about gender. A revolution, or a blip?
At first blush, the recent comeuppance of two men at the top of global powerhouses suggests we finally are taking gender discrimination seriously.
On Wednesday, Kevin Roberts, the chairman of advertising giant Saatchi & Saatchi and "head coach" of parent company Publicis Groupe (PUB) - Get People's Utah Bancorp Report , said he was resigning effective Sept. 1. The announcement came only days after Roberts was put on a leave of absence for making comments about women in the workplace to Business Insider that could most charitably be described as a quarter century behind the times.
In a statement about his resignation, Roberts apologized for his "miscommunication on a number of points."
It took less than 24 hours from publication of the Business Insider story for Publicis to put Roberts on leave. The swift reaction to Roberts' assertion that "the f---ing debate" on gender "is all over" was a standout in a world where your typical Neanderthal is coddled if he hails from the C-suite or ranks as a rainmaker.
Only nine days before Roberts was put on leave, 21st Century Fox (FOXA) - Get Fox Corporation Class A Report , owner of Fox News, said that Fox chairman and CEO Roger Ailes had resigned "effective immediately." Ailes had been sued by former Fox anchor Gretchen Carlson on July 6 in a complaint that alleged he'd suggested, among other things, that the two have a sexual relationship. In a press release, Ailes denied Carlson's allegations.
The ensuing uproar, including media accounts that a dozen women subsequently reported stories of Ailes' inappropriate behavior, pretty much sealed the Fox CEO's fate.
It's encouraging to see consequences for the two men. But I'm not sure their stories combine to mark a defining moment in the struggle to make things right for women at work.
Ailes's resignation came with a $40 million severance deal, so you'd be hard pressed to say the poor fellow had been punished. Besides, 21st Century CEO James Murdoch and his brother Lachlan, who is co-chairman with their father, Rupert, wanted to get rid of him anyway, according to published reports.
"This doesn't leave me feeling there should be enormous applause or kudos to this company for removing him," said employment lawyer Joseph Sellers of the Washington, D.C. law firm Cohen Milstein Sellers & Toll.
Lest you should conclude that either Publicis or 21st Century Fox were solely driven to do the right thing in their respective corporate crises, consider some background. In a statement announcing Ailes' resignation, Rupert Murdoch, executive chairman of 21st Century, praised Ailes' talents and said nothing about the harassment allegations. 
As for Publicis, its CEO, Maurice Levy said in an August 3 email to staff that he had worked "very closely and amicably together for 16 years" with his dethroned colleague, so you have to wonder how much of a surprise it was for Levy to read about Roberts' attitudes about women.
Warm partings like the one Ailes enjoyed will do little to deter others from inappropriate workplace behavior. 
There is some good news here. Any time there's a high-profile gender discrimination lawsuit, it puts the issue in the public's mind. It also has a tendency to inspire additional women to go public with complaints about discrimination they'd previously kept to themselves.
This time, the gender conversation is even more extensive because Republican presidential nominee and Ailes pal Donald Trump said publicly that if his daughter Ivanka were to be sexually harassed, she should simply change jobs or change careers. What a great solution. Why didn't I think of that?
Ellen Pao, the former investing partner who lost at trial last year after suing the powerful venture capital firm Kleiner Perkins Caufield & Byers for gender discrimination, said in an email that in the wake of the Carlson suit, she expects other women in the media will be inspired to sue just as women in technology came forward after her lawsuit.
Sadly, the impact of these cases tends to peter out over time. The domino effect of explosive gender discrimination cases against Wall Street firms in the 1990s, for example, raised hope that permanent change would come. But 20 years after the so-called "Boom-Boom Room" case against Smith Barney, women in finance still put up with many of the same indignities their predecessors did two decades ago.
Anita Hill, the Brandeis University professor whose 1991 testimony at the Supreme Court confirmation hearings for Clarence Thomas launched the first national conversation about sexual harassment at work, told me in a telephone interview that the Ailes case is no game-changer.
"I hope people don't look at the Ailes situation and think that all of women's problems have been solved now that he's been dismissed," she said. "The day-to-day realities of women's experiences will not match those of Gretchen Carlson," whose star status makes her case unique.
Hill should know. She gripped a live television audience of millions when she testified that Thomas had sexually harassed her when she worked for him at two federal agencies in the 1980s. She said her former boss had talked to her about women having sex with animals and discussed films "showing group sex or rape scenes." Thomas denied her allegations and was sworn in as Associate Supreme Court Justice on Sept. 10, 1991.
Because of Hill's testimony, women recognized that the things happening to them at work were not just demeaning, uncomfortable and career-threatening, but illegal. In the year after the Thomas hearings, the number of sexual harassment claims filed with the Equal Employment Opportunity Commission doubled.
Hill says that one thing that will bring real change is to have meaningful punishments for harassers. That means they should lose their jobs if there's a finding of harassment "and certainly we can't reward them with $40 million," she said.
The other is that we need to get rid of mandatory arbitration. Systemic change will be "out of reach" as long as civil rights are adjudicated in private arbitration, said Hill. Closed-door courts "hide the real numbers and some of the horrors of the problem," she said.
Instead of facing the issues, though, more companies are forcing employees to agree to forego court and have disputes heard in arbitration before they can even get a job. "Companies don't want to deal with systemic problems and they don't want people to talk about it," she said. "As long as you have that, you are going to have a problem eliminating sexual harassment."
As things stand now, harassers "feel immune from responsibility," said San Francisco employment lawyer Cliff Palefsky. "You can't say you support civil rights laws if you support mandatory arbitration."
TheStreet's columnist Susan Antilla is author of "Tales From the Boom-Boom Room: The Landmark Legal Battles That Exposed Wall Street's Shocking Culture of Sexual Harassment."