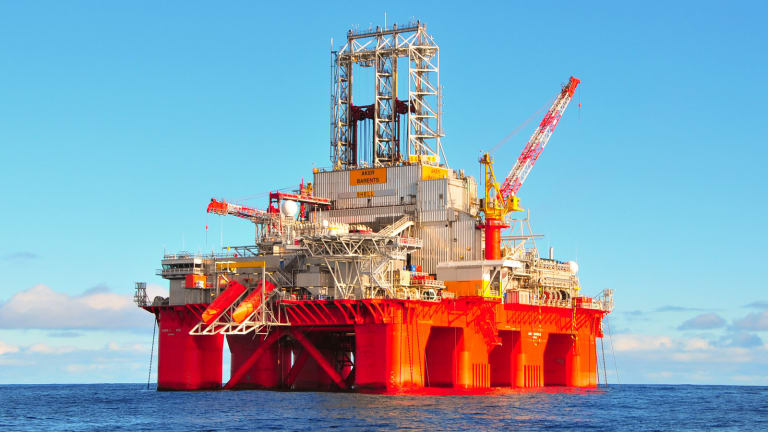 Don't Get Fooled: The Energy Rally Is Too Little, Too Late For These 2 Distressed Oil Stocks
We examine two rising but still fundamentally weak energy stocks that need more than an energy price rally to save them.
We examine two rising but still fundamentally weak energy stocks that need more than an energy price rally to save them.
There's an old adage on Wall Street: Don't confuse a bull market with brains. If you're excited by the recent surge in oil and gas prices, you should curb your enthusiasm. Not all energy stocks will make it.
Below, we pinpoint two of the most vulnerable energy stocks. Their share prices have risen dramatically in recent days, in tandem with the energy price rally. But don't be duped. They're among a group of equities that are destined for further declines this year. Let's see why.
1. Transocean (RIG) - Get Report
Transocean's stock has jumped 16.35% over the past five days, propelled by the overall energy price rally, but it's down 21% year to date and 43% over the past year. We think further declines are in the cards.
This drilling company continues to pay the price for its ill-timed expansion, fueled by debt, right before energy prices started to slide in mid-2014.
Transocean also is hobbled by its focus on deepwater and ultra-deepwater work, two capital intensive specialties that were growing like gangbusters when oil prices hovered in the $80-$100 range, but which are now suffering as exploration and production (E&P) giants cut back on more expensive projects that are farther out to shore.
The modest rally in oil prices won't be enough to help Transocean overcome its huge debt and weakening cash flow. With a market cap of $3.72 billion and a wide international footprint, Switzerland-based Transocean's business model uses internal cash flows and bank debt to pay for new rig building initiatives. Last year, the company cut its dividend payment by 80% and then terminated it altogether.
In the most recent quarter, Transocean reported a 17% year-over-year drop in revenue. Fleet utilization in the quarter declined to 60% from 73% a year earlier, making RIG a perilous bet for your money. The company managed to scratch out adjusted earnings per share of $1.68, up from 95 cents in the same quarter a year ago, but only after slashing operating and maintenance expenses by 39%, which gives it less wherewithal to take advantage of rising prices.
The company's debt-to-equity ratio now stands at 0.58, which is high compared to the energy sector's average debt-to-equity ratio now of 0.39.
2. Anadarko Petroleum (APC) - Get Report
Anadarko Petroleum's stock has jumped 8% over the past five days, but it's only up 1.8% year to date and down 46% over the past year.
Exxon Mobil, Chevron, BP, ConocoPhillips, and other E&P majors have struggled with the protracted decline in oil and gas prices, and Anadarko is no exception. Exacerbating APC's predicament, however, is the massive debt burden on its balance sheet. The company's debt-to-equity ratio now stands at 1.22, which tells us that the company is primarily financing operations with borrowed money.
During the go-go days leading up to the energy price collapse, Texas-based Anadarko took advantage of low interest rates and high prices to finance aggressive expansion. But energy is a notoriously cyclical business and when the pendulum swings in the other direction, the consequences can be merciless. Now, interest rates are rising (albeit slowly) and energy prices are still about 61% off their highs in the midsummer of 2014.
After selling off several underperforming assets, Anadarko is becoming a pure play on North American shale production via its assets in Wattenberg, Eagle Ford and the Delaware Basin.
However, the massive global oil glut won't abate anytime soon, despite recent news that Saudi Arabia and Russia are planning talks this month to hammer out a production freeze. Anadarko has curtailed spending, stopped investing in future production and is living on fumes.
For the fourth quarter of fiscal 2015, Anadarko reported a loss of $1.25 billion, or $2.45 per share. For the full year ended Dec. 31, the company reported a net loss of $6.69 billion, or $13.18 per share.
Anadarko is scheduled to report earnings on May 2. The consensus EPS forecast for the quarter is a loss of $1.18 per share, compared with a year-earlier loss of 72 cents a share.
As we've just explained, Transocean and Anadarko remain distressed stocks you should avoid. But they're not the only risky stocks out there. We've found an entire group of overvalued equities that seem like good investments but they're actually on the verge of collapse. For our latest free report on the market's most toxic investments, click here.
John Persinos is editorial manager and investment analyst at Investing Daily. At the time of publication, the author held no positions in the stocks mentioned.