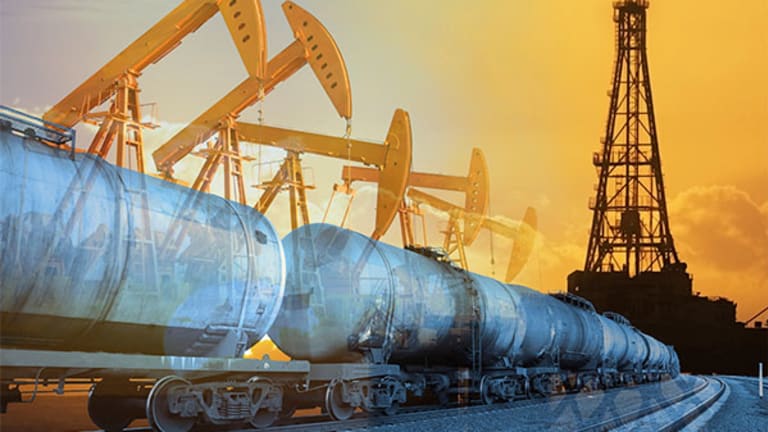 Publish date:
Don't Get Duped By The 'Sucker's Rally' in Energy; Here's How to Play It
Energy prices and stocks recently spiked, but the oil glut won't go away soon. Oil prices haven't hit bottom yet; here's how to profit from the euphoria.
Energy prices and stocks recently spiked, but the oil glut won't go away soon. Oil prices haven't hit bottom yet; here's how to profit from the euphoria.
Allow us to expand your financial lexicon with a new word: "hopium." This is a drug favored by permabulls who ignore fundamental data in favor of illusory hope. Hopium seems to be fueling the rises lately in the energy sector and broader markets.
But as we'll explain, this dynamic poses an opportunity for dispassionate investors. You can profit from oil's long-term decline, to free up your capital for considerably better opportunities in other sectors.
Stock indices in the U.S., Europe and Asia soared Monday as the price of oil rose yet again, pushing up a broad array of energy stocks. The price of U.S. crude jumped 6%, after several oil-importing nations reported that the growth of oil stockpiles would slow.
The American Petroleum Institute, an industry group, recently reported that U.S. oil inventories have fallen significantly, contrary to expectations of an increase. Energy stocks that have been falling all year are now on an upward trajectory, including Chevron and Marathon Oil.
Problem is, the world glut is so massive, it will take many months to make a sufficient dent for oil prices to truly turn the corner. Notably, Goldman Sachs still predicts that oil could fall as low as the $20s this year, and strategists at BP see the glut continuing into the foreseeable future.
Saudi Arabia is trying to undo its calamitous price war and curtail production to bolster prices, but getting fellow OPEC members to agree to a deal is akin to herding cats. Russia has tentatively agreed to a production freeze, but signs indicate that a belligerent and revenue-starved Iran (which sits on one-fifth of the world's proven oil reserves) won't go along.
The recent oil rally already is starting to sputter. Now's the time to bet on the continued free fall of energy prices, by shorting the energy sector's most vulnerable industry: drilling and oilfield services.
Major exploration and production companies are hurting, but they sit on huge cash reserves and they can wait out the oil price slump. Companies such as Chevron and Exxon Mobil are cutting costs, reducing debt, canceling or deferring drilling contracts and keeping their powder dry for the day when oil prices rebound. Until oil prices regain long-term momentum, there are more profitable stocks to buy right now.
But the pain is more acute for the oil equipment and services industry, which is home to a slew of deeply indebted and distressed companies, some of which are fighting for their very survival.
Over the past year, the stocks of the biggest drilling companies have taken a ferocious beating: Schlumberger (SLB) - Get Report (down 12.82%); Seadrill (SDRL) - Get Report (down 84.21%); Halliburton (HAL) - Get Report (down 23.75%); and Transocean (RIG) - Get Report (down 44.64%) are all testimony to the carnage in this industry segment. Their balance sheets are horror shows, as they pay the price of overexpansion during the energy sector's boom.
A shrewd bet now is to sell short the iShares US Oil Equipment & ServicesETF (IEZ) - Get Report , an exchange-traded fund with net assets of $214.15 million that tracks the energy drilling segment. Holdings include Schlumberger, Transocean, Halliburton and other troubled drillers that are caught in the vise of falling revenue and increasingly unsustainable debt.
This ETF is down 11% year to date and 35% over the past year, vs. declines of 5.7% and 8.7%, respectively, for the S&P 500. The iShares US Oil Equipment & Services ETF also has fallen more than the broader industry benchmark Vanguard Energy ETF (VDE) - Get Report , which is down 5.7% YTD and 31% over the past year. The iShares US Oil Equipment & Services ETF's expense ratio is 0.43%.
Global oil stockpiles, fed by the enormous "fracklog" from North American shale fields, should remain overstocked this year. Sluggish growth in China and emerging markets, as well as in Europe, will ensure that the world remains awash in more oil than it needs for at least the rest of 2016. According to the latest projections from the U.S. Energy Information Administration, oil prices are on track to remain low into 2017.
Oil hasn't bottomed yet. Now's the time to sell short the iShares US Oil Equipment & Services ETF, while many energy investors partake of the hopium pipe.
We've found a small-cap biotech "rocket stock" that's about to take off. UCLA researchers are stunned by a Nobel Prize-winning cancer breakthrough that's proven in clinical trials to eliminate lethal forms of cancer with a single dose. One small company owns the patent to this life-saving treatment. Now trading at about $5 a share, the stock of this innovative company is projected to surge 2,700% on an imminent FDA announcement. To download the full report, click here.
John Persinos is editorial manager and investment analyst at Investing Daily. At the time of publication, the author held no positions in the stocks mentioned.