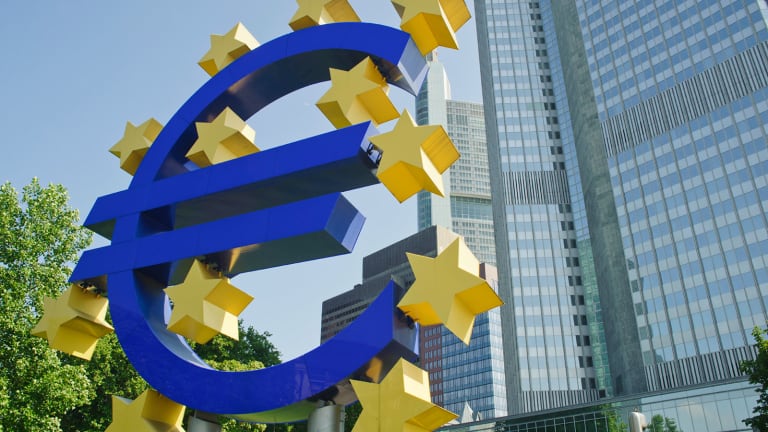 Don't Get Complacent About Brexit: It's Time to Sell European Bank Stocks
Despite a temporary easing of investor concerns, Brexit still poses grave dangers to Europe's financial services sector. Here's an easy way to profit.
Despite a temporary easing of investor concerns, Brexit still poses grave dangers to Europe's financial services sector. Here's an easy way to profit.
During the darkest days of World War II, Prime Minister Winston Churchill told the British people: "We shall never surrender." Investors over the past two days refused to surrender to Brexit, fueling a huge "relief rally" in global markets.
The S&P 500 I:GSPC on Tuesday and Wednesday recouped more than half its losses from the two-day equities rout provoked by the British referendum vote on June 23 to exit the European Union. But wipe that smile off your face. As Britain grapples with the messy consequences of Brexit, triggers for future selloffs still abound. This latter-day "Battle of Britain" rages on.
Below, we show you a simple and easy trading strategy that allows you to reap big profits from Britain's folly. We also unveil an ingenious investment method that makes money in any market, during good times and bad.
Last week, the Federal Reserve reported that 33 large U.S. and foreign banks passed the first stage of the Fed's annual "stress tests" to measure their financial strength in the event of a crisis. But by no means is Europe's financial services sector out of the woods. Among the biggest worries sparked by Brexit is whether the EU's largest banks now face serious trouble that will spill into the global economy. It's a particularly pressing concern for the City of London, the financial services hub for the Continent.
The deteriorating metrics for European banking won't improve anytime soon, even if Britain somehow manages to mend its frayed relations with Europe. However, as Warren Buffett famously advised: "Be fearful when others are greedy and greedy when others are fearful." It's a time-tested approach for making money in bull and bear markets.
During the financial crisis of 2008, governments around the world doled out massive sums to bail out their nations' banks. Brexit will indicate whether, once again, Europe's banks are too big to fail.
To be sure, banks today are stronger, especially in the U.S. Thanks to tougher regulations and more prudent practices, they have more capital and higher reserves of liquid cash. But Brexit will weigh on the revenue and earnings of Europe-based corporations and add stresses to a European financial system that was already grappling with sclerotic growth. Meanwhile, low or negative interest rates overseas continue to hurt bank profits at a time when they still have plenty of debt.
Not surprisingly, the Brexit crisis has crushed bank equities, with European banks getting hit the hardest. Shares of London-based Barclays are down 30% since last Wednesday, the day before the Brexit vote. Shares of Frankfurt-based Deutsche Bank are down 16% since then.
The valuations of European bank stocks were shaky even before the fateful referendum vote. Nine of the 10 biggest banks sport weak price-to-book ratios of less than 1, which suggests that investors are bearish about the sector. Notably, Deutsche Bank, the biggest lender in the European growth engine of Germany, is trading at about 30% of its net worth, a huge discount.
All European banks face danger, but for American investors it can be difficult to make bets against those banks because some don't trade on U.S. exchanges. Moreover, exposing yourself to shorting one individual bank is extremely risky.
The smartest way to profit from Europe's deep-seated banking woes is to sell short the iShares MSCI Europe Financials Index (EUFN) - Get Report . With net assets of $226.64 million, this exchange-traded fund tracks nearly all the big European banks and serves as a bellwether for the EU's financial system.
The ETF's top five holdings by percentage of the fund's assets are HSBC, Allianz, Banco Santander, Lloyds Banking, and BNP Paribas.
As it became apparent that Brexit won't happen right away (or maybe not at all), the ETF rose along with the global "relief rally" on Tuesday and Wednesday. Year to date, though, the iShares MSCI Europe Financials Index is down 24%. Look for it to fall further, as annoyed EU officials press for a quick divorce from Britain and the country's squabbling politicians continue to demonstrate an abject failure of leadership.
---
Post-Brexit anxiety has been pummeling global markets. If you'd rather avoid stocks, bonds and funds altogether during this period of extraordinary volatility, I know a way you can make a guaranteed $67,548 over the next 12 months. In fact, this moneymaking technique is so successful and simple, you might want to give up "conventional" investing forever! Click here now to learn more.
See full Brexit coverage here.
John Persinos is an editorial manager and investment analyst at Investing Daily. At the time of publication, the author held no positions in the stocks mentioned.