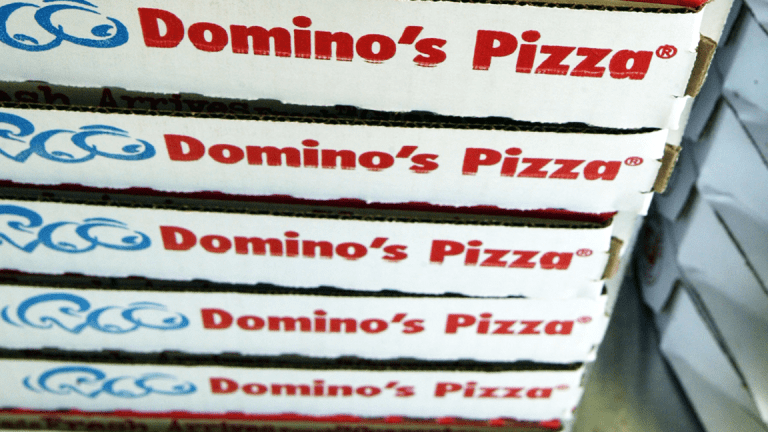 Domino's Pizza CEO: Your Pizzas Will Probably Be Delivered by Autonomous Cars
Domino's Pizza CEO Patrick Doyle will be going out in style when he retires later this year. Here are his biggest thoughts about the future of fast-food before he heads off into the sunset.
Just drop the mic, Patrick Doyle.
Doyle, who recently announced he will retire in June from his CEO role at Domino's Pizza (DPZ) - Get Report , will leave quite the legacy at the pizza delivery giant. Since Doyle took over as CEO in March 2010, Domino's stock has sizzled to the tune of almost 1,500%. Domino's strong sales and profits have been fueled by a push into digital ordering and a focus on improving operations. Papa John's (PZZA) - Get Report shares have only gained 361% during that same stretch, while Pizza Hut owner Yum! Brands (YUM) - Get Report has risen 245%.
TheStreet caught up with Doyle before he gallops off into the sunset to discuss the future of fast-food. For what it's worth, we wouldn't be surprised to see the 54-year old Doyle apply his winning ways to a struggling restaurant company (Chipotle (CMG) - Get Report has already been rumored as a destination).
Doyle has also sat on the board of Best Buy (BBY) - Get Report since 2014. Being a successor to Best Buy CEO Hubert Joly, who has led an impressive digitally minded turnaround at the electronics retailer, makes some sense.
Another possible destination is Ford (F) - Get Report given Doyle's Michigan routes and Domino's partnerships with the automaker through the years. With new Ford CEO Jim Hackett not seen as a long-term CEO by many on Wall Street, the automaker would be wise to bring Doyle onto the board as a possible successor.  
TheStreet: What does the future of food ordering look like to you?
Doyle: Clearly, the majority of our business is digital. Over 60% of our orders are now done digitally, and we have markets that are even higher than that both in the U.S. and overseas. So we see that number continuing to go up. I think the one thing you will see change over the next three to five years is I think you will see more and more people using natural voice to place orders as opposed to thumbing things into their screens. 
That's probably the next big thing you will see changing. 
TheStreet: Does ordering by phone go away within 10 years?
Doyle: I don't know if it completely goes away, but it's already a relatively small percentage of our business. I think we will continue to take phone orders, but I think it will continue to decrease as a percentage of the business.
TheStreet: This digital ordering influx means you have to redesign the insides of your restaurants, no?
Doyle: We have a big advantage in that we have had one point of sale system in our restaurants for a decade. So that has streamlined our ability to bring delivery orders into our restaurants for a long time. The orders come in digitally, they go straight onto the food prep screen and then folks in the restaurant make the pizzas. That process is quite smooth. 
The one thing that you may see change is how we deal with providing digital service to carryout customers. We have certainly experimented with kiosks like others. There are certain things we can do inside the store in the future to better serve customers. From delivery and digital ordering perspectives, Domino's was built from the start at doing these things. 
TheStreet: Is there some sort of super oven you are looking at to make pizzas quicker? Digital orders could be relentless.
Doyle: We are always looking to get more efficient. If we can find ways to speed things up by 30 seconds or something like that, it would be great. We are always looking at testing ideas. The one thing I would say is that the very consistent feedback from our customers is the fact that we are hand-making their food is important to them. It's part of the reason that as part of remodeling our stores, we have taken down the walls so people could see what we are doing. 
We may look for ways to get more efficient, but I think you will see us hand-making food for a very, very long time. 
TheStreet: McDonald's (MCD) - Get Report has long used the U.K. to test new ideas. What overseas markets are using to try some new things?
Doyle: New ideas have come from a lot of markets globally. The U.K. was actually the first market for us to take digital orders. Australia has been doing a lot of work with GPS tracking of orders. Some of our Asian markets are some of our highest penetration of digital orders globally. 
TheStreet: How does your team come up with these new ideas? For example, you were the first to let people order from their Apple (AAPL) - Get Report Watch.
Doyle: Our digital ordering platform makes it relatively easy for us to add new devices. We end up hearing about new things being done and if they are capable of taking an order, we have a conversation about it. Frankly, given our reputation as leaders in the space we now get calls by most of the tech people when they are in the planning stage to make sure that we will be on their platform at launch. 
That part of it is a little easier for us now. Where we have had to place some bets is on really new technologies and new uses. For example, we have been investing in natural voice for ordering for a few years. We rolled that out in our own apps before Amazon (AMZN) - Get Report launched Alexa and Alphabet (GOOGL) - Get Report launched Google Home. We were quite convinced that natural voice was going to be big, but that required some conviction to do that.
You have seen us working on self-driving vehicles and trying to understand how that is going to impact the delivery space. So, we are making investments there to understand how consumers will want to interact with autonomous vehicles and pizza delivery. 
TheStreet: Do you envision an army of autonomous cars delivering pizzas?
Doyle: I think you will see dramatic change in transportation over the course of the next five to ten years. So yes, I think you are going to see certainly within 10 years a very large shift towards self-driving vehicles. Exactly when that's going to happen, I can't tell you. Probably the earliest it will happen is three to five years from now. I would be very surprised if it doesn't happen in the next 10 years, which is why we are investing time and resources in understanding this shift. 
Will people come out of their homes and apartments to get the pizzas, what do we need to do to make that process seamless. You have seen some of our work public on that. We want to be at the forefront. 
TheStreet: Does that mean Domino's turns into a Hertz (HTZ) - Get Report and builds a fleet of autonomous cars? Or, do you partner with someone else?
Doyle: Well, we aren't going to be making vehicles ourselves. We are in southeast Michigan, we are blessed to be in the mobility capital of the world. We have been doing work with Ford (F) - Get Report . We have already partnered to build vehicles that are task specific for delivering Domino's pizzas. We can absolutely see how there could be dramatic change around delivery and transportation over the next ten years. 
TheStreet: What keeps you motivated at this point?
Doyle: We have found that bringing new ideas to analytics into the restaurant industry has created a pretty dramatic competitive advantage for us. We see that in the growth of our business and are excited about what we can get done.
The other thing that excites me is that we have a majority franchise business and the vast majority of them started as hourly workers in our stores. So, we are this little entrepreneurial factory here where people come up through the stores and run it well and then apply to become a franchisee. Our ability to bring them new ideas to create a great business is pretty exciting. 
Apple and Alphabet are holdings in Jim Cramer'sAction Alerts PLUS Charitable Trust Portfolio. Want to be alerted before Jim Cramer buys or sells these stocks? Learn more now.
TheStreet's investing interviews, all in one place!
More Influencer Interviews From TheStreet