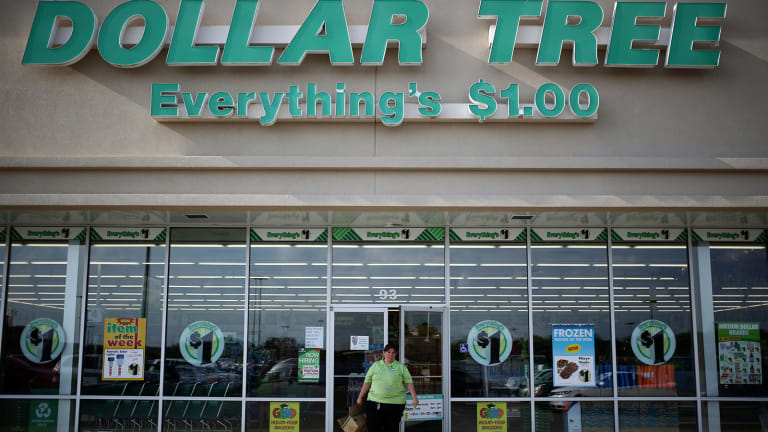 NEW YORK (TheStreet) -- Discount retailer Dollar Tree (DLTR) - Get Dollar Tree, Inc. Report will report second quarter earnings results Thursday before the opening bell. And even though its shares are already up some 11% on the year -- and have skyrocketed 41% over the past twelve months -- it's tough to ignore the value and the competitive advantage Dollar Tree has created for itself and for its shareholders by outbidding larger rivalDollar General (DG) - Get Dollar General Corporation Report to buy Family Dollar (FDO) .
With the merger now approved by federal regulators, Chesapeake, Va.-based Dollar Tree is well on its way to higher heights, given the value the newly formed company can create. This includes projected combined savings of $300 million annually.
Beyond the obvious synergies, this was a deal Dollar Tree had to make for its survival. Dollar chains have prospered, growing annual sales at relatively strong rates, especially amid the recent tough economic environment. And while of the three, only Dollar Tree actually sticks by its name and keeps its prices to $1 or less -- the other two "dollar stores" have items priced as high as $10 -- at some point, those dollars don't stretch as far. And that means more of a struggle to produce the type of profits investors desire in a long-term investment.
Now that it has acquired Family Dollar, Dollar Tree can maintain or even increase its profit margins by cutting costs, which will make it easier for management to squeeze out profits even should sales falter. At the same time, Dollar Tree no longer has to fight for retail space. This is important since it already competes with low-price leaderWal-Mart (WMT) - Get Walmart Inc. Report, in addition to Dollar General. Plus, Family Dollar now has one less competitor to worry about.
The combined company, which should see an increase in shoppers coming into its stores, is better positioned to compete on price with both Wal-Mart and Dollar General, especially since Dollar Tree was already producing the highest profit margin among the three companies at 35.2%. This explains why the quarterly projections have been on the rise.
But from my vantage point, the long-term gains Dollar Tree can create lessen the importance of Thursday's quarterly report. The consensus earnings estimate for the quarter that ended in July is 68 cents a share, up 11%, while revenue is projected to climb 11% to $2.26 billion.
Indeed, both revenue and earnings growth -- projected to be in low double digits -- are impressive.  Further, the stock's average analyst 12-month price target of $88 is 13% higher than its current levels around $77. The way I see it, placing a bet on Dollar Tree today -- despite the  strong stock gains already in the rear-view mirror -- makes sense on multiple levels. 
This article is commentary by an independent contributor. At the time of publication, the author held no positions in the stocks mentioned.