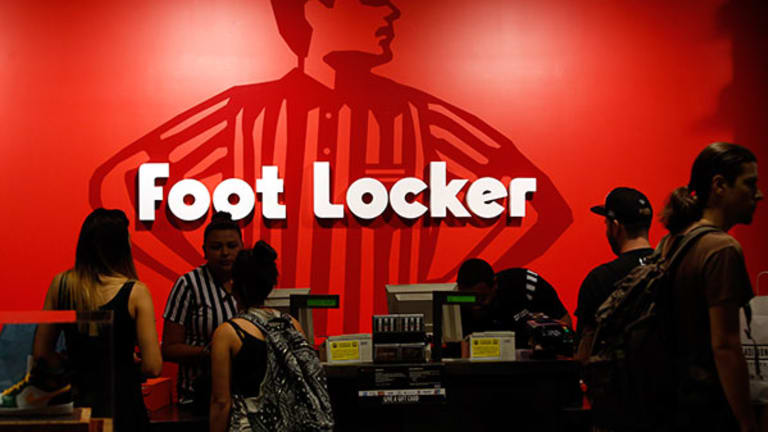 9 Retail Stock Winners Since Thanksgiving
Dollar General and Foot Locker top retail sector winners Macy's, Wal-Mart, TJX, Tiffany, Ann, Chico's and Shoe Carnival.
NEW YORK (TheStreet) -- Here's the low-down on nine retail winners in the past month led by discounter Dollar General (DG) - Get Dollar General Corporation Report and athletic footwear retailer Foot Locker (FL) - Get Foot Locker, Inc. Report.
The overall price performances for the retailers have been disappointing since Thanksgiving but most have maintained buy ratings. The retail-wholesale sector is 28.1% overvalued with an overweight rating. Of the 343 stocks in this sector 83.4% have buy or strong by ratings.
[Read: Cloud Miracles of 2014 ]
Since the day before Thanksgiving the Nasdaq is the leader of the five major equity averages up 2.7% followed by the Russell 2000 with a gain of 1.8%, then Dow Industrials up 1.6%, the S&P 500 up 1.4% and Dow Transports up 1.2%. Only three of the nine retail winners beat the major averages.
[Read: What to Do When You're Bored in the Office at the Holidays ]
[Read: Federal Reserve Gives Up Bailout Powers ]
[Read: Tesla Jumps as Model S Gets Safest Car Approval ]
At the time of publication the author held no positions in any of the stocks mentioned.
This article is commentary by an independent contributor, separate from TheStreet's regular news coverage.
Richard Suttmeier is the chief market strategist at ValuEngine.com. He has been a professional in the U.S. Capital Markets since 1972, transferring his engineering skills to the trading and investment world.
Suttmeier has an engineering degree from Georgia Tech and a Master of Science degree from Brooklyn Poly. He began his career in the financial services industry in 1972 trading U.S. Treasury securities in the primary dealer community. He became the first long bond trader for Bache in 1978, and formed the Government Bond Department at LF Rothschild in 1981, helping establish that firm as a primary dealer in 1986. This experience gives him the insights to be an expert on monetary policy, which he features in his newsletters, and market commentary.
Suttmeier's industry licenses include, Series 7 and Registered Principal (Series 24). He has been the Chief Market Strategist for ValuEngine.com since 2008 and often appears on financial TV.
Click here for details on Suttmeier's "Buy and Trade" investment strategy.
Richard Suttmeier can be reached at RSuttmeier@Gmail.com