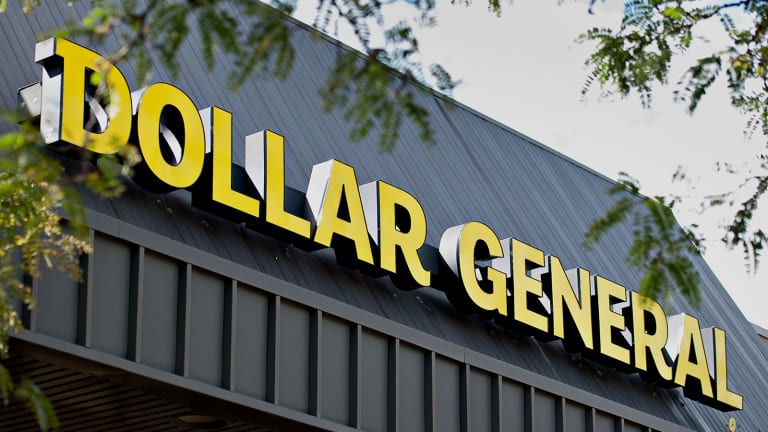 Dollar General Acquisition a Good Buy for Retail-Seeking Investors
The discount retailer is scooping up 41 former Walmart Express locations.
Like it or not, traditional retail is falling by the wayside, especially where investors are concerned. The share prices of Sears, Macy's and even Nordstrom have suffered amidst sluggish sales, a byproduct of the growth of Amazon and other e-commerce sites.
However, one group of retailers has been faring well and even handing investors some tidy profits. Since the previous recession, dollar and discount retailers have seen significant increases in sales with Dollar General (DG) - Get Report and Dollar Tree at the forefront.
These budget-conscious chains have been attracting a significantly increasing number of Millennial shoppers -- a demographic that even Walmart has had difficulty capturing. Dollar General's announcement this week that it is acquiring 40 Walmart locations underscores its relative strength. The company offers a good option for investors looking for a retail stock, particularly if there's any price drop.
Dollar General stock finished down slightly in Thursday trading but is running at a near 52-week high.
A key to the dollar stores' success is their convenience. The merchandise they sell is cheaper than what's at Walmart, and these stores offer run-in-and-run-out convenience.
Walmart attempted to address this trend in 2011 by unveiling Walmart Express, smaller stores offering everyday household items.
However, Walmart Express was a flop, and last year the mega-retailer decided to abandon the experiment.
This week, Dollar General announced it's stepping in where Walmart failed and purchased 41 former Walmart Express locations. The company will relocate 40 of its own existing locations to these stores by October and will boldly enter one new market, Arkansas, Walmart's home state.
While not as huge as a regular Walmart store, Express stores still reflect a significant increase in square feet for Dollar General. The company intends to use the extra space to expand its produce and meat offerings.
"Dollar General is excited to add these locations to our existing store base. We look forward to the opportunity to better serve our customers in these communities by continuing to provide the convenience and value they expect from Dollar General," said Todd Vasos, CEO.
Dollar General is a great pick for investors looking for a survivor in the brick-and-mortar retail market. Watch particularly for price dips as opportunities to grab shares.
---
As American spending habits drastically change, it can seem overwhelming to pick the right retail stock. But there's no such thing as a surefire profit play, right? Not so. What if I told you about a way to make $67,548 this year in profitable trades, starting now... guaranteed? A trader I know turned $50,000 into $5 million trading this way and for a limited time, he's going to teach you his simple step-by-step process. Click here to see how easy it is to collect thousands of dollars in "Free Money" every month.
This article is commentary by an independent contributor. At the time of publication, the author held no positions in the stocks mentioned.