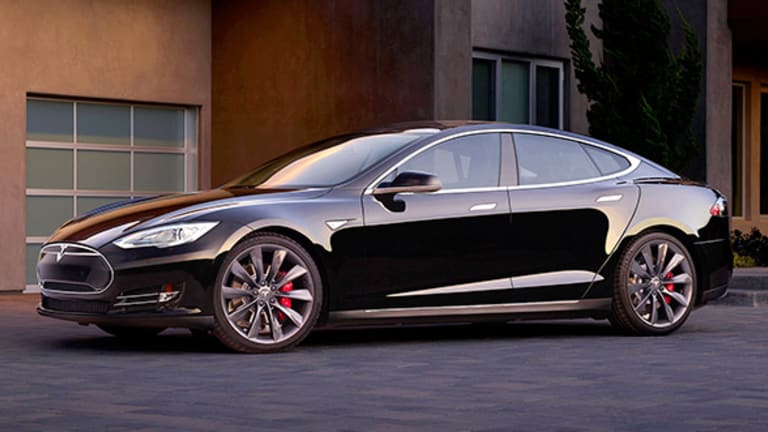 Does Tesla's Future Look More Promising with These Recent Moves?
Can Tesla's Deal with sister company SolarCity help Tesla, which has been struggling of late, get back on track?
Can Tesla's Deal with sister company SolarCity help Tesla, which has been struggling of late, get back on track?
After dropping nearly 30% over the past year, electric car maker Tesla Motors (TSLA) - Get Report has climbed back up by 45% in the last month.
So what jump-started their recent activity-- and is there any reason to be bullish on Tesla now?
Tesla stock surged 9% increase following the news that Hawaii's Kaua'i Island Utility Cooperative placed a substantial order with renewable energy company SolarCity, which shares its CEO with Tesla and chose the car company to provide the storage batteries.  
With 13 megawatts of electric storage, the 20-year deal is likely the largest utility storage project in North America to date for Tesla, and has many positive implications for investors. Tesla CEO Elon Musk says the deal could generate more than 80% of sales for the company's battery business unit.
There are also a number of reasons to be bullish about the growth of Tesla's electric cars.
The Model S, a zero-emission, electric, all-wheel drive, was the only vehicle in its class with growing sales last year, selling more than the Porsche Panamera, the Mercedes-Benz S-Class, the BMW 7 Series and the Audi A-8 for the year.
In its most recent letter to shareholders, Tesla pointed out that gross margins for the Model S are "tracking toward 30%" by the fourth quarter of 2016. 
In expected guidance for the coming year, Tesla announced that it plans to deliver more than 80,000 Model X and Model S vehicles in 2016, compared to just under 50,000 in 2015. Tesla introduced new models for both cars, adding different components of their groundbreaking Autopilot functionality to their network of service centers, stores and Superchargers around the world. Customers in 42 countries have driven 2 billion miles in Tesla's electric cars, says Musk. 
This year's plans for Tesla include further expansion into China, and the introduction of the Model 3, a $35,000 car for the mass market, to compete with the ChevyBolt and others. Tesla plans to start shipping the Model X to China by June, where SUV sales are the fastest-growing segment of the passenger vehicle market. The company says that the Model X, a luxury sports utility vehicle designed for families, is the safest, fastest and most capable SUV in history. The SUV comes with a medical-grade filter system that cleans the air of pollen, bacteria and other pollutants, which will appeal to Chinese customers who are plagued by air pollution, Musk says.
Currently, Tesla faces virtually no competition in the electric SUV market, although
Audi
and
Bentley
announced plans to launch the Q6 e-tron and a hybrid version of their luxury Bentayga SUV, respectively. 
"China will be a key player in the coming years, especially with the Model X and the HEPA filter, in a country where air pollution is such a big problem," says Oren Abadi, the owner of used luxury car company Abadi Motors headquartered in Teeterboro, NJ. The Model 3 "will blow the Chevy Bolt and Nissan Leaf out of the water," if Musk can deliver half a million cars by 2020. Tesla is gaining a reputation for not delivering on time; the Model X, scheduled to deliver in 2014, won't be available until late 2017. The price will also appeal to the middle class. 
In addition, franchising will offer multiple benefits. As Tesla takes the focus off sales, marketing and rent, they'll be able to use the time and money towards keeping the Model 3 on schedule, says Abadi. 
Additionally, money saved can be used to expand the Supercharger network, which isn't available for many of Tesla's electric cars.
If Tesla plans to add half a million cars a year, they will need to be able to keep them on the road, says Abadi. "I would recommend that Musk considers a venture with energy giants, such as Exxon or Shell." Exxon and Shell could expand the Supercharger network around the world, and at a lower cost to consumers than fossil fuels.
Joseph Rubin contributed to this article. The writer does not hold any stock in Tesla.