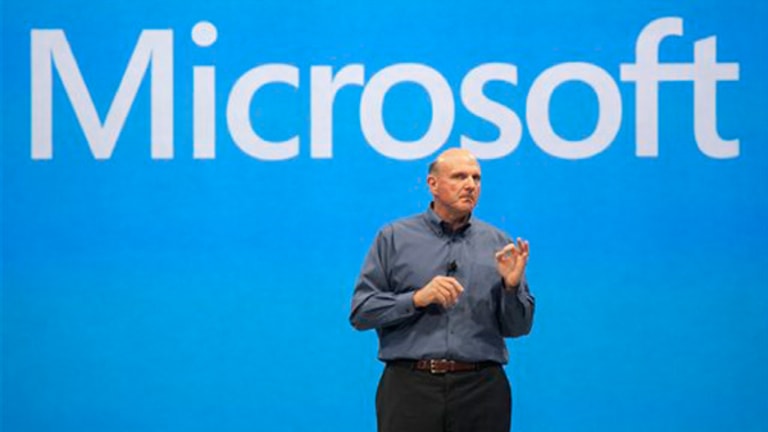 Does Steve Ballmer Even Know Microsoft Makes Xbox?
As Apple slowly figures out what to do in the living room, Microsoft must move Xbox forward aggressively.
NEW YORK (TheStreet) -- For as much as I have defended Apple (AAPL) - Get Apple Inc. Report against rampant inanity in recent weeks, I also acknowledge that, from a long-term standpoint, it's a somewhat vulnerable company with a relatively uncertain future.
In the near-term, Tim Cook benefits from
a fantastic lack of competition
.
Even if you're a Mac person, on some level, you've got to want to see
Microsoft
(MSFT) - Get Microsoft Corporation Report
succeed. It's easy to
, but he seems like a lovable guy. And, as bad as Microsoft looks, it's actually on the cusp of greatness. It just needs better marketing.
Over the weekend, I was at a neighbor's house. Our kids were playing with the Xbox. This family just got one a few weeks ago. It's an incredible device. Best gaming system I've ever seen. In fact, I used to own one. It was even pretty solid a few years ago. It's about as cutting edge as it gets in the living room.
If Microsoft can manage to bring pieces of its innovative pipeline to market
, it will keep getting better.
Microsoft should not stumble here. In fact, it has a clear edge over Apple -- based on what we know and can see -- in the living room. It's about more than first-mover advantage; Microsoft has already, in many households, closed the gap between the gaming experience and everything else a streaming player can do for you. It's nowhere near this level with its mobile ecosystem, which is a 100-to-one long shot at best.
Xbox is not merely a pimply-faced gamer's toy; it's a whole house, whole family entertainment system that outsells, by a wide margin, everything else like it. People know this. However, I'm not sure they know that Microsoft is the company that produces such a cool device.
My kid and my friend's kids have no idea, yet they can speak intelligently -- with palpable excitement -- about several generations of Apple products.
Samsung
made one of our television sets;
Sony
the other. A few years ago we bought a
General Electric
(GE) - Get General Electric Company Report
refrigerator. My kid loves the TVs and is always in the fridge, but she really has no clue who makes them. Nor does she care.
There's no cool factor. No sex appeal. There's no association between the brand and the product ... between the brand and the user experience or the practical role the product plays in my kid's life. No link whatsoever. Clearly, that's not the case with Apple.
Xbox is Xbox. Kids think Xbox and it stops there, whereas when they think of iPod, iPhone and iPad, Apple -- from the logo to Steve Jobs -- comes to mind. For goodness sake, they read about Steve Jobs in school.
I bet most adults fall into the same category; they probably don't even know Xbox is a Microsoft product.
The other day, I had a Microsoft PR person on the phone. I asked him if anybody at Microsoft ever did any market research on this. Has Microsoft commissioned a study to see if people who own an Xbox as well as those who don't actually make the connection between the two names?
I told him that if somebody has I would love to see the results. And, if the study has never been done or, worse yet, nobody ever thought to do it, he's staring one of Microsoft's biggest problems right in the face.
From day one, it must have been obvious that Xbox was a winner. Why didn't anybody at Microsoft think to create a seamless ecosystem between Windows and Xbox like Apple does with its software and hardware? Steve Ballmer hints at this in his
most recent letter to shareholders
, but he doesn't make a strong enough pitch in words or actions.
As Apple slowly figures out what to do in the living room -- assuming
Tim Cook really has no idea how to move forward with iTV
- Microsoft absolutely must move Xbox forward aggressively. Yesterday.
--Written by Rocco Pendola in Santa Monica, Calif.
Rocco Pendola is
TheStreet's
Director of Social Media. Pendola's daily contributions to
TheStreet
frequently appear on
CNBC
and at various top online properties, such as
Forbes
.