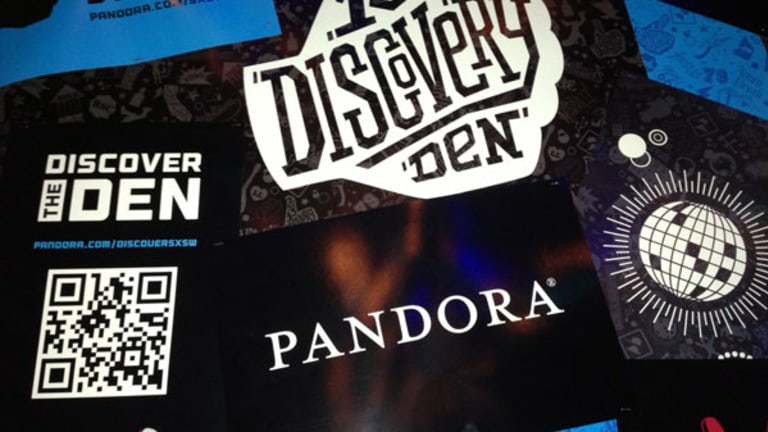 Does Pandora Do Enough to Promote Local Music?
Pandora can generate additional revenue and create more goodwill with artists and music fans if it gets deeper into local music promotion.
NEW YORK (TheStreet) -- By a mile, Pandora (P) has done the most of any large-scale radio player to promote local music.
Pandora's presence at South by Southwest (SXSW) this year and last hammered that reality home. If you couldn't be there (or even if you were), this video -- courtesy of
vimeo
-- is a must-watch.
When Pandora presented "Walk the Moon" at the historic Key Club in Hollywood last year, fans of the indie band packed the place. They gave Pandora Co-Founder and Chief Strategy Officer Tim Westergren a standing ovation.
Pandora Presents - Walk The Moon - Event
from
on
.
That video speaks for itself. It's powerful stuff. And it's something traditional radio could never do for several reasons. Still can't.
Terrestrial radio cannot personalize like Pandora does. It cannot target listeners effectively on the basis of their musical tastes, listening history and location. And because everybody who listens to a traditional radio station hears the same thing (the opposite of Pandora-style personalization), the industry has never had incentive to put effort behind promoting local bands by playing their songs and hosting their gigs.
Pandora pioneered and now dominates personalization and targeting. It's a combination that not only makes local music promotion possible, but a no-brainer. It can provide an additional revenue stream. (Albeit a most likely modest one). And, maybe more importantly, promoting local bands on Pandora and in the clubs of cities from Austin to Los Angeles to Manhattan will makes artists, large and small, happy. Pandora needs this -- and any bit of leverage it can get -- as it attempts to secure an equitable royalty scheme for Internet radio in the U.S.
So, my only question: Why hasn't Pandora done more local music promotion?
It plays the music of thousands of local bands. Names you never heard of, like the great Santa Monica band I went to see in a bar a week ago Saturday, "Minibar."
Bands like Minibar (you really should check them out) would receive zero airplay if it wasn't for Pandora and other Internet radio services such as
Rdio
. You can hear Minibar -- and other indie bands -- on
Clear Channel's
iHeart Radio
, but good luck finding them on a Clear Channel broadcast station. Not going to happen.
When you offer a different grouping of songs to each customer -- not as a desperate attempt at relevancy, but as your core business -- you can get more local than stations physically situated in Austin, Los Angeles or Manhattan.
From what I understand, Pandora will do more
Pandora Presents
type events like it did with Walk The Moon. I'm just not sure what they're waiting for. While I understand they do not have to worry much about a competitor doing the same thing -- nobody, other than Clear Channel, has the scale of Pandora -- it's time to strike while the iron is hot.
If Pandora becomes even more of a friend to local music, it builds goodwill, particularly with sympathetic big name artists, who can join the fight against the backward-ass music industry.
Use the Pandora platform to promote shows, sell tickets and the music of local bands. Do it several times a month starting in key cities, such as Austin, Los Angeles or Manhattan. I can't see a reason
not
to do this.
I'm using my spare moments on exactly what I think this could look like -- not all that different from the Walk The Moon example actually -- and will continue to report.
But realize, these are side thoughts . . . Pandora remains strong. All of a sudden, it's a $16 stock,
that could very easily head to $20
, though it might not crash if
Apple
(AAPL) - Get Apple Inc. Report
ends up doing iRadio.
--
Written by Rocco Pendola in Santa Monica, Calif.
Rocco Pendola is
TheStreet's
Director of Social Media. Pendola's daily contributions to
TheStreet
frequently appear on
CNBC
and at various top online properties, such as
Forbes
.