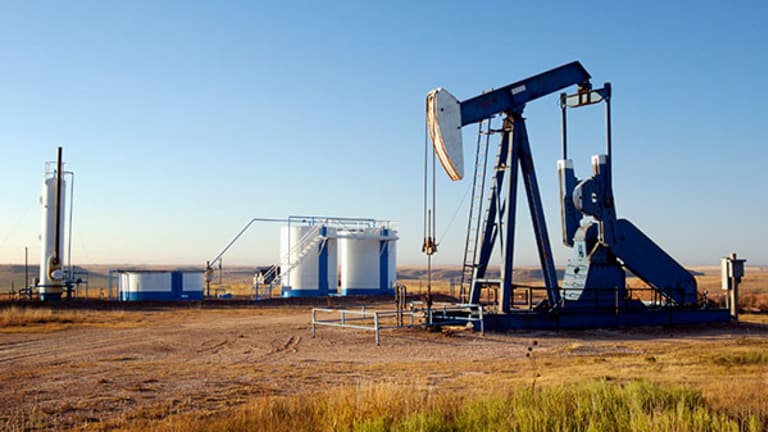 Does OPEC's Meeting Still Matter for Energy Stock Investors?
Maybe only for the short-term price of oil.
NEW YORK (TheStreet) -- OPEC's days of near unilateral control of oil markets and prices appear to be numbered.
The group may be so marginalized that any decision it makes at its meeting on Thursday will have a negligible effect on oil prices long term. But any change in production quotas should affect prices in the short term, perhaps resulting in a pop of $2 to $3 a barrel if the cartel raises its quota, or a continued decline in the price of oil the quota is kept the same.
For big producers such as Saudi Arabia, not reducing capacity is a more of a strategic move. The Saudis have low production costs relative to producers of oil from shale-rock formation in the U.S. They view any cut in production as harmful to their market share and fear they will cede business to U.S. shale by doing so. The Saudis are hoping to squeeze shale-oil producers in North Dakota and Texas out of the market. 
Goldman Sachs predicts the Saudis will eventually lose. Analysts at the firm have said that U.S. shale oil drillers have become so potent that they, not OPEC, will eventually dictate oil prices. The firm predicts that Brent oil futures will drop to $80 a barrel by the second quarter of next year before it finds footing at $85.
Goldman says that Saudi Arabia, the world's largest exporter of oil, has lost "the ability to push prices lower than the production of U.S. shale," noting that any reductions from the kingdom would "accommodate the further expansion of U.S. shale as well as reduce Saudi profits."
TheStreet's Jim Cramer said OPEC is "in trouble," and he thinks the U.S. won't need OPEC oil 18 months from now, achieving continental independence with the help of Canadian crude.
Russia, a non-OPEC nation, has reportedly stated that it is willing to work in symphony with OPEC and is willing to cut 300,000 barrels per day if the Saudis and Kuwaitis are willing to follow suit. The drop in oil prices, along with Western sanctions, has severely damaged Russia's economy.
This article is commentary by an independent contributor, separate from TheStreet's regular news coverage.