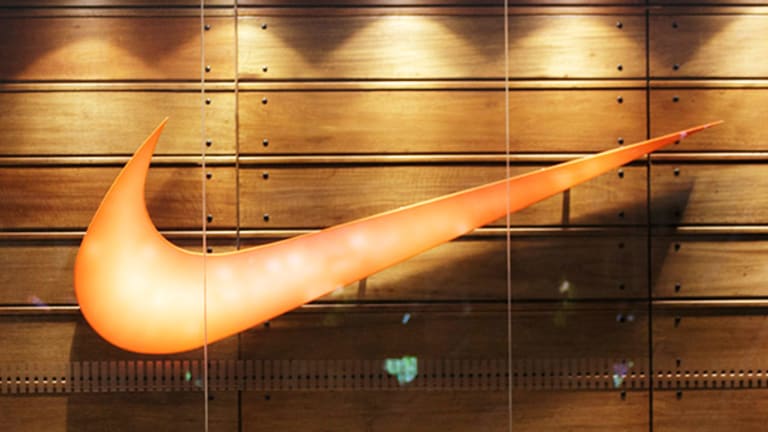 Does Nike Stock Have Room to Run?
With Nike shares up more than 39% year to date, does Nike really have room to run farther?
With Nike (NKE) - Get NIKE, Inc. Class B Report   shares up more than 39% year to date, does Nike really have room to run?
Nike is universally loved. Last Friday the company announced the board of directors approved a four-year, $12 billion share buyback, in addition to the $1.5 billion left on its current repurchase program. And if that wasn't enough, the company increased the dividend 14% to 32 cents quarterly and split the stock. All the shareholder friendly news drove the shares up 6%.
First-quarter fiscal 2016 revenue rose 5.4% to $8.4 billion, and earnings per share were $1.32, which beat the consensus by 15 cents. Future orders were up 9%. Revenue for the Nike brand were $7.9 billion, up 15% on a currency-neutral basis. Converse revenues were up 3% to $555 million, driven by strong growth in the United States.
Inventory rose 10% to $4.4 billion from August, driven by higher wholesale inventories related to the West Coast port strike. Despite some temporary pressure on gross margins, management still believes it can find a few ways to increase gross margins in the back half of the year.
Going into the second quarter, business momentum remains strong. North America was up 15%. China (at 27%), Western Europe (at 22%) and Japan (at 26%) were the strongest geographies.
But here's my problem. Despite the hoopla, it seems that Nike is slowing down after some very strong quarters.
Analysts forecast that Nike will report second quarter revenue of $7.8 billion, up 5.7%. That would be significantly less than the 14.8% reported in the second quarter last year. For year-end, revenue is expected to increase 7% to $32.8 billion, which would be less than the 10.1% increase posted in fiscal 2015 and less than the 9.8% in fiscal 2014.
But the stock's multiple doesn't reflect the slowdown in revenue growth. The shares still trade at 31 times forward estimates of $4.31.
While I think Nike has strong momentum heading into the second quarter, analysts expect an even bigger pickup in the second half of the year. Last year, the third quarter (at 7%) and especially the fourth quarter (at 4.8%) were the two slowest of the year. It just doesn't jibe. Either the company will blow past analyst's estimates and the stock will continue its run, or estimates will be fairly accurate and overenthusiastic bulls are about to run into a brick wall. I don't think Nike shares have much room to run farther.
This article is commentary by an independent contributor. At the time of publication, the author held no positions in the stocks mentioned.