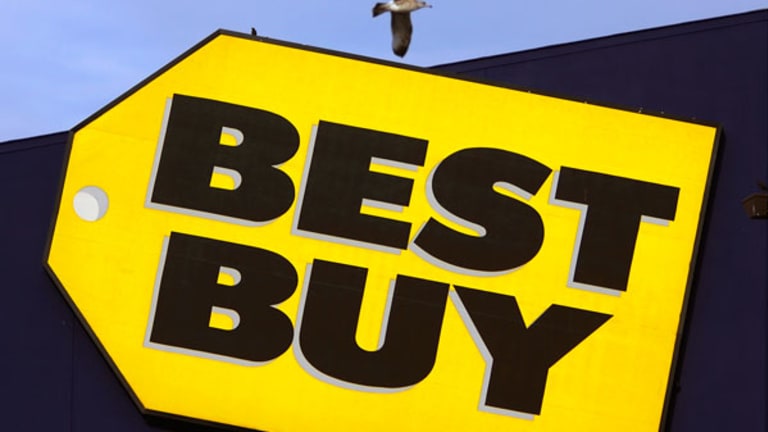 Does Best Buy Have Any Respect for Women, Itself?
Allowing Richard Schulze back into the fold at Best Buy is a bad idea, from business and public relations' perspectives.
NEW YORK (TheStreet) -- Some of the things we, as a society, think are OK floor me. We turn the other cheek to so much crap I wonder if I live alone in an alternate reality with my fits of distress.
In case you haven't noticed there's a war against women raging. It's not as overt as it once was, but it might actually be worse -- more damning -- in its subtleness.
Also see: Trends in Luxury Spending
Of course, there's the backlash against
Yahoo!
(YHOO)
CEO Marissa Mayer for instituting a perfectly-reasonable work-at-home policy. You know
if Marissa was a man we would have paid much less attention to the whole issue
, let alone sat by as reporter after reporter
got the story irresponsibly wrong
.
Just a couple weeks later, the media proved my point,
giving Tesla Motors (TSLA) - Get Free Report CEO Elon Musk a free pass for parenting-related comments it would have trashed Mayer for
.
Now, Wall Street touts
Best Buy
(BBY) - Get Free Report
as it executes a faux turnaround with phase two about to be overseen, at least in part,
by the same crew that presided over the company's implosion at the hands of Amazon.com (AMZN) - Get Free Report
.
But, what makes things worse is something I touched on in Monday's above-cited article: Best Buy founder Richard Schulze, who originally wanted to take the company private, is back in the picture as chairman emeritus of the board. He'll likely end up with what amounts to three board seats, as he has nominated his old CEO (Brad Anderson) and COO (Al Lenzmeier) to join him.
The business angle is bad enough. But how soon we forget the extracurricular turmoil of last summer that Schulze only made worse.
That's the kicker for me. That's the thing I just can't get by. I can't understand why not one member of the media has the guts to bring up the obvious.
Also see: 10 Ways to Cut the Cost of Airfare
Here's the history on Schulze from a June 7, 2012,
story:
Management upheaval continued at Best Buy, as its founder, Richard Schulze, said Thursday he would leave the board earlier than expected . . .
It is the latest personnel retreat for the retailer stemming from the abrupt resignation of the former chief executive Brian J. Dunn in April. Last month, the board reported that Mr. Dunn had had an inappropriate relationship with a female employee. An internal investigation revealed that Mr. Schulze had known about the relationship but did not tell the board about it.
Now, with that said, the
Times
did note that Schulze might have bolted early because of a disagreement with the board and management over Best Buy's strategic direction.
He should have been kicked out right alongside Dunn for what happened with the female staffer. So, maybe he wasn't, but the timing was such that a reasonable person could connect Schulze's departure with the fact that he acted improperly because he had knowledge of Dunn's relationship, but did nothing about it. At the time, it appeared that Best Buy, moving swiftly and transparently, was cleaning things up, first by ousting Dunn and then dealing with Schulze.
But now, about nine months later, all is forgotten. Schulze is back in the fold.
Do the women of Best Buy feel good about this? I can't imagine they do.
Shareholders shouldn't feel very good about the turn of events either.
No matter how you look at it -- morally, philosophically, from a business perspective -- Schulze coming back is bad news. One of the guys who sat at the confluence of last summer's poisoned waters rejoins the Board and kindly requests to bring two of his people -- a couple more Best Buy retreads -- along. This is a late night documentary on
Netflix
in the making.
So much for changing the busted internal culture at Best Buy.
And there is the business perspective as well. Obvious to me, but not so obvious to the folks trying to keep BBY's dead cat bounce alive. This is the guy who founded the company and saw it through an ass-kicking of epic proportion. And now he's back.
Also see: Cramer Greets the 21st Century: Airbnb
No matter how many times I replay this turn of events in my mind -- and bounce them off of other presumably sane and logical humans -- I just can't make sense of them.
--
Written by Rocco Pendola in Santa Monica, Calif.
Rocco Pendola is
TheStreet's
Director of Social Media. Pendola's daily contributions to
TheStreet
frequently appear on
CNBC
and at various top online properties, such as
Forbes
.