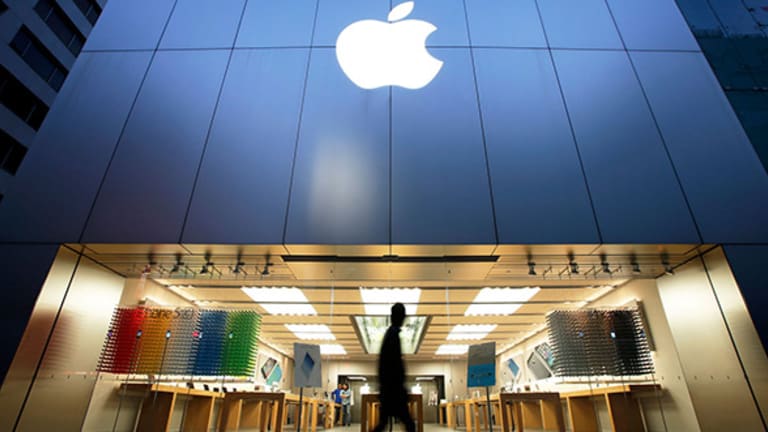 Publish date:
Does Apple Have to Beat Expectations to Be a 'Buy'?
Today Apple releases first-quarter results. Does expected slow revenue growth spell doom for the tech giant?
Today Apple releases first-quarter results. Does expected slow revenue growth spell doom for the tech giant?
Today, investors around the world are holding their collective breath, waiting for Apple (AAPL) - Get Report to make its first-quarter earnings report after the market closes this afternoon. For the first time in the Cupertino giant's recent history, analysts are expecting a slowdown. Are the company's glory days coming to a halt, or is Apple still a juicy buy?
Apple's one of those rare stocks with a true growth story. For the holiday quarter ending in December 2013, revenue was $57.6 billion. Just two years later, forecasts point to as much as $76.6 billion for the quarter.
data by
Analysts are expecting net income of $18.2 billion. That would make the quarter ending December 2015 the most profitable in the company's history. However, that amount is only 1% higher than net income for the same-quarter 2014. And the consensus forecasts revenue guidance of $55.7 billion, a 4% drop and the first time revenue has declined in the company's modern history.
At the root of the revenue slowdown is iPhone sales. Most analysts are expecting that reported sales of the smartphone will be modest, with no more than 76 million sold. This trend isn't unique to Apple. Market intelligence firm IDC predicts that after a rate of 10% in 2016, smartphone growth will cool to 4.7% by 2019.
Analysts are forecasting worse to come for the iPhone. Goldman Sachs' estimates place 2015 sales for the quarter ending in March 2016 at 55 million. Morgan Stanley and other estimates plate that number at 50 million or below on weakening Chinese demand. Compare these figures to the quarter ending in March 2014, with 61 million units sold.
The iPhone accounts for more than 65% of Apple's 2015 sales. It is now nine years old, and its sales can no longer be counted on to bolster revenue growth, especially in the tech sector, where new innovations are being announced on a daily basis.
However, a cadre of analysts are still bullish on AAPL. A group of 43 experts tracked by Bloomberg are calling for Apple's stock to rise about 40% in the next 12 months. And Gene Munster of Piper Jaffray s calling for AAPL to rise "more than 50% heading into the release of the iPhone 7 in September."
Apple is already trading at about 10 times its projected earnings over the next 12 months and is at a steep discount to its historical average and the tech-heavy Nasdaq Composite as a whole. And with a cash pile of more than $200 billion, Apple is far from facing the same sort of crisis Microsoft or Cisco faced during the 2008 recession.
In 2012 and 2013, AAPL took a 41% nosedive. Stock patterns tend to repeat themselves, so if we're currently on the same trajectory, a dip into the upper $60s would not be a complete surprise. However, after that 2012-2013 decline, Apple stock bounced back, big-time, to record highs above $130 within two years. So a big drop would probably be only for the short term, and a new product announcement (for which Apple is famous) could send the stock soaring sky-high again.
In addition, if we are headed toward a bear market in 2016, Apple's transition from an exciting growth stock to an unsexy value play would make the company a better, safer investment.
Apple isn't going anywhere, especially not in the long term. With a strong core business and a history of good performance, it should continue to be a stalwart technology stock, regardless of today's first-quarter earnings results.
I've found a small-cap stock that has the potential to surge 100% or more in the coming months. This is a growth story with major momentum, so it's important to learn the full details as soon as possible. The stock is trading at under $8 a share, and its long-term prospects have never been better, making it a great value. I expect this rocket could take off soon, so be sure to click here now and learn more.
---
You see Jim Cramer on TV. Now, see where he invests his money and why Apple stock is a core holding of his multi-million dollar portfolio. Want to be alerted before Jim Cramer buys or sells AAPL? Learn more now.
This article is commentary by an independent contributor. At the time of publication, the author held no positions in the stocks mentioned.