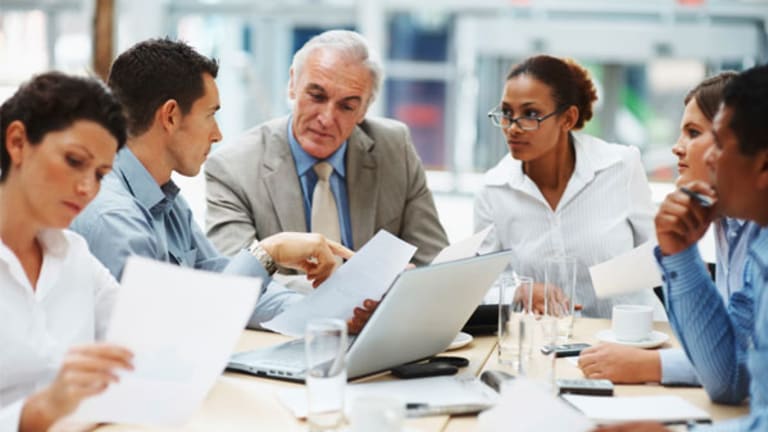 Dodd-Frank: Too Big to Work?
One year after its passage, the Dodd-Frank legislation has created new rules and regulations that do nothing to end 'Too Big to Fail.'
One year after its passage, the Dodd-Frank legislation has created new rules and regulations that do nothing to end 'Too Big to Fail.'
The following commentary comes from an independent investor or market observer as part of TheStreet's guest contributor program, which is separate from the company's news coverage.
NEW YORK (
) -- The specific aim of the Dodd-Frank legislation was to promote financial stability in three ways: (1) improve the accountability and transparency of financial institutions; (2) end "Too Big To Fail" (TBTF); and (3) protect consumers from abusive financial practices.
Dodd-Frank was, from the beginning, doomed to be just another device of regulatory strangulation.
With regard to improving accountability and transparency, the law created a whole new set of bureaucracies which will write new regulations (243 are required according to one law firm's research) that will only add to the overwhelming regulatory burdens already imposed on America's small and medium sized financial institutions.
Much of the nonsensical practices we see in the financial sector today, like having to be delinquent to get anybody's attention, or not being able to get your financial institution to modify your loan without a massive cash infusion because the loan is underwater, are already due to regulatory constraints. Just think of the unintended consequences of a whole new set of rules and regulations!
>> Dodd-Frank Still a Work in Progress
The act created a whole new set of regulatory agencies, including the Financial Stability Oversight Council, the Office of Financial Research, and the Bureau of Consumer Financial Protection. Realize that the major financial institutions had plenty of oversight prior to the financial meltdown. It's just that few saw the developing risk, and those who did were ignored. So, how will a whole new set of bureaucracies change this?
Rather than ending TBTF, the law has institutionalized it. Institutions should not be allowed to get so big so as to cause "systemic" issues if they have internal issues. In fact, there is a regulation that prohibits any bank from having more than 10% of U.S. total deposits. That went out the window in the '09 financial meltdown, and all of the TBTF institutions are now exempt from it.
Dodd-Frank has now carved TBTF into stone. We have a new, official category, called "Systemically Important Financial Institutions" (SIFIs). These simply are TBTF institutions. And while there may be some new rules and capital requirements on them, they are, by definition, TBTF. In another financial meltdown, while stock and bondholders may be more impacted than they were in '09, the taxpayer will still be on the hook when all of the capital is exhausted.
The third goal of Dodd-Frank was to protect consumers. For example, rather than letting the market set the prices, Dodd-Frank has mandated that debit card fees can't exceed $.21/ swipe (originally proposed as $.12/swipe). Prior to the regulation, the average was near $.45/swipe. While this appears to be consumer oriented, it ultimately interferes with the free market system and stifles innovation and technological advancement.
Of course, the poster child for consumer abuse is mortgages. The bureaucrats created by Dodd-Frank will undoubtedly write rules and regulations that will only increase the already ridiculous level of paperwork required in the mortgage process. But, it won't really help because abusive practices aren't recognized until they are rampant or something goes wrong. The new rules will only address the past abuses, not new abuses that arise. Once abuses are recognized, then, the legal system descends like the plague.
The abusive practices of some of the largest mortgage purveyors (like Countrywide, now owned by
Bank of America
(BAC) - Get Report
) are currently the subject of many significant lawsuits. BAC's recent second-quarter earnings were significantly impacted by legal settlements due to Countrywide's former practices, and I suspect that there will be more such settlements for BAC.
Wells Fargo
(WFC) - Get Report
just announced an $85 million settlement with the Fed over subprime lending. And
JPMorgan
(JPM) - Get Report
chief Jamie Dimon announced last week that because of such litigation, JPM is exiting the business.
Perhaps the other large private mortgage lenders will follow suit. After all, Dimon has always been an industry leader. The unintended consequence of mortgage abuse litigation, no doubt encouraged by the rhetoric surrounding this part of Dodd-Frank, should be a concern to the folks in Washington, D.C. But it isn't yet recognized. With a rapidly shrinking private mortgage lending industry, and with
Fannie Mae
(FNMA)
and
Freddie Mac
(FMCC)
bleeding cash and likely, in the current political climate, to be severely restricted once they are dealt with after the 2012 elections, the financing for the overhang in America's housing industry is likely to all but disappear. Then what?
Despite the best of intentions, Dodd-Frank was, from the beginning, doomed to be just another device of regulatory strangulation and the fostering of federal government growth. The real issues, like TBTF were inadequately addressed in the legislation. The attempt to address abuse could only be backward looking, and has encouraged an unintended consequence of the shrinking of the private sector mortgage market, the consequences of which are not yet widely recognized.
Robert Barone is a Principal and an Investment Advisor Representative of Ancora West Advisors LLC (Reno, NV) an SEC Registered Investment Advisor. The mention of companies in this article should not be considered as an offer to sell or a solicitation to purchase any securities of the companies mentioned. Please consult an Ancora West Investment Professional on how the purchase or sale of securities can be implemented to meet your particular investment objectives goals. Statistics and other information have been compiled from various sources. Ancora West Advisors believes the facts and information to be accurate and credible but makes no guarantee to the complete accuracy of this information. Ancora West Advisors LLC is a registered investment adviser with the Securities and Exchange Commission of the United States. A more detailed description of the company, its management and practices are contained in its registration document, Form ADV, Part II. A copy of this form may be received by contacting the company at: 8630 Technology Way, Suite A, Reno, NV 89511, Phone (775) 284-7778